Oh, summer. The kids wait and wait and wait for it, and then, how many minutes in are they complaining about how hot it is? Or how you won't take them to the pool (for the second time that day)? Or that they're simply bored? So I've tracked down a whole bunch of really cool summer crafts for kids from around the web that you can bookmark, and stash away for those very moments.
Some take a little planning and a few supplies, while others are as simple as printables. Which means print out a whole bunch now for your next road trip or plane ride; or just stash them away in your bag of crafty tricks. You may need them sooner than you think.
Of course we can't think of summer crafts without starting with fans. While my kids are perfectly content with the old fashioned "color a sheet of paper and fold it like a fan" craft, I think these free printable summer fans at Mr. Printables are super cute. My youngest would flip for the mustache. And they could even be a fun summer party craft.
How fun is this free printable mandala butterfly mask for kids at Hattifant? Not only will kids have a blast coloring in all those detailed designs, but attach a stick and cut out the eyes, and they'll be in the garden, writing their own plays. Make sure there's room on the camera for video. And prepared to pay for tickets.
(via Handmade Charlotte)
Related: 2 cool new coloring books to inspire creativity in older kids 
Also from Hattifant, I really like the simplicity of these free printable mermaid flippers which kids can draw, then easy affix to their ankles with tape. Though I think it's clever how she first had the kids wrap both legs in a single sock for more real-life mermaid accuracy.
I kind of love these printable paper popsicles at Eat Drink Chic all on their own since I'm sure my girls could come up with loads of ways to incorporate them into imaginary play. Like say, serving them from a cardboard ice cream truck?  But her idea is to print two of each, flip them over, and turn them into a fun memory game for younger kids. Sweet!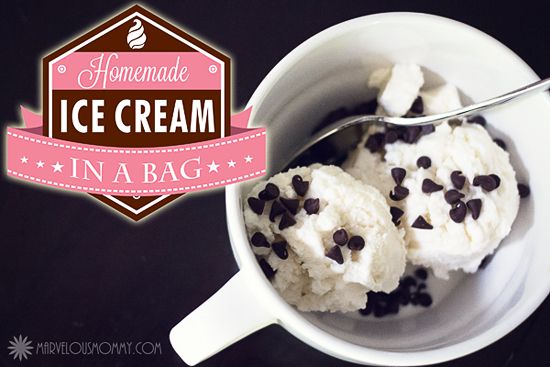 Is any kid going to say no to ice cream? Of course not. Especially when it's this fun make your own ice cream in a bag, that we found in our DIY ice cream recipe roundup, featuring easy directions from Marvelous Mommy.
Ithink painted ladybug rocks are a cool summer craft for kids all on their own, but I'm impressed by the AttaGirl Says suggestion to make lots of them, and turn them into a game of Ladybug vs Tadpole Tic Tac Toe.  Or Ladybug vs Dragonfly. Or Ladybug vs R2D2 I suppose anything goes in the world of painted rock creatures.
From ladybugs to dragonflies, these clothespin dragon flies at Crafty Morning are such a classic preschool craft, made a little more fun with glittery pipe cleaners and actual googly eyes.
Last year we featured this campfire story starters grab bag craft, featuring free printable story starter tiles and a tutorial for making your own grab bag if you're inclined. Considering how much my kids love making up their own stories, I don't think you even need a campfire to get the yarns spinning. In fact, it's a great car trip activity.
Related: Family road trip tips: Tons of sanity-savers, tricks, and essential products to keep the back seat under control
Like DIY fans, I see a make your own pinwheels craft as essential for summer. There's no shortage of tutorials online, but I like how these easy ones from Practically Functional came out.
Kids like mine who love looking at worms and ladybugs and okay, anything but bees, would love making their own bug house craft like this one at Classic Play. It's pretty fancy with the mesh over the windows, considering we used to just decorate shoe boxes and poke holes around it. Hey, that works too.
Of course there's always that old standby: free printable summer coloring pages, and we put together a whole bunch of cool ones for you, ranging from design-your-own-surfboard to coloring in Olaf, who it seems is still incredibly relevant in many underage circles.
Decorating your own birdhouse like these seriously cute ones from Make it Do is always a fun summer craft. We had first suggested that they make a cool birthday party craft that doubles as a take-home party favor, but it's a great weekend activity, indoors or out. Plus the birds will especially appreciate them come fall.
If you've got older kids, I bet they'd love taking on these DIY tin can lanterns from Apartment Therapy, though I think considering nails and hammers are involved, a little supervision might be in order. The best part of course is staying up after dark to watch them glow with a real candle inside.