My family was in the middle of moving halfway across the country last year when my son's preschool started, so I missed the opportunity to take those official first day of school photos every parent loves. I'd like to think I snapped a picture of him wearing his backpack when he finally joined the class a few weeks late, but with all the chaos surrounding our move, I actually may have forgotten. So I vowed to be more prepared this year, and have actually spent some time researching first day of school photo ideas and fun props and printables in time for the beginning of his school year.
A quick Pinterest search revealed that some parents will pull out all the stops when it comes to back-to-school photos. But that is not me. Since I'm a less-is-more kind of mom, I looked for props and printables requiring a little more effort than simply standing my son in front of a tree — but a lot less effort than staging a fake classroom in an open field.
Related: 5 creative ways to capture first day back to school photos
FIRST-DAY-OF-SCHOOL PRINTABLE SIGNS
Looking at my childhood back-to-school photos now, the only way to identify the year is by my ridiculously cliche outfits and hairstyles. Waterfall bangs? That was 1989. Oversize flannel with jean shorts? Hello, 1994. If only I'd been holding something with my grade written on it like this simple free printable first day of school photo sign from Skip to My Lou. We first discovered her fun back to school photo ideas a couple of years ago, and how great that she updates the school year each fall! The PDF of her free downloadable signs are marked from preschool through senior, and with a design this cool, maybe a high schooler might deign to pose with it.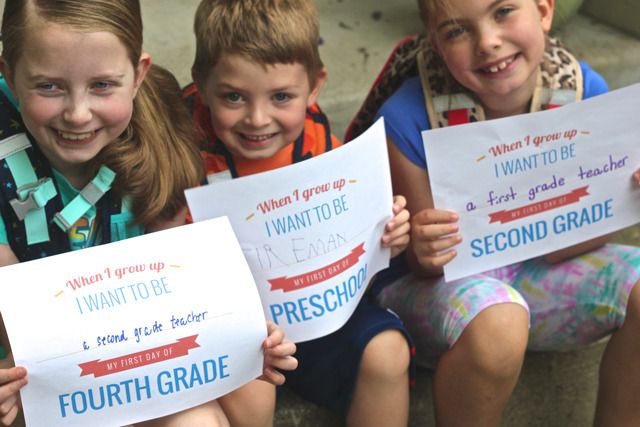 One reason to love back to school signs is that holding them gives your kids something to do other than stand there and complain about having their picture taken. They can also offer a glimpse into your child's personality by providing more information than just the year or what grade your kid's entering. I happen to love this of free preschool through 12th grade first day of school photo printables from Pars Caeli, which provides a prompt for the question, "What do you want to be when you grow up?" I'd love to know if my third grade self wanted to be a blogger when she grew up. I'm guessing no.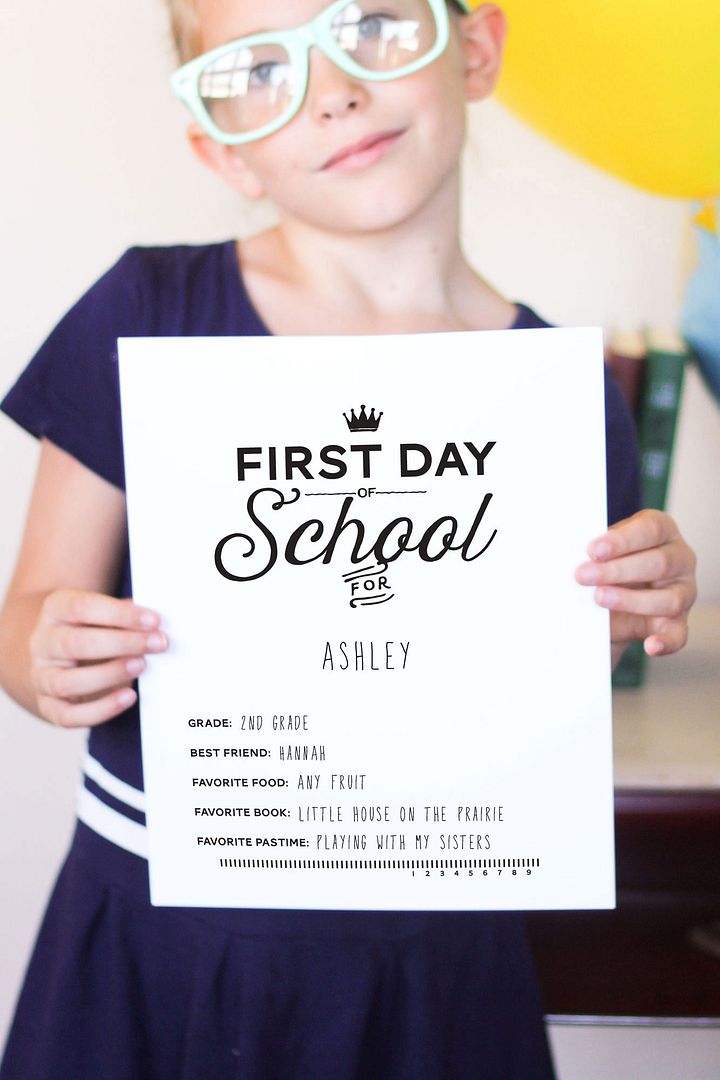 To go a little further, this free first day of school photo printable from Balloon Time documents the school year, plus a few of your child's favorites from hobbies to current BFF. Plus I like the classic, simple design. As your son or daughter gets older (and their handwriting becomes more legible), they can fill out the sheet themselves and save it in a scrapbook. But if you're trying to cut back on clutter like I am, simply taking a photo of your kid holding the paper is probably all you need.
Related: 15 of the coolest (mostly free) back-to-school printables
USE A MINI CHALKBOARD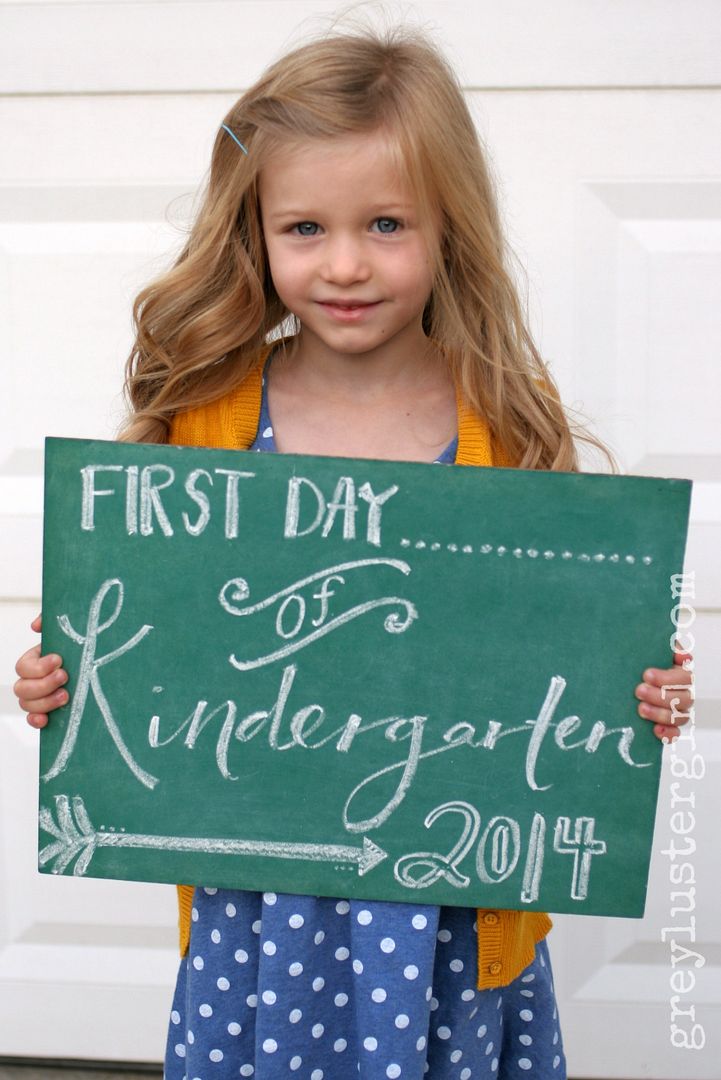 Is there anything that symbolizes a classroom more than a chalkboard? Well, besides pint-sized desks, chairs, and lots of number 2 pencils? If you have praiseworthy penmanship (or even if you don't), skip the printable for a handwritten chalkboard sign like Grey Luster Girl made for her daughter.
You can find chalkboards in a bunch of different shapes and sizes (this speech bubble is so fun by Photojojo at Amazon) at your local office supply or craft store. Plus you'll get to use them again in photobooths for years.
If you love the look of a chalkboard sign but not the look of your own handwriting there are lots of options for you too. Hallmark's First Day of School activity kit is a little spendy, but good if you have lots of kids or you're the kind of parent who's not going to forget where you put this next September.  You choose from inserts with printed chalk lettering (K-12) or try your hand with the included chalkboard and chalk. Almost all of my photos live on my external hard drive, but if you actually print yours (go you!), the kit includes a special first day of school album to stash them, too.
Or hey, fake it with a printable! Be sure to browse Etsy, where there's no shortage of printable, personalized school photo chalkboard signs, like this affordable option from beINKspired. She has plenty of fun options, and you can even customize the colors, so no automatic girls = pink, boys = blue thing. When you browse, just take a good look at the typography; some designers are better than others in that arena.
Related: The Cool Mom Picks 2015 back to school shopping guide
SAY IT WITH A BALLOON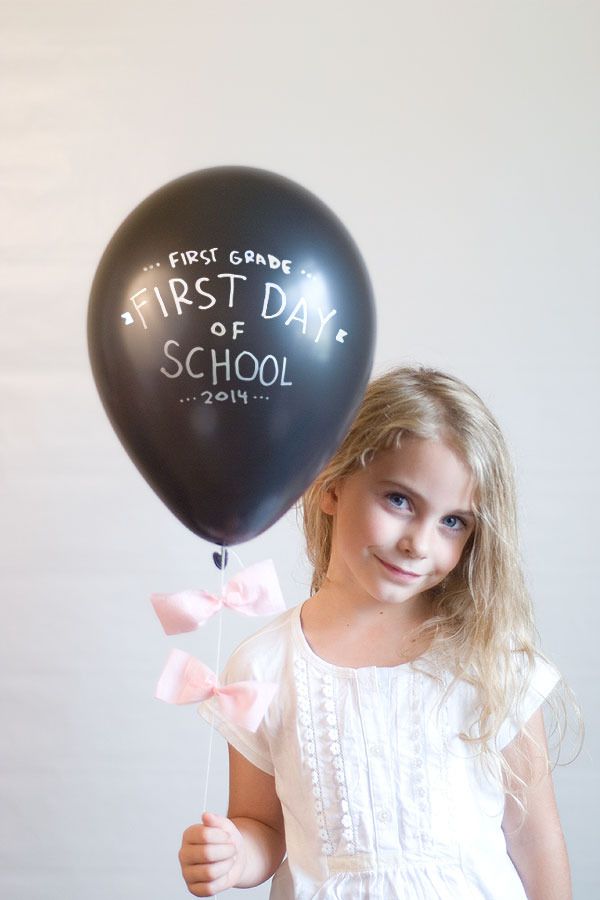 What's more fun than a sign or a chalkboard? I'm going with balloons. I love how Confetti Sunshine thought outside the box — or paper — for this first day of school balloon photo prop. If you don't have your own helium tank (and really, how many of us do?) then  you'll want to buy up a balloon or two at a party store the night before and hope that they don't lose their helium by morning. How adorable would it be to surprise your kid when she wakes up with a personalized back to school balloon?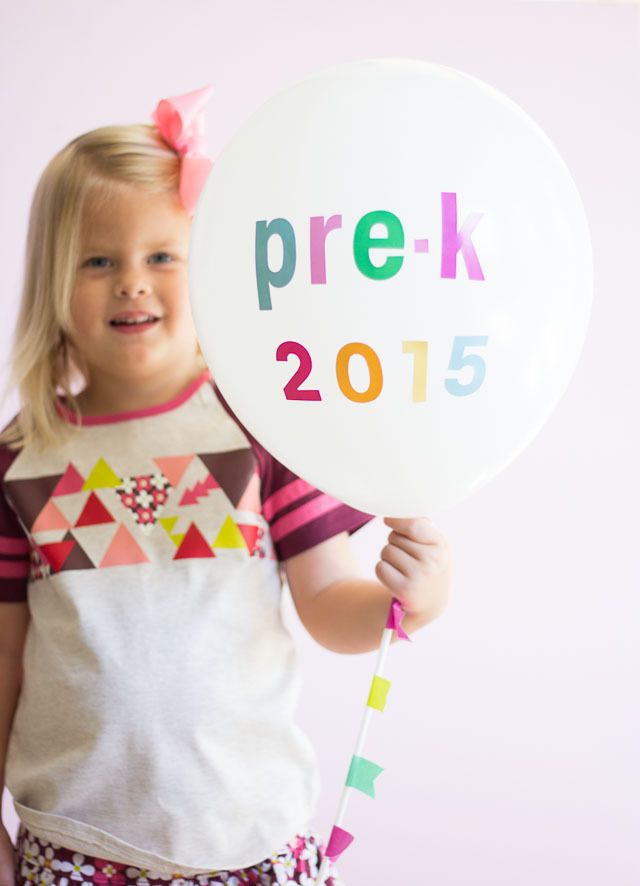 Similar idea, different execution: Instead of using a paint pen on her first day of school photo balloon, Haeley of Design Improvised chose colorful letter stickers. She also eschewed helium and string for some good old fashioned air and a balloon stick, which means this photo prop will definitely last through the night if you don't want to worry about crafting before getting your kid ready for school in the morning.
USE PROPS YOU ALREADY OWN, LIKE BOOKS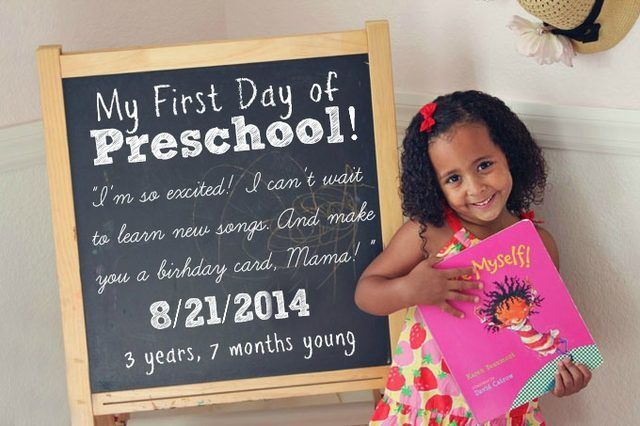 Another fun and easy way to give your kid's first day of school photos some extra personality is to include a few personal favorites as props. For example, eHow suggests letting your child pose with a favorite book, toy, or activity. I love the idea of being able to see how my children's preferences will change year after year. Plus, who doesn't love seeing their children proudly displaying their love of books?