I like to think of Halloween as an equal opportunity holiday; you don't actually need to be a crafting maven to come up with the best costume. Even procrastinators can throw together last-minute Halloween costumes using (mostly) everyday items around your house, and the results can be equally funny, clever, or scary as any other.
All it takes is a good idea, and as I discovered while putting together this collection of 9 last-minute costumes for kids, there's no shortage of fun and original ideas out there to inspire you this Halloween.
Of course there's always a ghost under a white sheet. But I like these much better, and I think your younger kids will too.
Related: 5 zero-effort Halloween costumes for lazy babies (and busy moms)
Easy Mr. Rogers Costume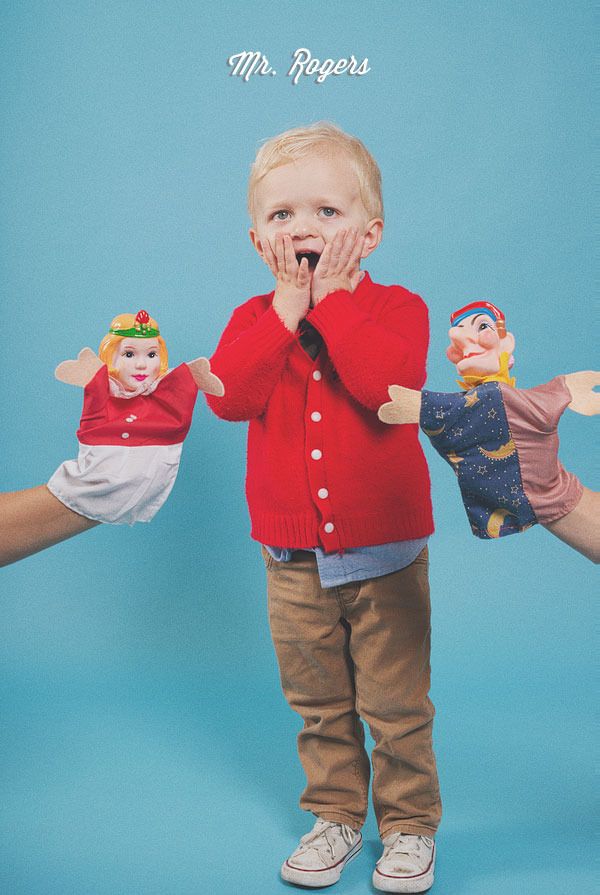 If your son owns a pair of trousers, a button-down shirt, and sneakers, why not dress him up in a Mr. Rogers costume like this one from Jordan at Oh Happy Day? It shouldn't be too hard to find a cardigan — preferably red — or maybe you already own one? The all you need is a clip-on tie. Optional: The set of, um, debatably creepy but authentic puppets Jordan found at a thrift shop, or she has suggestions for where to find some online. But I'd suggest giving your mini Mr. Rogers a Daniel Tiger stuffed animal and calling it a day. A beautiful day in the neighborhood, that is.
Easy Garden Gnome Costume

Scissors, felt, glue, and string are all you need to make this pointy hat and beard following instructions on Minted's blog, Julep. Pair them with clothes you probably already own, and you've got yourself a cute garden gnome Halloween costume. Check out the site for some good tips. Or, if you kid wears them with an all-red outfit, now it's a Santa outfit! Easy!
Easy Disney Tourist Costume

If you own a fanny pack (not judging) and some Mickey ears or a t-shirt, it's easy to get your kid into a Disney World tourist costume for Halloween. Without the Disney stuff, your kid can be a tourist of any kind. Just stick a camera or binoculars around his neck, grab a baseball cap, and raise those socks up to the knees. Bonus points if you make the costume a family affair like Liz Stanley shows on her blog, Say Yes.
Just be sure not to actually wear these costumes to Disney World on Halloween or…well, you'll just blend in.
Related: The coolest printable Halloween party invitations and decorations, from the cute to the creepy
Easy "If You Give a Mouse a Cookie" Costume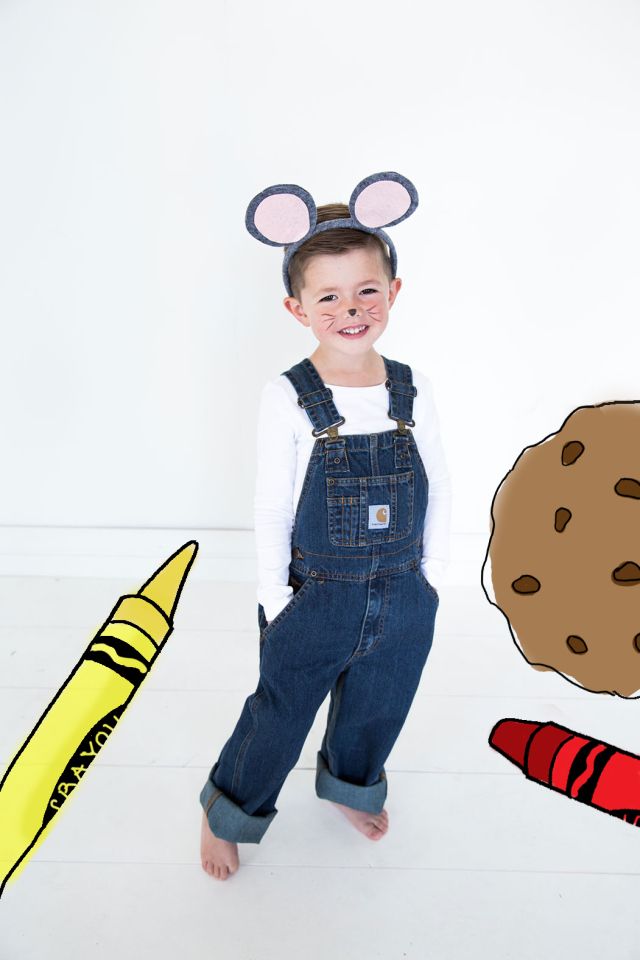 Brittany at The House That Lars Built is doing an adorable series this year of Halloween costumes based on children's illustrated books. They're all amazing (obviously), but if I were to pick one for my kids, I'd have to choose Brittany's If You Give a Mouse a Cookie costume — if only because it looks really, really easy. The biggest effort is making mouse ears, but we won't judge you for just buying them.
To make it even easier, skip the handmade cookie bag and let your child carry a baggie of store-bought chocolate chip cookies — they might even come in handy as a snack while trick-or-treating. For you. Ha.
Easy Raining Cats and Dogs Costume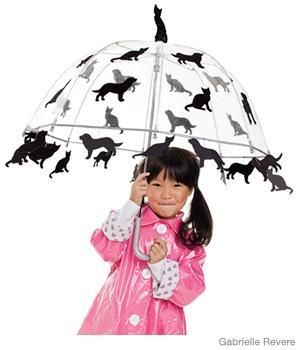 If the thought of putting together a handmade kid's Halloween costume totally freaks you out, I've got one you can probably handle. If you're capable of cutting out animal silhouettes and gluing them to string, you can make this very creative, very punny raining cats and dog costume from Parenting which has all the instructions. Alternately, if you're willing to sacrifice the family umbrella, we've also seen the costume come together by gluing plush dogs and cats to the top of an umbrella, but your kid might not be so psyched about donating his or her favorite stuffed animals to the cause.
Easy Pigs in a Blanket Costume

I'm not sure it gets any cuter than this pigs in a blanket costume. This clever idea comes from Real Simple , and you may already have everything you need, including the materials to DIY the pig ears and pig nose. Of course you can just grab some piglet accessories at your local costume store if that makes things easier on you. Our advice? Leave your child's favorite blankie in his or her bed, and grab a spare blanket or even a towel for trick-or-treating. Halloween night accessories have a habit of not always making it home.
Easy Ice Cream Man (or Woman!) Costume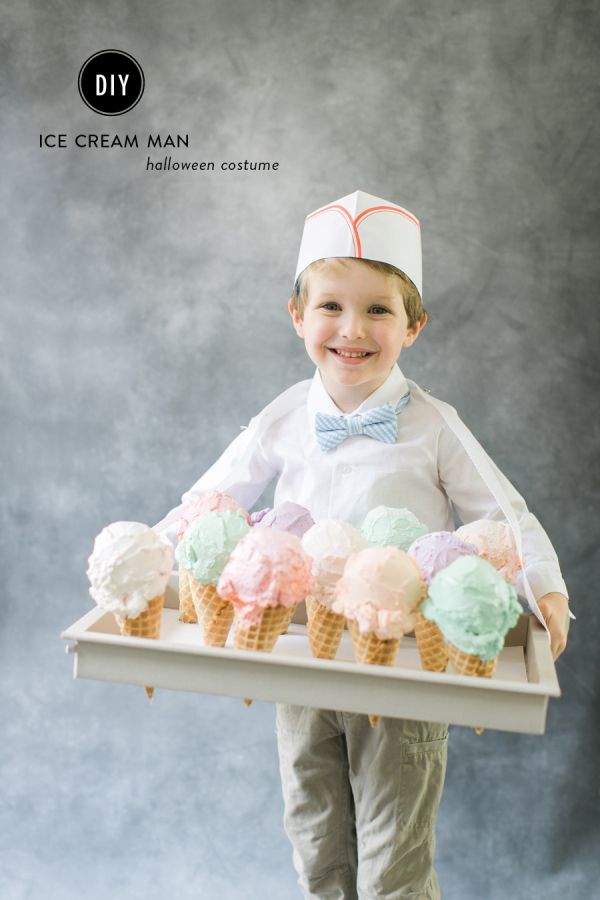 Technically, this is a soda jerk costume, but since your kids won't have any idea what that means, let's just say it's an ice cream man costume. The outfit is simple, and your kid may already have a white button-up shirt, a bow tie, and khaki pants in his wardrobe — or you can borrow from a playmate. She's also got a link to find the hat, search Etsy for lots of options, or try this easy DIY soda jerk hat at eHow. I will say that Style Me Pretty Living's DIY ice cream cones, while amazing, are a bit complicated for a last-minute costume unless you're a super crafter.
For a shortcut, Chelsea over at Lovely Indeed has a good, easy DIY ice cream cone tutorial that's worth a look.  The balloon is genius!
Easy DIY Mummy Costume

Sure, you can wrap a roll of toilet paper around your kid and call her a mummy, but for something a little more creative, you can follow Kelly Gorney's advice for making an impressive DIY mummy costume. If you follow her instructions to the letter you'll need to factor in a lot of time and sewing skills. Or use her ideas as inspiration and just start cutting up a white sheet. Then simply wrap the strands over your kid's clothes, tying some together and safety pinning others to clothing.
Easy Elliott and E.T. Halloween Costume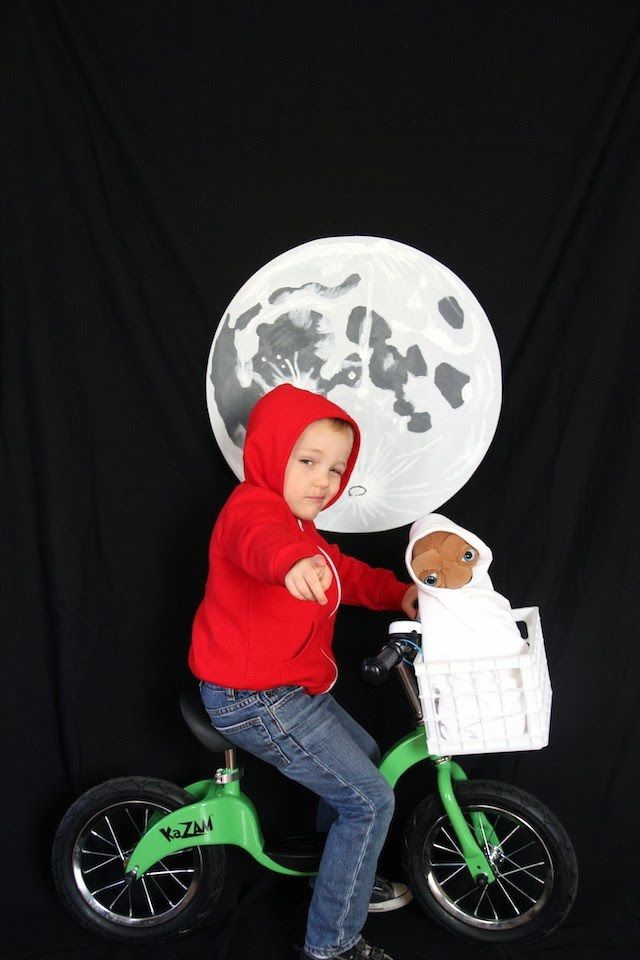 I'm gonna go out on a limb here and assume that your younger kids may not yet have seen E.T. the Extra-Terrestrial. That's okay. I still think the parents in your trick-or-treating group will flip for this DIY Elliott and E.T. Halloween costume, and your child will think it's awesome that she gets to ride her bike from door-to-door. You can find some cool E.T plush dolls at our affiliate amazon but you can also keep it simple by wrapping any old stuffed animal in a white blanket.