I wish my kids had more candy this Halloween is not something you'll hear from our lips because–wow–candy is everywhere. And, while we're not against our kids collecting sugary treats (In fact, I'll be taking- um, sneaking – all of their Mounds), we're also in favor of mixing up the selection with some great non-candy treats to hand out at a Halloween party, or as a no-sugar option to give out to trick-or-treaters. Yes, it is ok to be that house.
So, we've pulled together 20 non-candy Halloween treats that you can either buy or DIY as a project to do with your kids or on your own, if you're very motivated.
But first, just a note: If you live in a neighborhood that gets tons of costumed kids on the 31st, maybe consider some of these ideas as part of the Teal Pumpkin Project for those kids who have food allergies and cannot eat most candy. They will definitely appreciate the thought.
Spooky Pencil Treats for Halloween
Buy: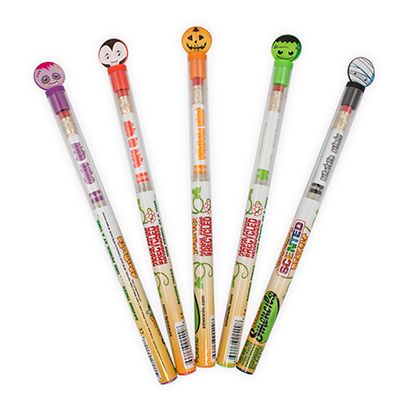 There are loads of Halloween pencils for sale this time of the year, though we have a fondness for the smelly kind that Smencils makes. These recycled newspaper-made Halloween pencils come in yummy scents as Pumpkin Panic and Goblin Grape. And, wow, the smell lasts a really long time so they can remember those happy days of trick or treating for many months to come.
DIY:
Want to give your older kids a fun project to do as they excitedly wait for the 31st to arrive? The DIY Pencil Monsters on 36th Avenue are easy-to-make with kids who are old enough to be trusted with a hot glue gun. A free printable tag can be attached to the pencil too, if you're feeling ambitious.
LEGO Treats for Halloween
Buy:
The scariest thing about these new Monster Minifigures from LEGO is how hard they will be to find this close to Halloween. But, if you can snag a few, they'd make extra-special treats to hand out at the end of a party, or for your favorite neighbors who come to the door. Hey, we won't tell that you play favorites.
DIY: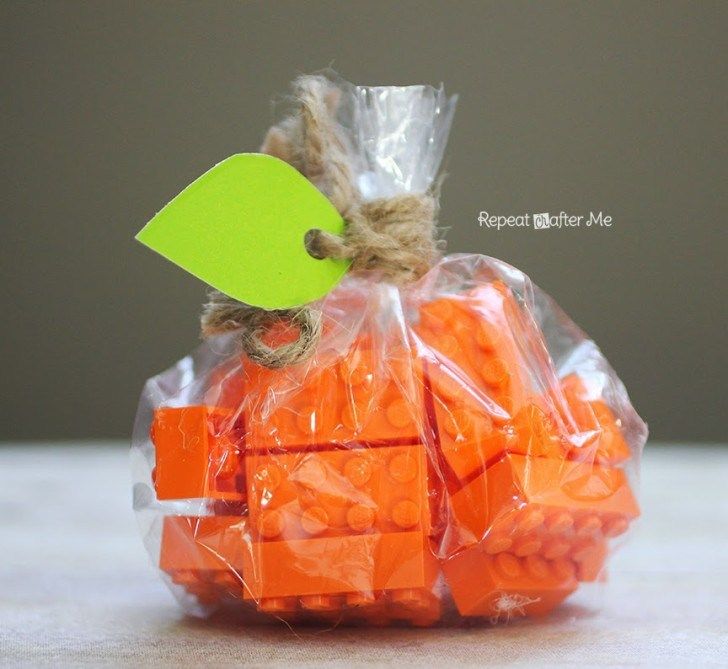 Repeat Crafter Me's adorable orange pumpkin treat bags are so simple, yet so perfect for Halloween. Great for those of us who have tons and tons of LEGO bricks and can easily sort out a bunch of orange bricks, or check out the LEGO Pick-a-Brick site to special order the one color you need.
Monster Button Treats for Halloween
Buy: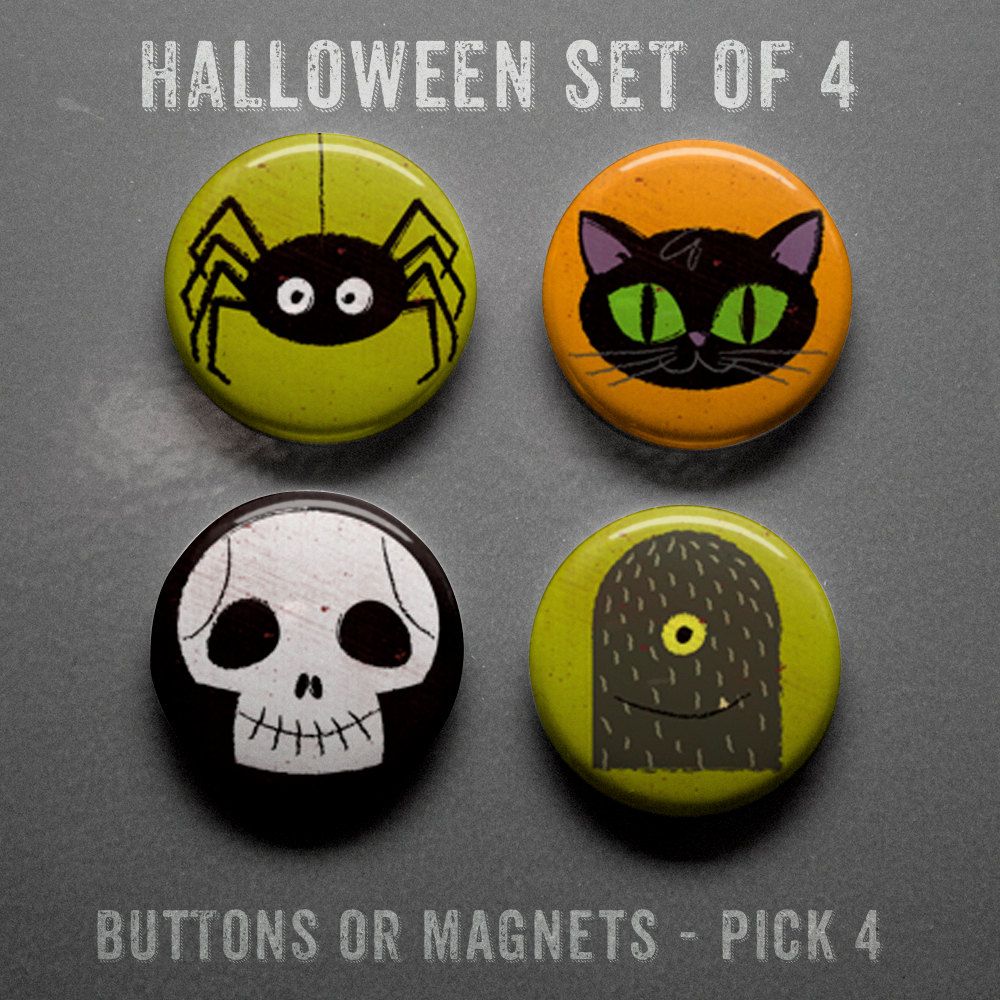 Illustrated by John W. Golden, whose cool posters we've featured before, his monstrous Halloween buttons are wee bits of art to hand out to the ghosts, goblins, and Minions who ring your doorbell. And, boy, wouldn't it be cool to get one of these on Halloween!
DIY: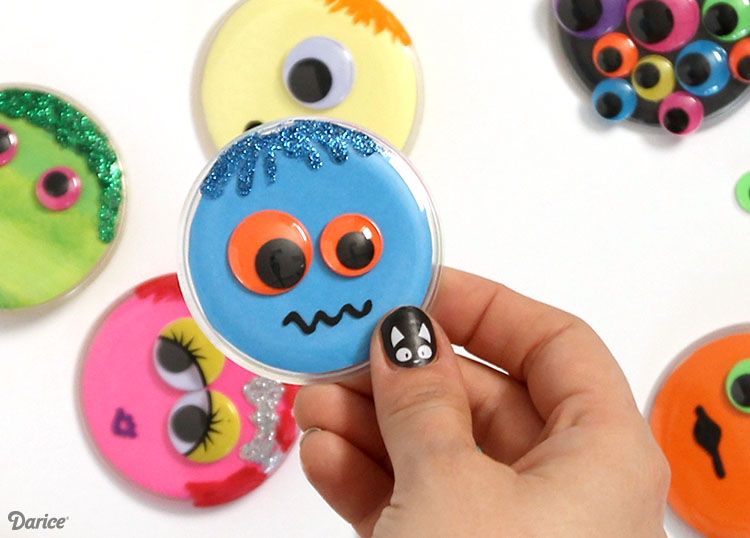 With some craft-store supplies, you can create your own spooky, or not-so-spooky, homemade monster buttons that show off your own original artwork. Created by Alexis of Persia Lou for the craft site Darice, this would also be a fun craft to do at a Halloween party where kids can make their own googly eyed monsters to take home.
Playdough for Halloween
Buy: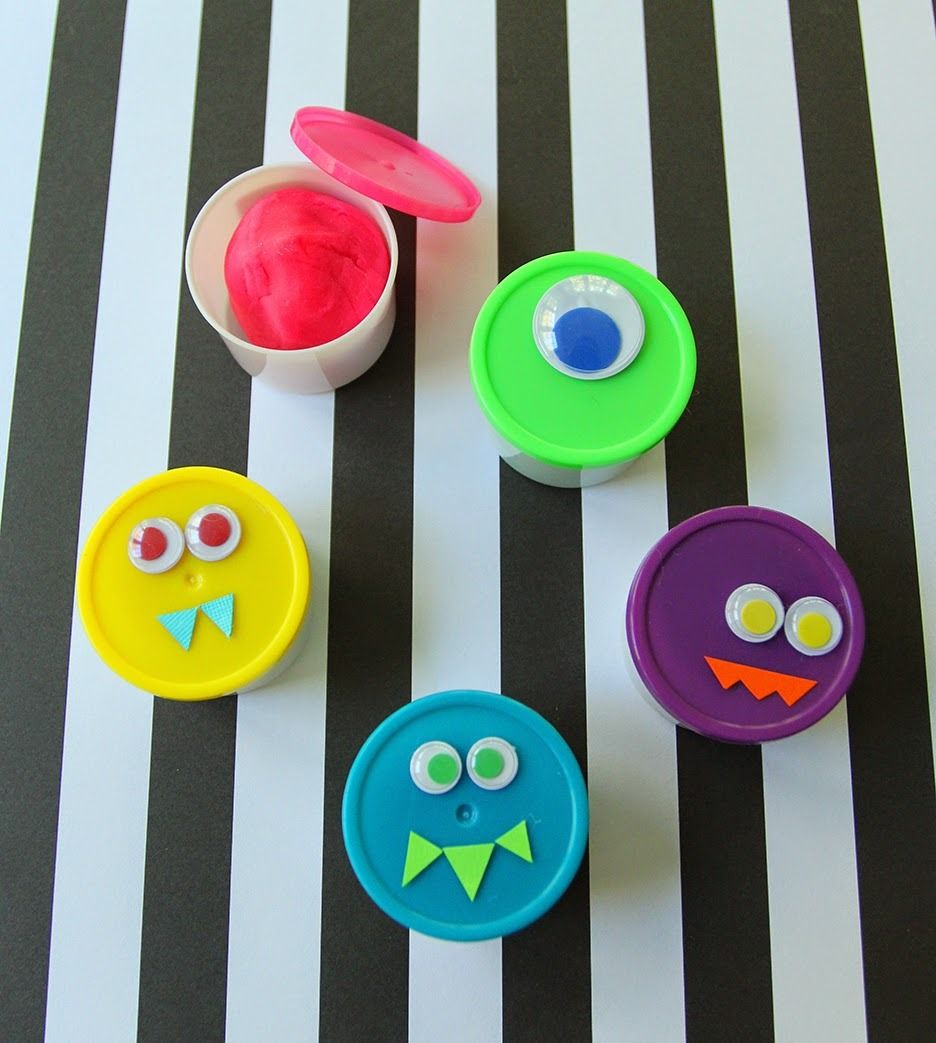 My older kids still love finding a little tub of trick-or-treat sized playdough in their bags–it really is fun to play with at any age. If you want to dress these store-bought tubs up for Halloween too, check out how Less-than-perfect Life of Bliss turns them into mini monsters.
DIY: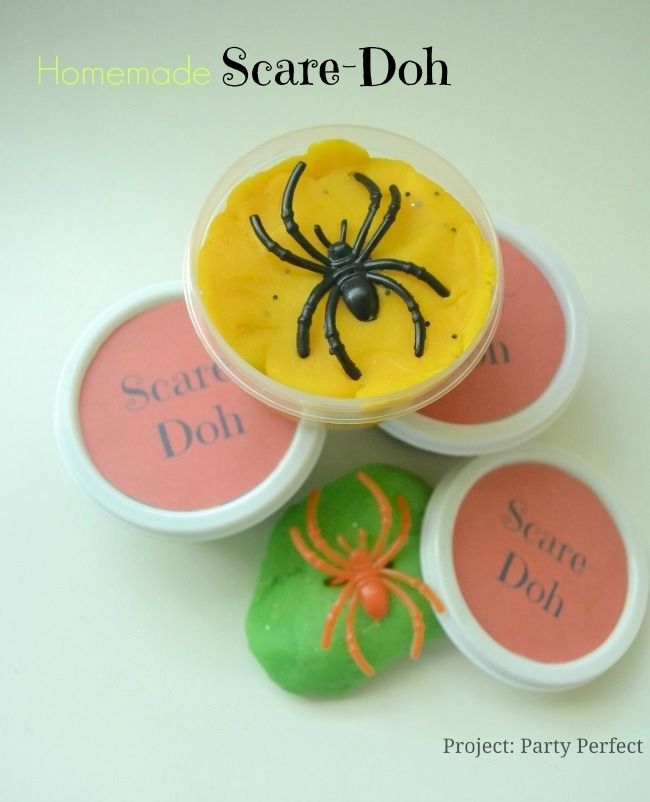 If you prefer to make your own dough, check out Project: Party Perfect's idea for Scare Doh, which even smells like it's ready for the holiday. If you have the right size circle punch, the printable label on the top will be easy to stick on there, or top it off with a Halloween sticker and call it a night. We also think think the spider ring on top is a nice touch.
Temporary Tattoos for Halloween
Buy: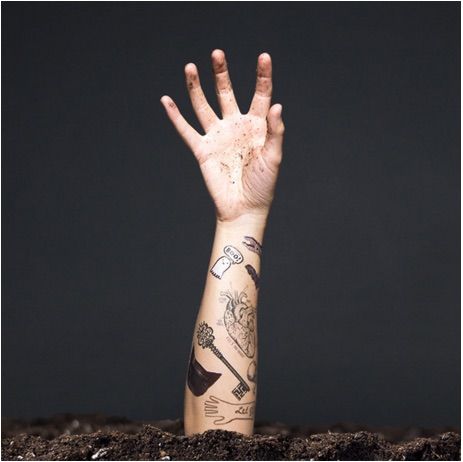 Though you can find Halloween-themed temporary tattoos everywhere, we've long loved Tattly's unique illustrations and think their Spooky Set is perfect for a gaggle of hard-to-impress tweens who may come to your door. With everything from a severed arm to an anatomically correct heart, these aren't too cutesy though they aren't too gruesome for younger kids either.
DIY: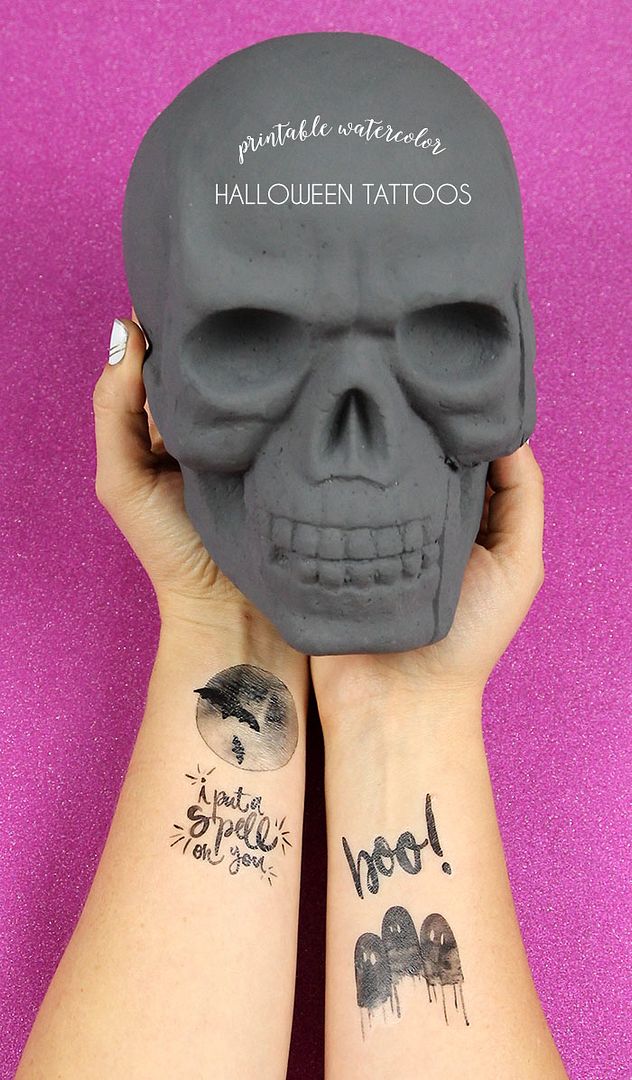 You can even DIY tattoos with these gorgeous, I mean scary, watercolor-style printable Halloween tattoos from Persia Lou. You'll need to get tattoo paper, but we think the finished result is just perfect for kids and grownups alike.
Lip Balm Treat for Halloween
Buy:
Little ghosts and goblins can get chapped lips in this colder weather, so sending them off with one of Twisty Turtle's all-natural oil-and-beeswax Halloween lip balms is a great treat. The cute illustration make this ideal for younger kids, though check out her other Halloween designs too–some even allow custom text, though you'll have to hurry if you want them in time for the 31st.
DIY: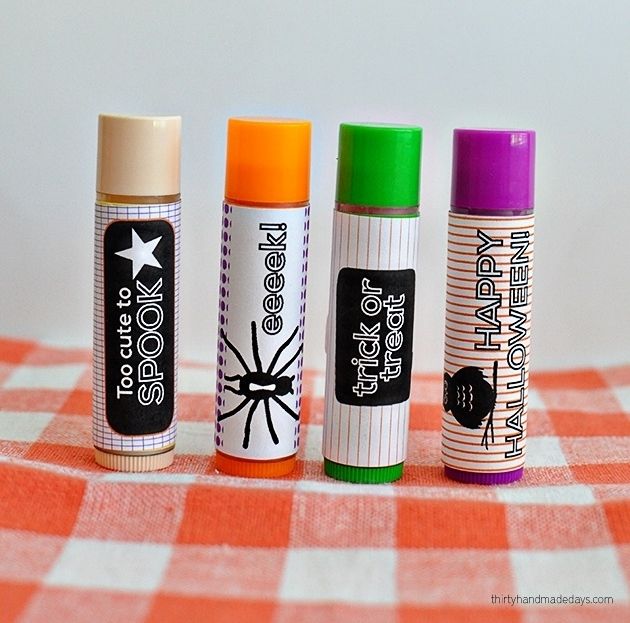 You can also turn a bunch of store-bought lip balms into Halloween treats with the free printable labels at Thirty Handmade Days. There is even a larger printable card on which to affix the lip balms if you want to use this as a party favor or classroom treat.
Masks for Halloween
Buy: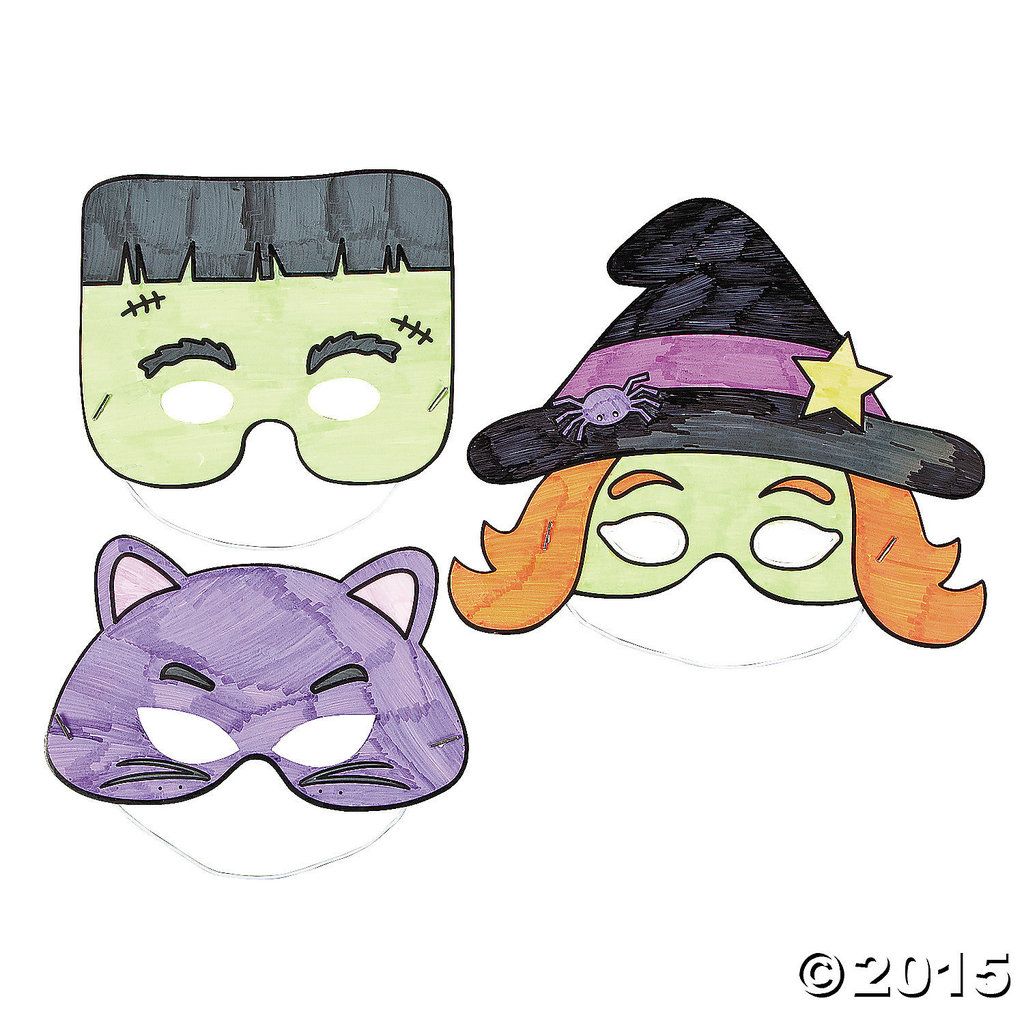 Oriental Trading's affordable set of color-your-own Halloween masks gives kids something to do when they get home other than beg their parents for just one more fun-sized candy bar. If you're feeling extra-generous, just affix a little box of crayon to the back before you hand them out.
DIY: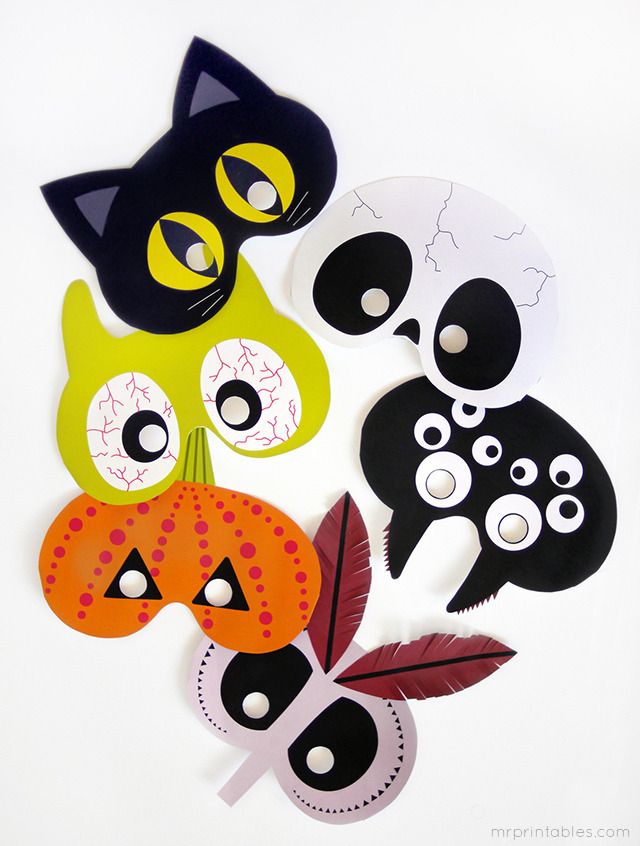 With just some paper and scissors, you can make a set of cool-looking Halloween masks from Mr. Printables. Either print them in color as shown above, or print out the black and white version and hand it out with a few crayons so kids can decorate them any way they'd like.
Crayons for Halloween
Buy:
Coloring Sprout's recycled Halloween crayons make a colorful treat to hand out. We love the variety of shapes they include, and you can message them about colors you'd like in your mix.
DIY: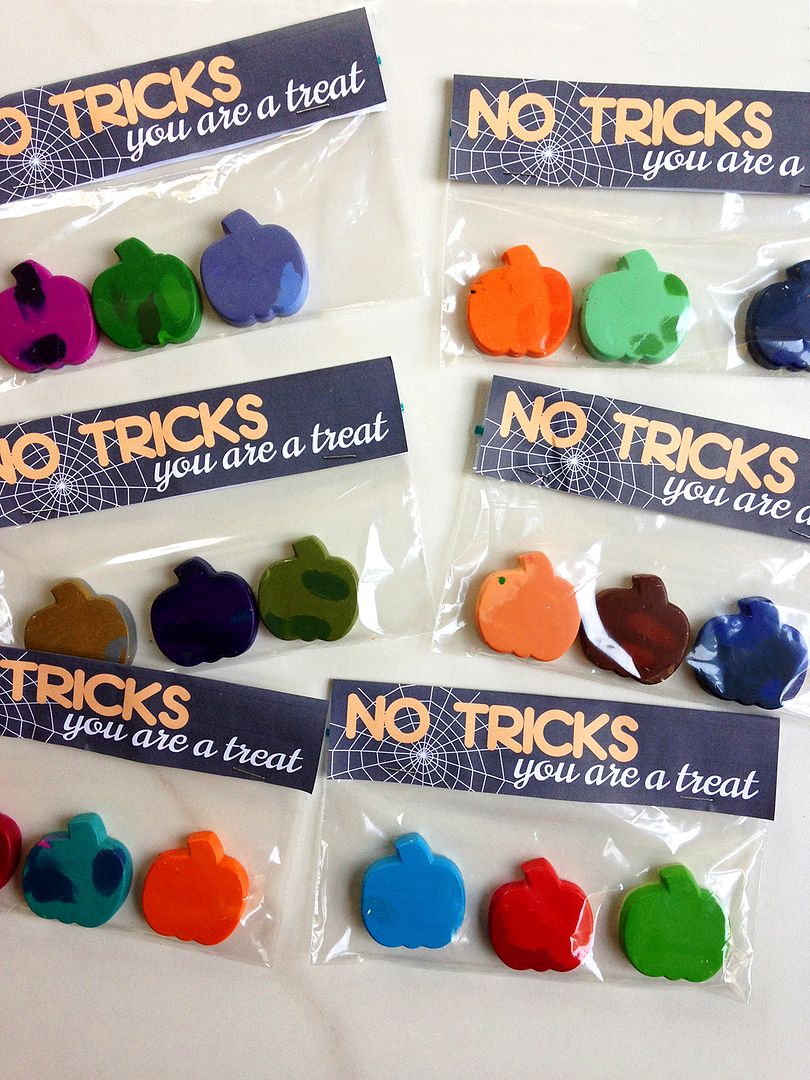 With a silicone pumpkin mold, you can recycle your own crayon bits into little pumpkin crayons as shown at Live Simply. Along with a link to the mold itself, the website also provides a free printable bag topper so that you can close up a baggie nice and tight. Cool.
Monster Eye Patch for Halloween
BUY:
Awesomely creepy, these colorful eyeball patches make a fun little treat to send in the kids' treat bags. And with a dozen of them for under $2, you can buy a ton of these from Birthday Direct.
DIY: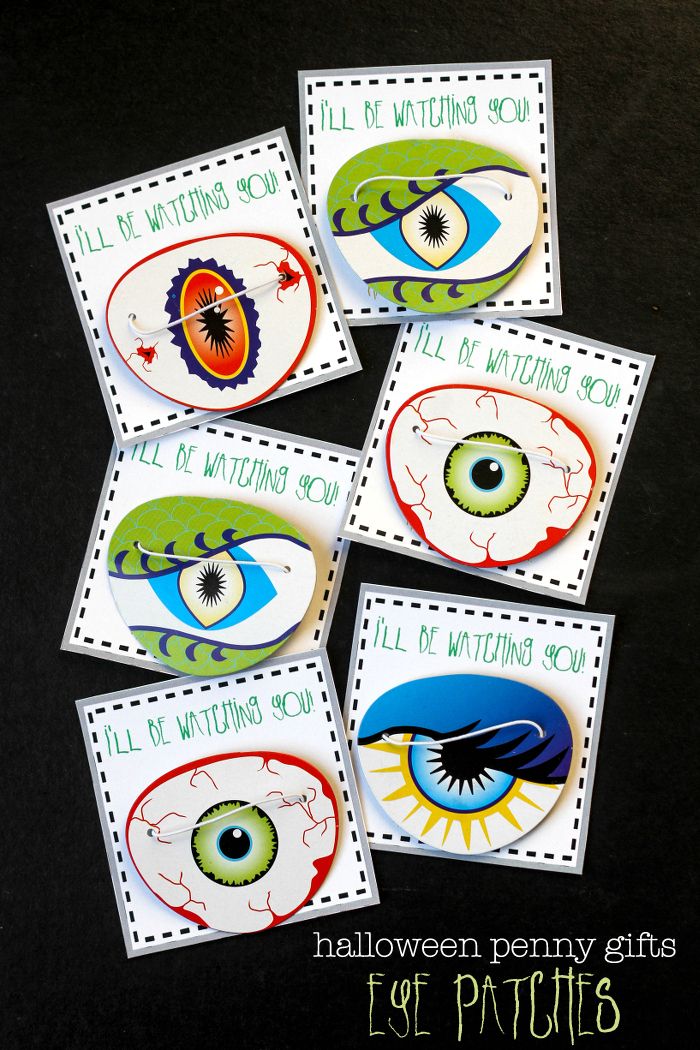 We also love Lil Luna's DIY eye patches, which come in four colorful designs that you can attach to a slightly sinister card with the message, "I'll be watching you!" You could even purchase the pre-made ones above and attach them to these cards for a "buy/DIY" mashup.
Halloween Slime
Buy:
With its little plastic alien visitor hiding inside each colorful slime-filled vial in Fun Express's Alien Slime test tube, this is one tricky treat that kids will love to receive. Reviews mention that the tube itself is a little hard to open, but we think this is a good thing: No one wants slime on their candy, right?
DIY: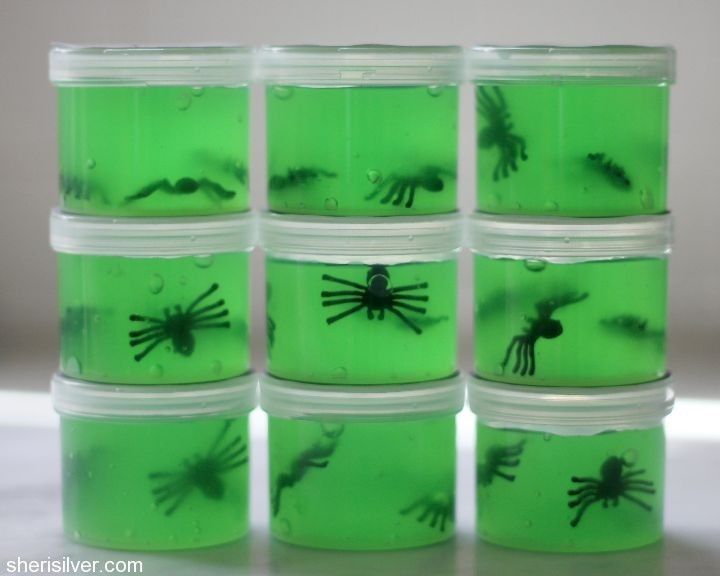 You can play mad scientist by mixing up your own spider-filled Halloween slime using the directions posted on Donuts, Dresses and Dirt. Based on a Martha Stewart video, there are even printable labels for the top of the containers. Just seal them tight so that the slime, and the spiders, don't escape.