So many dads in our lives are awesome, plain and simple. So we are always looking for meaningful Father's Day gifts that say thanks from the bottom of our hearts. Of course, our very favorite gifts tend to be those personalized ones that really show Dad just how much he's loved and appreciated. While finger paintings and poems from the kids do the trick, there's always something special about custom photo gifts for Father's Day, whether for his desk, bedside table, or the living room wall.
That's why we're excited to welcome back one of our very favorite partners, Artifact Uprising. If you don't yet know them (what?!), this indie company was started by two photographer sisters who wanted to create photo books as beautiful as the photographs themselves. And they nailed it.
Their incredible, keepsake photo books have been a favorite of ours for a long time, but the shop has evolved to offer so much more.
We've browsed through the ever-growing catalog of keepsake gifts that Artifact Uprising offers and put together some of our very own favorite keepsake photo gifts for dads this Father's Day that we hope you'll like too.
Among our picks, we hope you find the very perfect gift he's bound to love for life.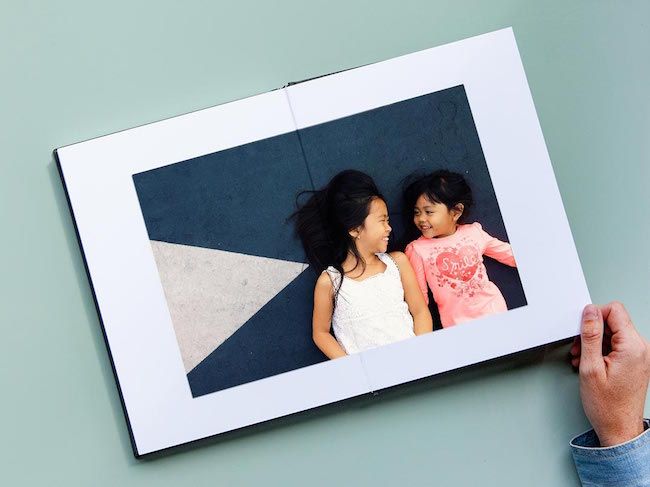 1. A professional quality keepsake photo album
Artifact Uprising's premium Layflat Photo Album is really in a league of its own, with extra-thick paper that displays favorite family photos perfectly. The foil stamping on the linen cover is exquisite, and enables you to customize the title of the album for something truly special, whether it's going to be kept out on a coffee table (away from kids who spill, please!) or on a bookshelf in an office. And the fact that it's bound to actually lay flat (as you might have guessed) means it can be propped open to a favorite page, too.
How to make it more special: Fill it with your favorite photos of him from the early days of fatherhood (or grandfatherhood) right up until now. Document a year in the life of dad, going back the last 12 months. Think generationally, and include favorite heirloom photos of his own father and father's father, too.
2. An affordable Instagram photo album
We'll admit it: there are times even our partners and parents and closest friends find out about our kids' major life events — you know, those lost teeth and first haircuts — on Instagram. That's why we love the very affordable Instagram friendly photo albums that could be curated in a variety of fun, creative ways. The kids will love climbing up into his lap and reading it with him — and that's the real gift. (Photo credit Pitter Patter Clunk via @ArtifactUprising)
How to make it more special: You can spell out an A-to-Z of why the kids think Daddy is so awesome. Capture the traditions he has with the kids, like Saturday morning donut runs or scooter races in the park. Pull together a history of photos from his first Father's Day until now (and be sure to wrap it up with a box of tissues). Or, just choose the best-of-the-best of the family from your Instagram account.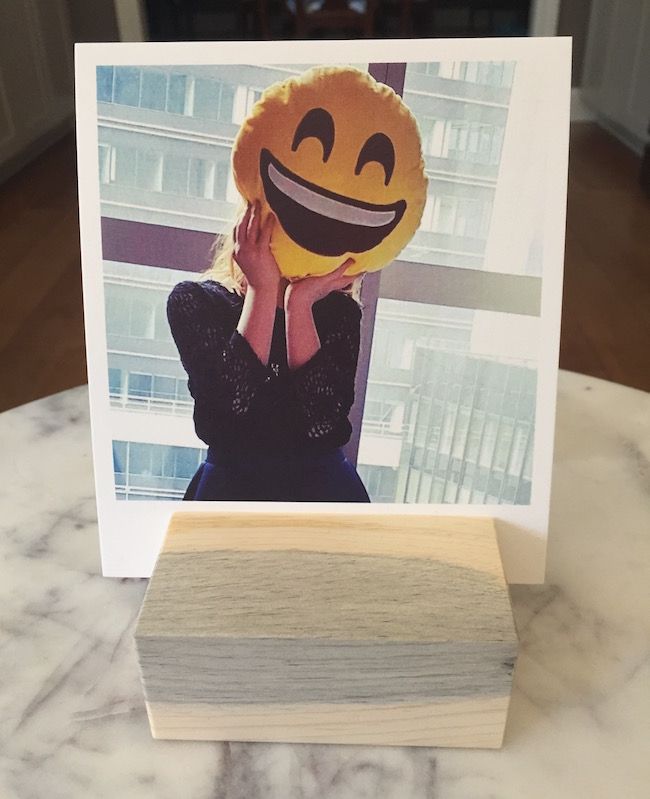 3. A simple wood block frame to display a series of favorite photos
Sometimes you can't pick just one photo to frame, and that's where the very cool, minimalist wood block photo frame makes a great Father's Day photo gift. You can choose 12 photos which are all printed just beautifully, then place the whole set in a simple wood block stand. Dad or Grandpa can switch them out each month — or each hour if he's really sentimental.
How to make it more special: Let the kids make a dozen silly faces (or hey, emoji faces) to give him a laugh during a long day. Have them make photos with text overlays spelling out their love for him. Choose photos with seasonal themes. Photograph favorite artwork from the kids. Or take photos of the kids holding special drawings they make just for the occasion.
4. A photo-printed wooden keepsake box
This gorgeous wooden box made from reclaimed mountain beetle pine wood is a beautiful but not fussy keepsake. And that's something that's hard to find. We'd create one with a timeless photo printed on top — maybe him with the kids when they were babies? — but that's just the beginning.
How to make it more special: Fill the box with his favorite things, whether that's fancy cigars, recipes to add to his cooking repertoire, a new set of cufflinks, handmade flies for his next fishing trip, or tickets to the theater or a favorite sporting event. Or hey, just include lots of lovingly handmade Father's Day cards from the kids. That always seems to do the trick.
5. A custom photo calendar that's nicer than the ones at the drugstore photo kiosks
We also love Artifact Uprising's custom minimalist wooden calendar. This magnetic clipboard holds cards for each month of the year. And if you order this for Father's Day, don't worry — he can start using it right away. It will come as a July 2016 to June 2017 calendar.
How to make it more special: Be sure to include your family's favorite photos from all the seasons, from silly summer vacation photos to Halloween costumes to the infamous lopsided snowman of the '16 blizzard. Or, use photos of the kids' artwork, and include those got-to-love-them portraits of Dad.
6. One single, perfect, perfectly framed photo
Sometimes, the simplest gifts are the ones most coveted. If the kids' Dad, grandpa, or any other important men in their lives don't have one special family photo on hand, go for this idea. It's so easy to order a deep-set framed photo print from Artifact Uprising — just upload your favorite photo to the website and it arrives printed, framed, and ready to hang.
How to make it more special: We'd choose a scenic landscape shot from one of our family vacations that bring all the great memories flooding back. If he likes to take photos himself, snag one of his own favorites from his photo roll and print it for him. Or make it silly instead of sweet — who says perfect has to mean serious? Funny faces from his favorite kids on the planet might be the perfect Father's Day photo gift for him.
Thanks again to our partner Artifact Uprising for creating such special gifts that our dads will actually want this Father's Day, and for being the kind of awesome small business we love to support.