When it comes down to it, you really can't go wrong with pictures of your kids as gifts. We're huge fans of photo gifts — from custom memory games to marshmallows (yes, really) and of course, photo books. But the gifts that are really melting our hearts are cool custom portraits of our families from some of the most talented folks we've ever found on Etsy. These artists are totally nailing it with modern portraits that are anything but the pastel chaise-lounge portraits your grandmother still has hanging on her wall.
To help you shop for Mother's Day and Father's Day gifts this year, we've rounded up all the custom portrait artists we've ever covered all in one place, so you can pick your favorite to commission a portrait of your family. And because we know there's no way to pick just one (trust us, we've tried), we're giving you permission to get one for every room in the house.
Related: The cool custom paper-cut portraits we really, really want for Mother's Day.
Custom mid-century style illustrated portraits by Jordan Grace Owens ($150)
Cool meets classic with these mid-century style portraits. We think they are incredible, which might account for the long lead time. You're going to need to plan ahead for this one, but it will be worth the wait. Lead time: 3–4 months
Cut-paper portraits by Purple Paper People (starting at $120)
I love Patricia Lima's amazing cut-paper portraits so much so that I recently commissioned one of my son, and it's just as fantastic as I hoped it would be. Definitely an heirloom we'll be passing down to him one day. Lead time: 2 weeks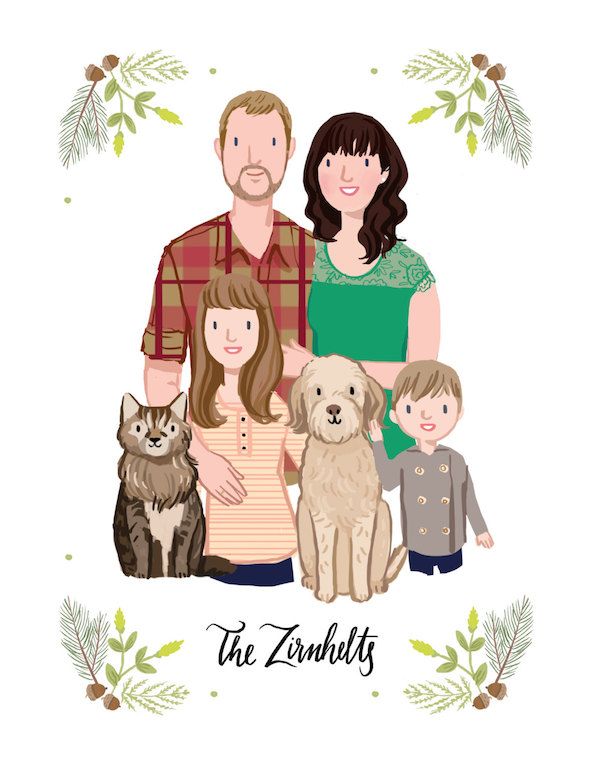 Custom illustrated family portraits by Kathryn Selbert ($100+)
Kathryn Selbert captures your family's style and personality without ever overdoing it. And she will print these as stationery or holiday cards for you too, which is great if getting the whole family together for a photo opp just isn't happening this year. Lead time: varies, but busier around holidays so convo her before ordering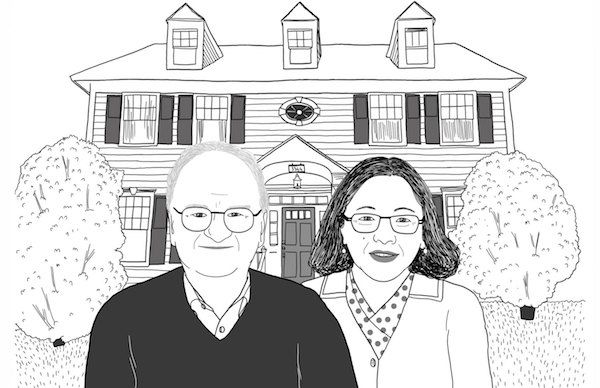 Digital Drawing by Todd Borka (starting at $70)
French artist Todd Borka's charming pen-and-ink style digital drawings are a really sweet gift. I love that he also does drawings of your house, which is a not-too-sentimental way to show your parents how much your childhood home meant to you. As you're looking around his shop, don't miss his awesome custom portrait tattoos too. These are amazing. (Bonus: because you get a digital file, you can print as many copies as you want on the media of your choice.) Lead time: one week, or for an upcharge he can do it in 24 hours
Extended Family Portrait by Ink Lane Design (starting at $75)
If you have a big crew, one of Ink Lane Design's family portraits is a great way show it off. This is a gift that's sure to make Grandma and Grandpa tear it open and tear up. And because you can get digital copies of the artwork, everyone in the family can get their own copy to hang on their walls too. Lead time: 1 week, with rush option available
Custom illustrated family portrait from My Little Buffalo (starting at $65)
Michigan artist Lisa Nelson's watercolor-style portraits are simply sweet. There is a happiness to these that comes through in such a bright way. Lead time: 3–4 weeks
Custom illustrated family portrait by Matt Blanks ($125+)
I think Matt Blanks' style, which is so different from the rest of these artists, would be adorable for a kid's bedroom. You can send him photos of your family members, favorite outfits, pets, and your hobbies and interests and he will work them all into the design. You're getting an actual printed copy from him for this price; extra copies are available for a discount. Lead time: varies, so convo the artist to confirm
Custom illustrated family Star Wars portrait by Modern Brush ($110)
You guys have loved these Star Wars portraits so much that artist Thomas Brush is taking a short break right now, but convo him to get on the list when he's back up and working again. These are definitely worth the wait. Lead time: varies, so convo the artist to confirm
Custom illustrated articulated paper dolls by Jordan Grace Owens (starting at $35)
Wow, the awesome artist who makes those incredible mid-century portraits above also does these incredible paper dolls styled to look like your family. And, if your kids are ones who would want to play with them (um, just no) then you can get them framed as well. For a quirky family with modern style, this is such as cool alternative to traditional portraits. Lead time: 3–4 months
Custom storybook style illustrated family portrait by Marina MareLloba (starting at $135)
Barcelona artist Marina MareLloba helps bring big imaginations to life with her storybook style portraits. I'd ask my kids to imagine a scene they'd really like to be in. Reading a book to a dragon? Having a tea party with unicorns and fairies? Exploring Cinderella's castle? Done. Lead time: 10–15 days for a digital download, or she can ship a printed version but remember, it ships from Spain

Custom illustrated family portraits by The Fluffiness Market (starting at just $33, yes, really)
Swedish artist Oana has a quirky and distinct style, and her digital illustrations are crazy affordable and delivered to you fast — in about just one week. This would make a great phone case or canvas print for your kid's room or even a Facebook profile pic…We could use this used a hundred different ways. Lead time: 1 week
Custom illustrated family portrait featuring movie themes, by Henry James Paper Goods (starting at $80)
Kadie Foppiano does amazing pop-culture representations of your family — from Star Wars to Ghostbusters or your favorite sports team. Of course, she can also do you in your normal clothes too, and she'll even include your home as a backdrop if you want. So, basically, she can do anything. Lead time: up to 3 weeks for a proof for your review and approval
Related: Personalized silhouette gifts that make a mom get out the tissues
Custom embroidered family portrait series by Polykatoikia  ($60+)
This incredible artist from Athens (as in, Greece) turns your family photos into embroidered hoop art. She has an almost Edward Gorey-style to her illustrations, and your family will come out looking like a bit whimsical and off-beat — in the best way possible. This is the kind of portrait that will get passed down for generations. Lead time: 6–7 weeks
Custom illustrated family tree by Near and Dear Designs on Etsy (starting at $80)
I've gotten hooked on researching my family tree lately, so this layout by artist Brooke Witt really caught my eye. It's a great mix of traditional layout with more modern, stylized images that look like your family members without being exact representations. Lead time: 1–2 weeks
Modern, custom illustrated family portraits by Blanka Biernat  (starting at $85)
Even though Blanka Biernat has a cartoony style to her art, she still artfully communicates so much emotion with her work. And I love that you can include a family motto across the top of the portrait too. But take note: these ship from Poland so her lead time is a little longer. Lead time: 6–8 weeks
Custom illustrated family portrait by One City Owl Designs ($70)
This family portrait by One City Owl Designs is almost like a family crest. And since it comes as a digital file, you can logo up your stationery, a coffee mug, phone case, pretty much anything. Or, if you commission an individual portrait of your child instead (which cost a little less than the family portrait) you could use it as a cute label for their school supplies, lunchbox, water bottles, and more. Lead time: 24–72 hours
Custom family portrait embroidery hoop by Pacifier (starting at $65)
If needlepoint isn't in your wheelhouse, you can let Pacifier do the hard work for you. I love that you can include pets and gear like strollers or wheelchairs, which makes it very personalized even though it's stylized (as in, no facial features). These portraits are charming without being quaint, and that's not an easy accomplishment. Lead time: 1–2 weeks after approval of the final proof
Custom painted peg doll ornaments by Goose Grease ($100+ for set of 4)
These hand-painted wooden peg dolls would make an amazing ornament gift for those who partake in tree trimming during the holiday season. But you can get them without the hooks and loops attached, by ordering them to come in a frame instead. Lead time: 2–4 week

Lili Di Prima custom family portraits (starting at $68)
If you think you might be super picky about getting the details of your portrait just right, may we suggest you hire Italian artist Lili Di Prima. She has no limit to the number of revisions you can make, which is incredibly generous. Some artists we've found — and chosen not to feature here — won't even show you a proof before they finish your piece. Lead time: 1 month (negotiable)

Printable Wall Story custom portrait art (starting at $60)
Istanbul artist Omur Ozsan is fast and affordable (you can add up to 6 characters in your portrait for only $115!). He also happens to be amazingly talented. We love these colorful portraits full of charm and character. But I think my favorite idea of the artist's is to commission a portrait of your growing family for a pregnancy announcement — so smart if you're like me and felt too sick during your first trimester to do a full-on (and, expensive) photo shoot. Lead Time: 1 week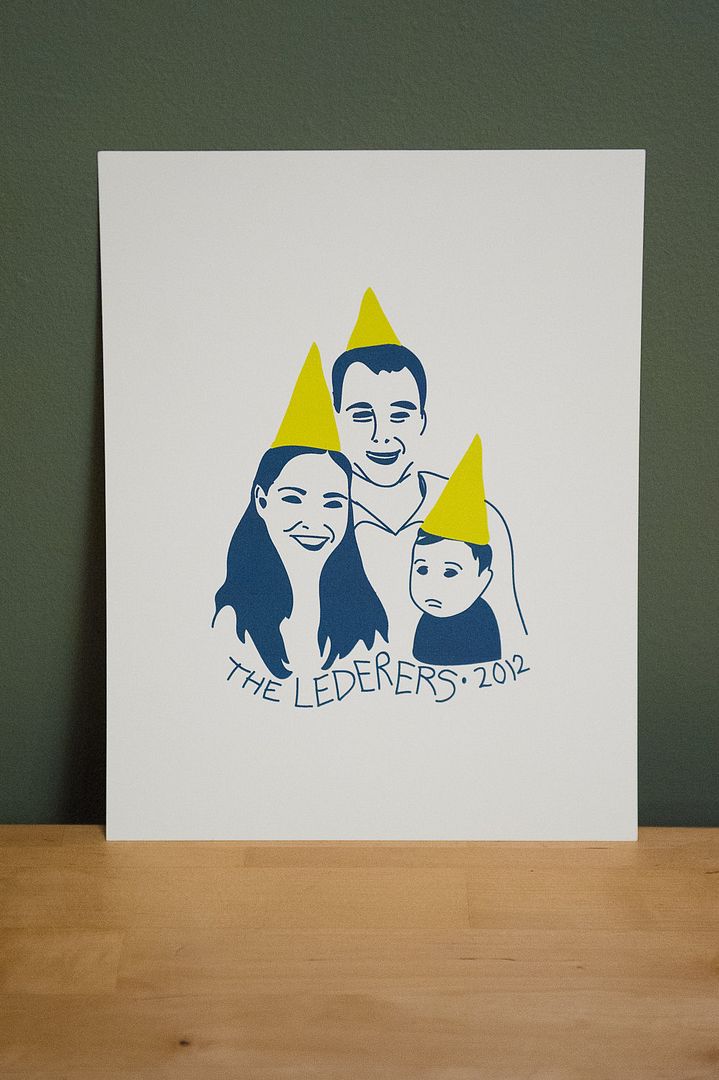 browneye custom family portrait art ($125+)
DC's Jill Kimora creates cool family portraits with a quirky vibe. I love her rubber stamp-style portraits shown here, but she also does pen-and-ink drawings, illustrated family portraits, and the sweetest dad-and-new-baby illustrations ever. Lead time: 12 weeks
Shh Maker Design custom portrait art (starting at $180)
Amanda Shoemaker's character illustrations are so whimsical, they'll add some lighthearted fun to your decor. She can even capture everyone's personalities and passions, whether they're bookworms, photographers or dancers. Lead time: 3–5 business days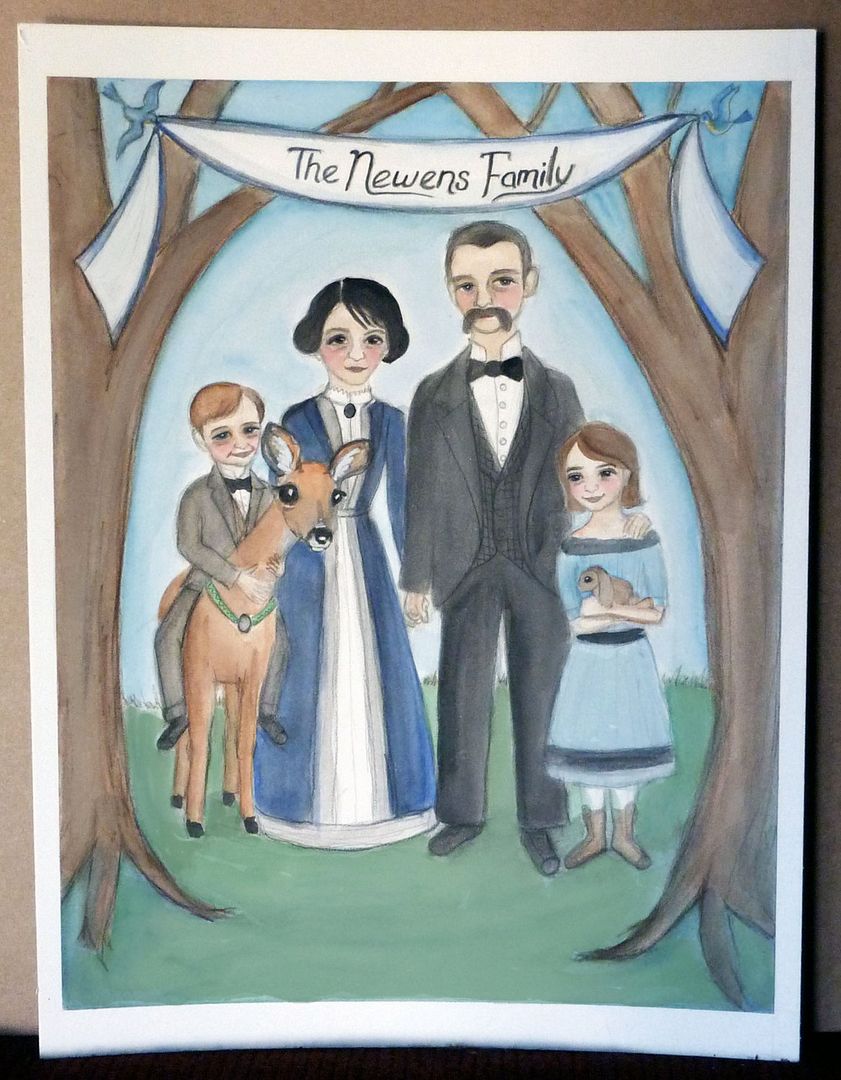 Blue Hour Studio custom Edwardian family portraits ($75+)
If you're lamenting the end of Downton Abbey and love all things Jane Austen, then you might like a family portrait by Debra Styer. These are delightfully weird — the kid riding the deer is so awesomely strange — but they still convey a sweet family spirit that I love. Lead time: 3–4 weeks

Peanutoak Print custom LEGO family portraits ($39)
We had to include Portuguese graphic designer Patricia Salazar Pino because, LEGOs! This may not be the heirloom piece you pass down for generations, but at this price we think everything is awesome about these fun portraits we'd happily hang in our kids' rooms. Lead time: varies, convo the designer before ordering and add about 3 weeks for shipping
Little Rosa Shop custom peg doll family portraits ($95–115)
If you love the wooden peg doll look but want something more portrait-y, then commission one from Little Rosa Shop where you can create a background to go with the dolls. And if you have a family pet, be sure to check out her animal dolls too. The dogs with floppy ears are adorable. Lead time: 4–6 weeks