I'm so happy that wedge sandals are back in style! Because the best part of summer fashion is that it's all about being casual, breezy and relaxed, right? So, on the rare occasion when we leave the pool and I need to dress up a little more than my go-to flip-flops, I much prefer my comfortable wedge sandals over dressy heels. They're versatile enough to work with shorts at a backyard barbecue or with a dress for dinner out.
Plus, they're not nearly as wobbly as heels, which is great since I'm still going to be chasing my kids around most of the time.
I scoured some of our favorite stores and found 6 great pairs that will take you from park and playdate to dinner and a movie date, whatever your budget. And it doesn't hurt that they all look gorgeous, too.
CMP is an rstyle affiliate
The Michael Kors Damita wedge sandal is so comfortable — the zipper on top makes for easy on-and-off, and it just looks cool. And a platform sole gives the impression of a much higher heel, without the discomfort of a stiletto. We love all his brightly colored shoes for summer, though the pink is a standout. There are even a couple of MK-printed leather options if you'd rather go neutral.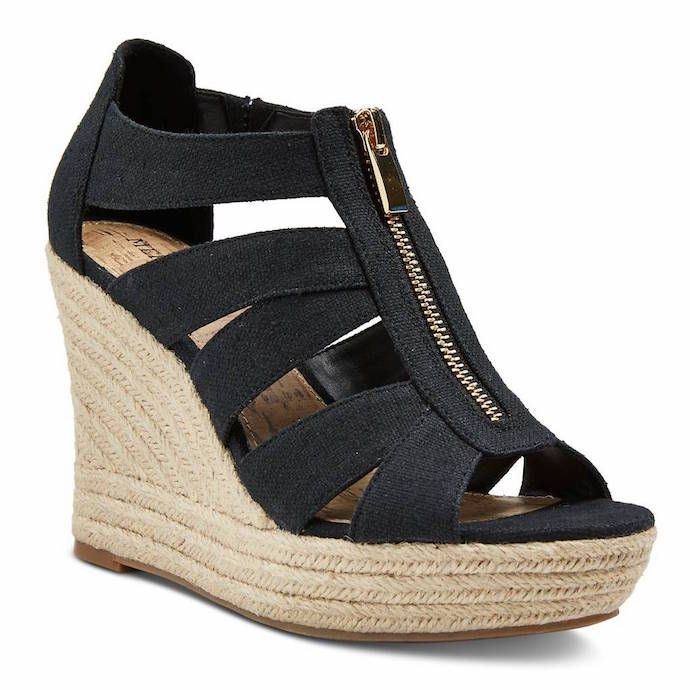 Love the Michael Kors but not the price? We recently spotted this Meredith espadrille wedge which is on sale at Target (whoo!) and looks…well, fairly familiar. They're less than a third of the price of the MK version, and there aren't as many color options, but I can tell you from experience that they'll hold up; I've had mine for more than a year, and they're still looking great.
This strappy leather wedge by Hinge looks great with pretty much anything — jeans, dresses, shorts all work. I had a hard time picking just one color to show here, because I really love the grey and cognac options too. Hmm, can I fit all three in my summer shoe budget?
Related: Our favorite summer sun hats for people who don't think they can pull off sun hats. Because, you can.
These peep-toe Ralph Lauren Cecelia wedge sandals come in every color you could think of, including preppy embroidered prints and even leopard. They have a lower heel than some of the other styles here, which is a nice option if you want something a little more everyday, or if you're going out with kids who will be tugging at your arms — a lot. (Not that I know anything about that.)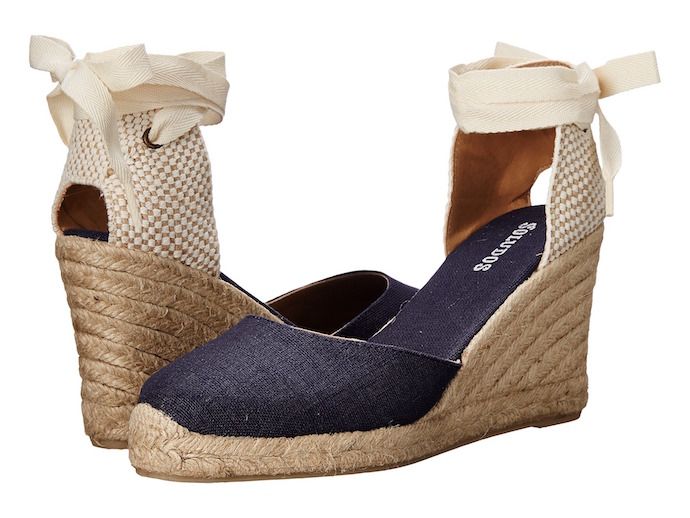 There's a decidedly feminine look to these Soludos Tall Linen Wedge Sandals, made by the brand that epitomizes the authentic Spanish espadrille. The ankle-wrap can be so flattering, and the canvas ribbon looks like more comfortable than some of the leather, gladiator-style wrap options I've seen out there. But the linen toe and woven heel also give it that snappy casual look that's perfect for picnics or outdoor parties this summer.
We've loved the TOMS give-back business model for years, and their styles just keep getting more current. Now there's the new TOMS Calypso Canvas Wedge, a classic shoe you'll be able to wear for many summers to come. I like the subtle weave on the heel, but for something a little less traditional, you could go for the cork heel TOMS wedge (shown at very top). I'd definitely take these with me to the beach, but I'd wear them later for dinner downtown too.