I can still vividly remember the playdate I had for my toddler the same week we laid new carpet in our house. You know where this is going, right? Within minutes, the mom's mega-venti-grande-whatever coffee was all over the place. And yes, the stain is still there. What would have saved me then — and the countless other times my kids or their friends have made a mess all over the floor — are these chic bonded leather playmats by Gathre.
These simple, waterproof leather mats are so pretty…and so functional! They can be used for everything from a picnic blanket to a yoga mat, diaper changing pad to under-the-highchair mat. And the pretty, modern colors blend right in with the rest of my home decor, so it doesn't look like my living room is a playroom.
Well, except for the kids' toys everywhere.
Related: Where to find the cutest French baby gifts and room decor without the $2000 plane ticket.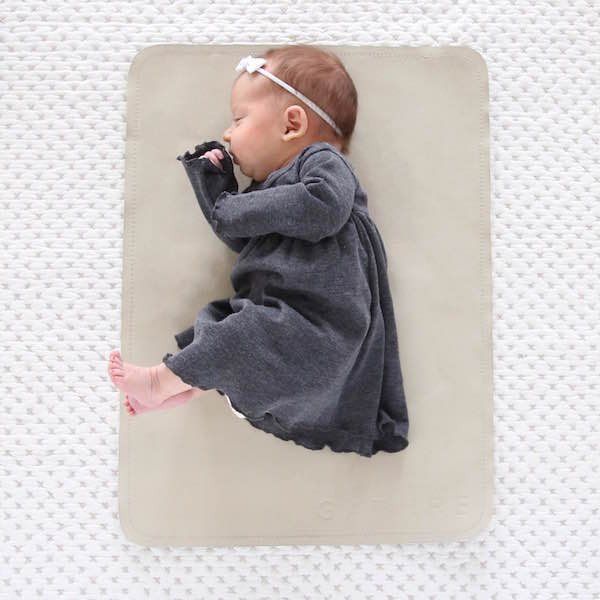 Related: Shop Art Theft: A site to support indie artists, not the retailers ripping them off.
Each mat is made from bonded leather (with suede on the back), so you can wipe them down easily if you spill on them. Even kids' paint will wipe off nicely. And water doesn't seep through either direction — saving your carpets from coffee spills, and your bum from wet grass at a picnic. They're also fairly portable, folding up smaller than a blanket (although, heavier).
I love that laying out one of these provides a designated space for my kids to play. As in: Yes, you can get out the LEGOs but they must stay on your mat. It gives them the freedom to play however they want, but also gives me the freedom to walk through the house without stepping on those spiky little bricks.
And when they're done playing, I can either fold it up and stash it, or hang it from the sturdy leather loop. Because it's almost as pretty hanging on the wall as it is on my floor.
You can shop for Gathre mats in 11 gorgeous colors — from pewter to mint to walnut. Sizes range from their micro changing pad to their huge 120-inch maxi, which you could slide under the kids' table at Thanksgiving and save yourself a lot of post holiday meal cleanup.