While every year we put together our favorite New Year's printables for those of you partying like it's…well, the beginning of a new year, this New Year's Eve feels a little different for a lot of us. Maybe you're saying goodbye to a really tough 2016; maybe you're throwing a glam, glitzy shindig as a brief respite before the reality of what may be a tough 2017 sets in. Or hey, maybe you've got a lot to celebrate in your own life.
As I stare at my own personal fire hazard (A.K.A. the Christmas tree) and dread taking down the lights and ornaments while getting covered in sap and tinsel, I know I can't wait for the champagne, the chance to get out of these pajamas, and the thrill of counting down to midnight — and, hopefully, a better year.
Check out these great DIY New Year's printables to see if they can help make your evening extra fun.
Not included: all those glittery doodads I've been saying that say F*ck 2016 because even you may feel that way, there might be kids at the party. Heh.
CMP is an rstyle affiliate
Related: 13 more stunning New Year's party printables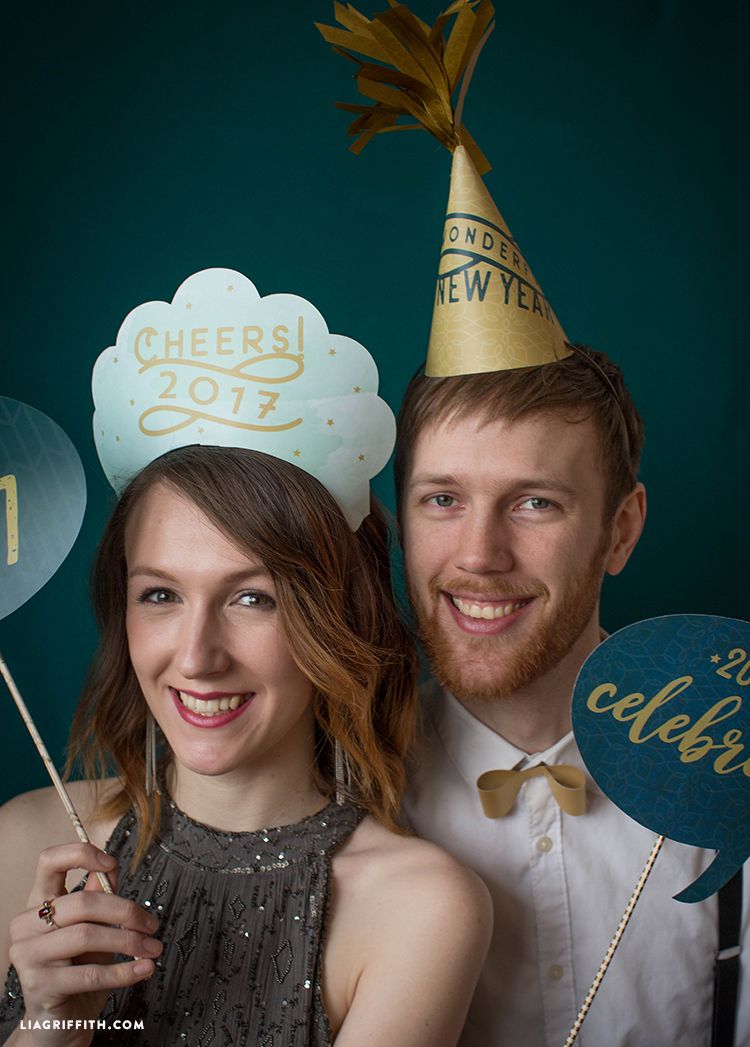 Free Printable New Year's Eve Hats
Crowns and hats in a gold and teal palette? And they're… free? Yes! Print as many printable New Year's Eve party hats and crowns as you like thanks to Lia Griffith, decorate with glitter and pom poms if you're crafty, and prepare to have the most posh guests around. She's also got some great New Year's Eve party printables for teens, as show in the top image.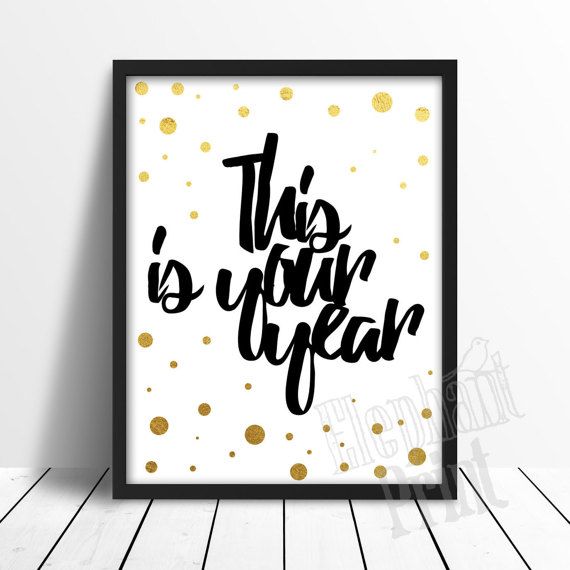 This Is Your Year printable poster
I think we can all agree that 2016 was a hard year for a lot of us. Instead of the typical "Happy New Year's" printable posters greeting guests at the door to your New Year's eve party, I adore this positive, powerful message instead which is available as an affordable instant download from Elephant Print. In fact, you can even print out several printable This Is Your Year posters, roll them up and tie with gold ribbon, then hand out as favors to remind your pals that 2017 is going to rock. It has to, right?
DIY clock cupcake toppers for counting down til mdnight
These DIY cupcake toppers at Fiskars super sharp, somewhat easy, and plenty glitzy if you add an adhesive gem to the center of the finished product. It's up to you if you want to rotate the hands each hour — though kids might find that a really fun way to make the countdown more exciting. If you want to make it even easier, use the DIY as inspiration and just draw on some Sharpie clock hands. I just hope the hostess doesn't expect me to wait until midnight to eat them.

DIY chevron print backdrop for New Year's Eve photo booths
Of course a photo booth is de rigeur at any part these days. Check out this I Spy DIY tutorial for making a glitzy DIY chevron print backdrop which is so very simple–and you can even use the leftovers to make confetti. Perfect for that photo booth or just random selfies, and you can choose any colors go with your theme.
Related: 4 favorite photo booth to preserve the memories with fun and ease
Printable 2017 New Year's Eve party photo booth props
This set of 26 cute 2017 printable New Year's party photo booth props from Paper and Cake has everything you need, and I mean everything. From lips and mustaches in multiple styles to top hats, tiaras, champagne bottles and signs, you'll get a variety of colors to make your New Year's Eve photos something special. Some pieces are even customizable. Just make sure you've got lots of good card stock paper and ink!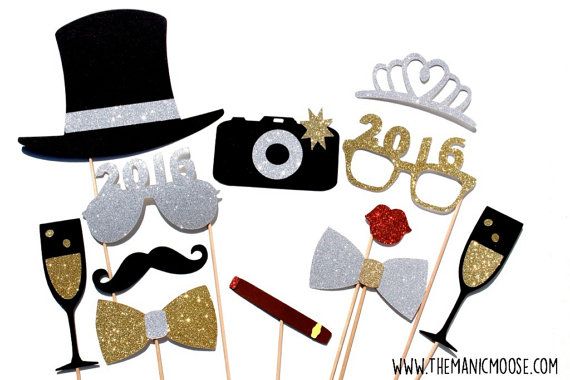 Glittery New Year's Eve party photo booth props
If you're not up for a DIY, wonder of wonders, this is a set of glittery printable glittery New Year's Eve party photo booth props from the Manic Moose on Etsy, that don't require hours of you printing, cutting, and gluing. Because they make them for you! Ahhh. You will pay for the service (plus priority mail at this point), but in return you get a set of twelve cool props that happen to be approved by celebs like Jessica Simpson and those party-loving Kardashians. Just sayin'.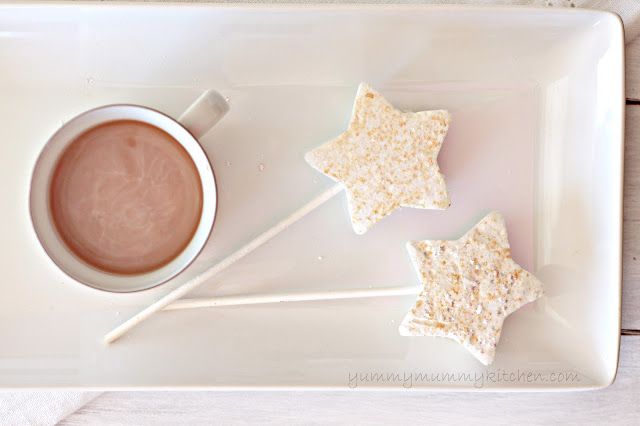 DIY glittery marshmallow stars
This recipe for glittery edible marshmallow stars will make your hot chocolate (or hot toddy!) bar truly special at any New Year's Eve party, especially one with kids around. The recipe is pretty complicated–marshmallows from scratch, oy — but I'd say make it easy on yourself. Buy store-bought marshmallows, roll them out with some confectioners sugar, and cut them out with cookie cutters. We won't tell.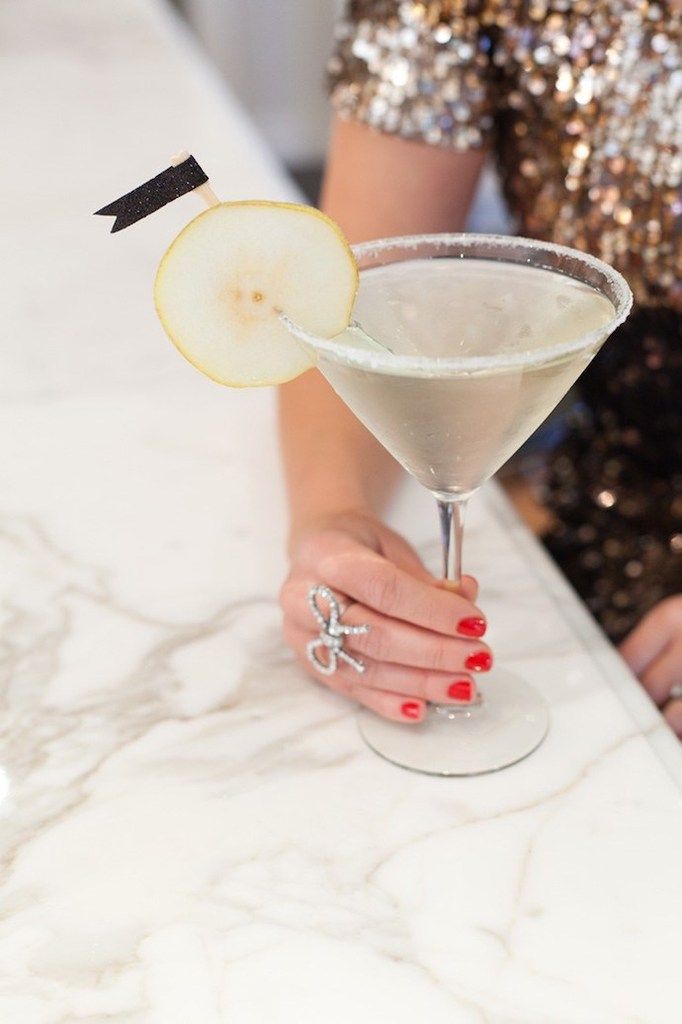 DIY French Pear Martini with Mocktail Variation
Leave it to Stacie at Cool Mom Eats to put together a ton of delicious cocktail recipes perfect for your New Year's Eve party, including non-alcoholic versions for kids, pregnant guests, or those abstaining for any reason. I'm drawn to this shimmery French Pear Martini from Freutcake which brings the glitz, and Stacie's clever mocktail alternative is pretty genius too.
Related: The best DIY cocktails and mocktails for New Year's Eve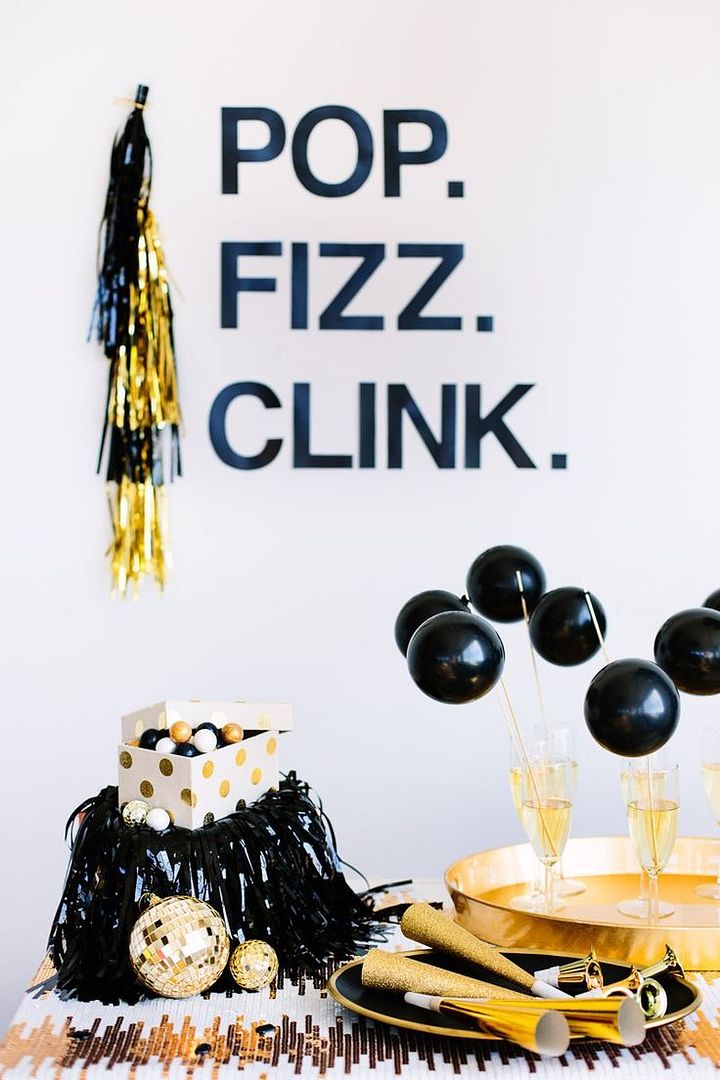 DIY Champagne Bar Wall Display
If you're doing the traditional champagne toast, this simple printable POP FIZZ CLINK champagne bar wall display from Balloon Time is on point, easy, and again, makes a fantastic backdrop for photos. If you like the idea but aren't into or serving champagne, you could easily print your own twist on this idea, possibly doing NEW YEAR'S EVE or TIME TO PARTY. Or hey, try HAMILTON AND LAFAYETTE AND LAURENS, AND MULLIGAN — but then, that's a different party, isn't it?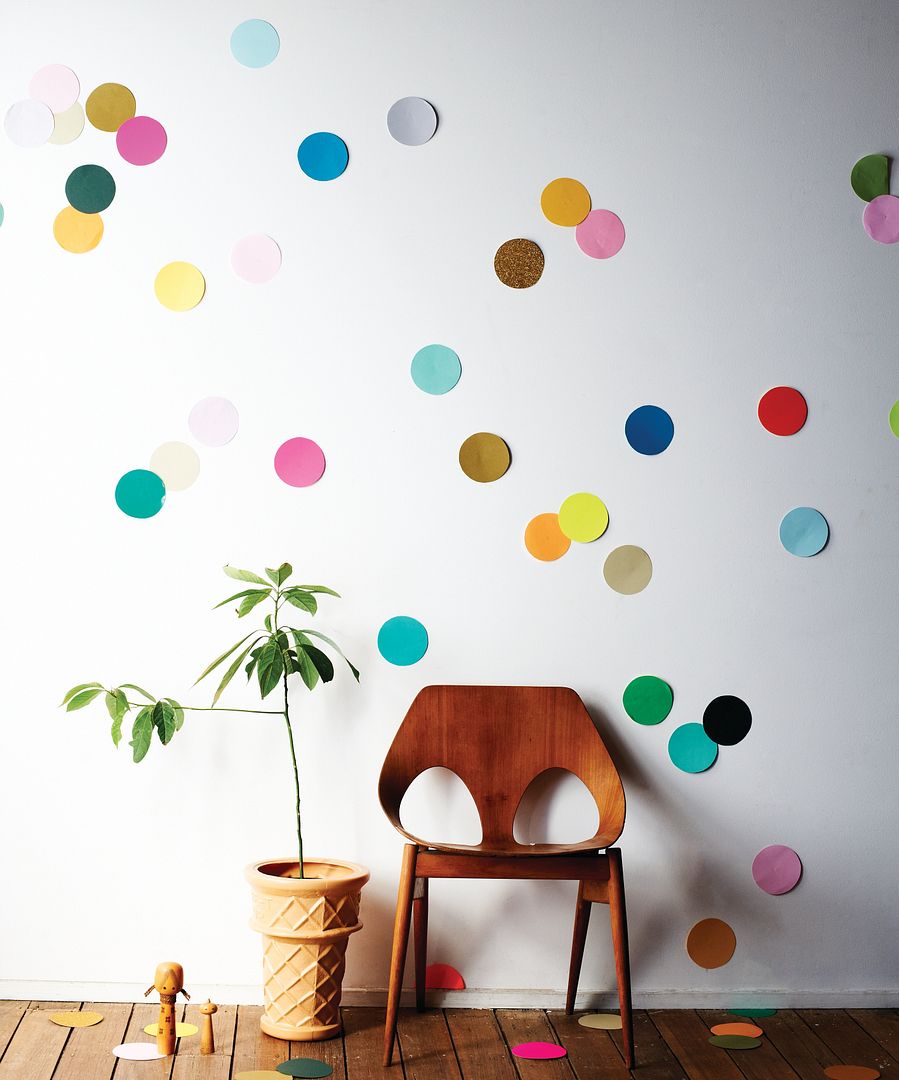 DIY giant confetti wall decor
Everybody loves confetti… except the person who has to clean it up. This DIY New Year's party confetti wall spotted on Wee Birdy, from Beci Orpin's book Find & Keep, solves that problem perfectly! You get fill your home with confetti in colors your choosing without destroying your manicure scraping the stuff out of every crevice the next morning after too much champagne. Plus, it makes a fabulous backdrop for selfies.
DIY golden cotton candy for New Year's parties
Did you know you can make your own cotton candy at home without a super expensive machine or a trip to the carnival? It's apparently a little challenging–but it can be done, intrepid New Year's party hostesses! Check out this homemade cotton candy recipe on the Cooking Books blog, adapted from a recipe from Sugarbaby by Gesine Bullock-Prado. It helps you craft your own glittery spun sugar delights to match the decorations, and happens to look fabulous popping out of simple mason jars in a cluster.
DIY kid-friendly party crackers
A pretty twist on the more traditional Christmas crackers, I really like these kid-friendly DIY New Year's party crackers, also from Fiskars, which let you include a silly gift inside along with the confetti popper. Plus, you can customize the beautiful outside to match your party decor — maybe try some metallic silver and gold?
DIY metallic mason jars
Mason jars are cheap and cool, but you can transform them with just a couple of cans of spray paint and possibly some glitter. And maybe some glitter spray paint! Just follow these easy and very clear directions at How Sweet Eats for DIY metallic Mason jars, which are perfect for holding flowers, pretty straws for champagne punch, or black or gold plastic silverware. I happen to love these fabulous Happy New Years Party Straws from Twigs and Twirls on Etsy if you're looking for fun ones, or even check Target or your local party store at this point.
You can also  follow these instructions at Momtastic for DIY gold dipped champagne or wine glass stems that I'd be more inclined to drink out of than the mason jars.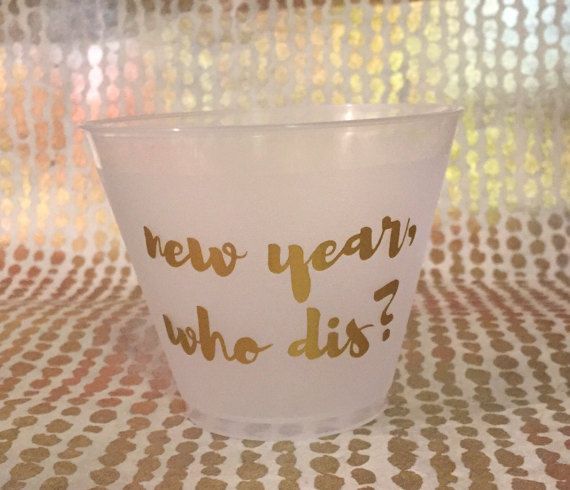 New Year, Who Dis? Cups
No, this has nothing to do with anything printable or DIY whatsoever, but I can't resist glasses with the phrase that can end any prospective phone call — or calendar year — with sass. These New Year, Who Dis? cups from Sun and Star Events say it all. If you're handy with a paint pen or have a Silhouette machine, and there's no time to order, you can probably DIY it. But I love this shop which has several other adorable options, some of which are more NSFKP  (Not Safe for Kids Parties) than others. Don't come calling, 2016. And especially don't send pics.
But for the record, we totally agree with that poster: This Is Your Year.  We bet you will make it so, if not in the way you might be expecting.
Happy 2017, everybody!