Here at Cool Mom Picks we're hopelessly devoted to finding the best of the best free printable Valentine's Day cards and these that we've tracked down happen to be wildly creative!
They not only make much easier (really, so much) for our kids to deliver the sweetest of sentiments to their friends and classmates, but they can really show off your own kid's individual style, interest and hobbies, from sharks to skateboards to LEGO.
So we cross our hearts that your kids will fall in love with these 19 creative, free printable valentines for classmates.
Did we mention free?
Related: More of our favorite free Valentine's Day printables for kids' classrooms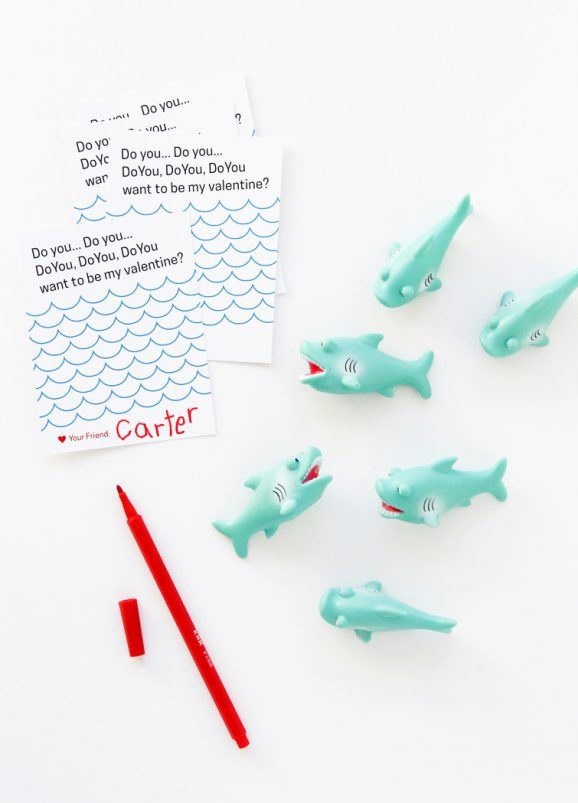 Free Printable Shark Valentines for the Class | Paging Supermom
The only possible downside of this adorable homage to Jaws is that the theme song is sure to be lodged in the heads of children and parents everywhere. Otherwise, the free printable (with store-bought shark figurines or erasers — awesome!) make for a truly unique valentine.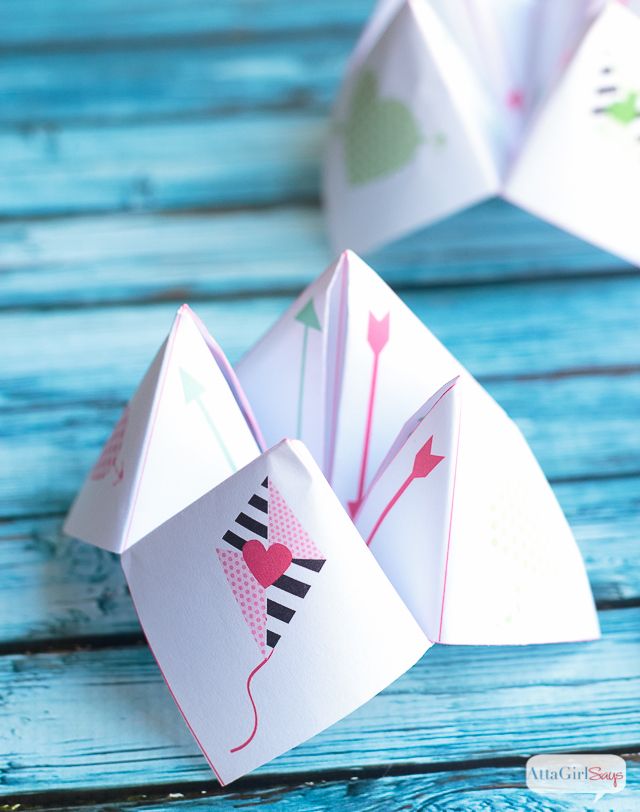 Free Printable Cootie Catcher Valentines | Atta Girl Says
My fourth-grader's classmates are all about making the very same fortune tellers we made when we were their age (yay for things that never change!). I love the sweet graphics and "fortunes" that these printable valentines offer, but if your kids shy away from mushy stuff, there's also a template with jokes — and it's just as cute.
Free Printable Dragonfly Candy Valentine | Artsy Mama
Oooh how sweet are these lovely printable dragonfly candy valentines for the classroom? Most of the work is done for you with the template; you just need to add a pack of individually wrapped Sixlets (or similarly packaged candies,  as pictured). Then add glitter glue for decorating if you want yours to look as sparkly as hers. And if you don't mind a little glitter glue clean-up around the house.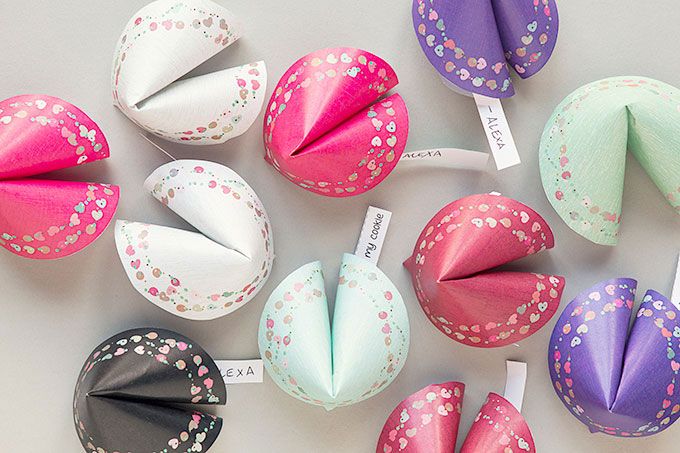 Free Printable Valentine Paper Fortune Cookies | Evermine
These crescent-shaped paper fortune cookie cards (also shown at top) are so pretty, and, according to the instructions, they're actually easy to fold. Coming up with custom fortunes and silly cookie puns is something I know my kids would enjoy.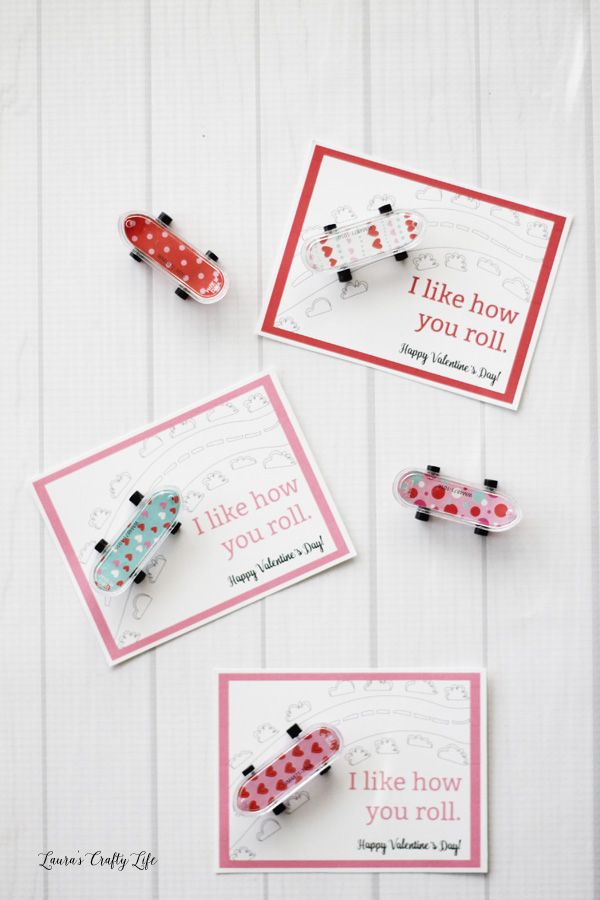 Free Printable Skateboard Valentines for the Classroom | Laura's Crafty Life
You can likely find packs of mini-skateboards to top these on-the-road printables at a party store, but other moving (well, rolling) objects could work just as well depending on your kids interests. Consider bowling balls, roller skates, scooters, cars, bicycles…and, you know. Roll-y things.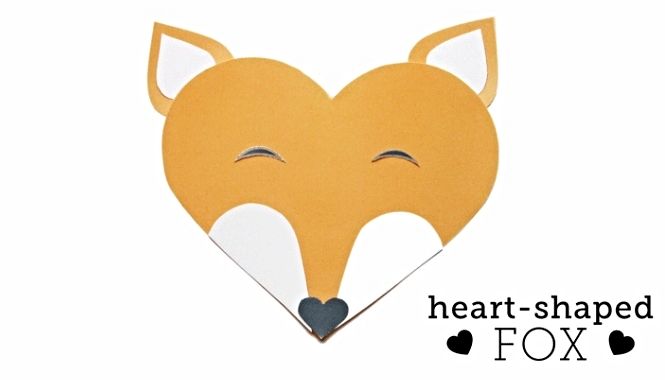 Free Printable Heart-Shaped Animal Valentines | Phil and Mama
Did you know you can use a simple heart to make not one, not two, but five different kinds of animal valentines? The instructional GIFs and accompanying free printable Valentines downloads courtesy of Phil and Mama prove that kids can deliver a whole menagerie to their classrooms, including foxes, bears, penguins, and unicorns. Unicorns! And, especially apt for this Chinese New Year, there's a rooster with a big red heart belly. Great project for kids who might be more into crafting than just signing traditional Valentine's Day cards.

Free Printable Valentine Accordion Card | Hello, Wonderful
This free printable valentine folds out into four separate heart-shaped panels; but what's more, the design converts into a little candy cone to fill stash any of your own Valentine's Day chocolate overflow. Genius!
 DIY Printable LEGO Heart Valentines | I Heart Naptime
If you have spare LEGO bricks laying about — unless they have all become permanently embedded into your feet at this point  — have your little builder snap some together to make these cool hearts for this pretty printable. Probably best for smaller classrooms though, because I'd hate to have to make 27 of these. Tip: If you want to buy individual bricks in colors and sizes of your choice, check out one of our favorite resources, BrickLink
Free Printable Retro Typewriter Valentine's Day Cards | Simply Girly for C.R.A.F.T.
Seal these with a kiss of candy wax lips. Or just let your kids draw in their own lips with pens or markers (which is a stellar substitute for them ransacking our makeup drawer in search of red lipstick, right?).
Related: Free printable Valentine's Day cards for the classroom that celebrate friendship, not romance. (Phew!)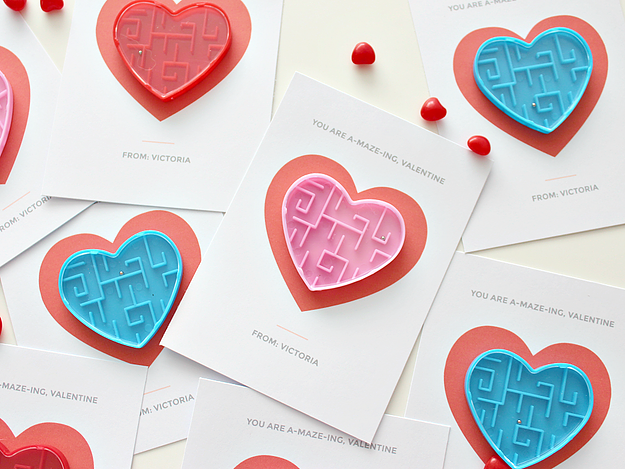 A-maze-ing Free Printable Valentines for the Classroom | White House Crafts
I love the sweet simplicity of these valentines — in both their design and how easy they are to make. Print them onto heavy card stock so they can withstand the weight of the miniature mazes. If you can't find the plastic mini heart mazes, you could always help your child draw an actual maze challenge; do it just once, then print a bunch of copies to add the hand-drawn maze to this cool card.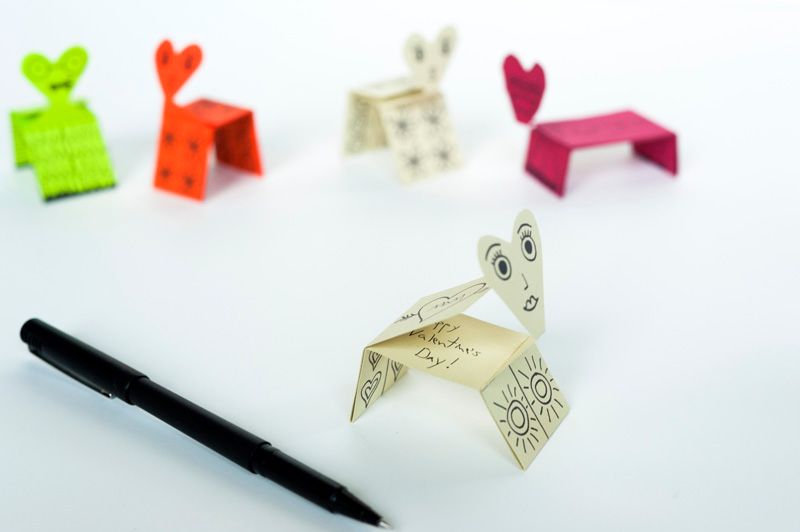 Free Printable Valentine's Card Creatures | Made by Joel
Valentines that have miniature toys attached to them are cool enough as it is…but a valentine that is a toy? Smart! Print out the free template from Made by Joel (wow, we love that site!) and you'll find the cute creatures are relatively easy to fold, and include discreet flaps on their backs for kids to pen secret notes. So cool!
Free Printable and Customizable Hershey's Mini Valentines Stickers | Avery
For kids who might be too young to scribble their names 25 times on a Valentine's card, these free printable sticker templates from Avery and Hershey are a smart idea. Just print onto the appropriate label size for your favorite candy…and stick! Then pop them in a baggie or treat bag to hand out to the class. You can even customize them on your computer with a name or short message.

Free Printable DIY Pirate Valentine's Day Cards | Pretty Prudent
Whichever type of pirate's eye patch and printable card you choose (you can download both kinds at the site), your kid's mateys will surely love their treasures.  This one definitely takes a bit of work and probably a free weekend together, but the handy video guide on the site shows you how to put together the patches perfectly.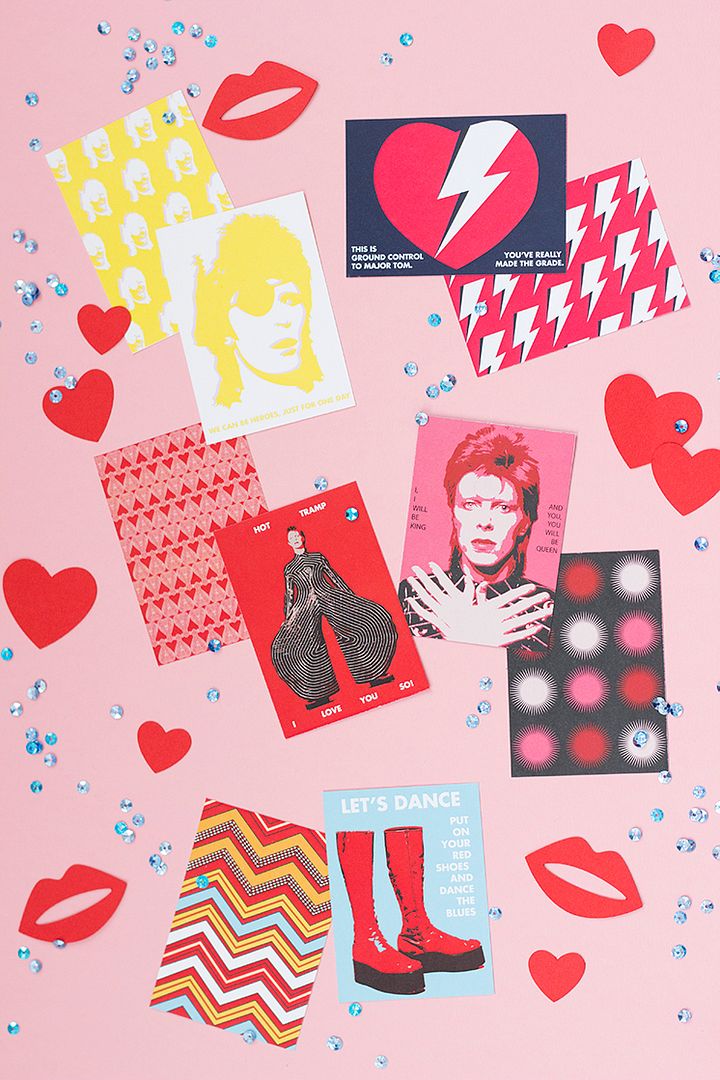 Free Printable David Bowie Valentines | The House That Lars Built
Yes yes yes! For music-forward kids and the people who love them, these David Bowie printables have the best kind of retro cool ever — and we're always up for any way we can pay tribute to the late, great Ziggy Stardust. (Maybe keep the Hot Tramp Valentine out of the mix for school, though.)
Related: 16 hilariously funny Valentines cards. Because we can only be sappy for so long.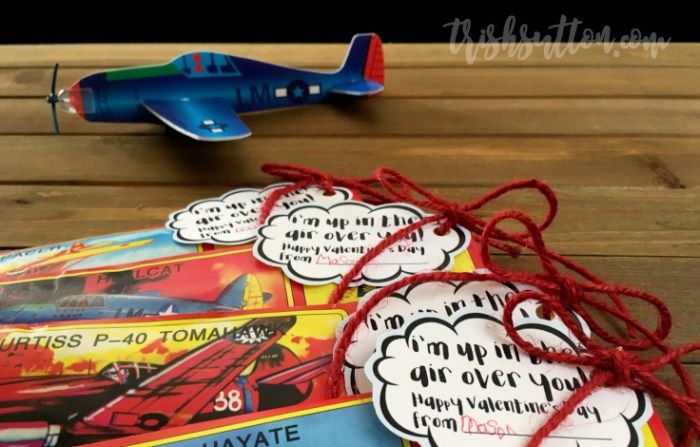 Airplane Valentine for Kids with Free Printable | Trish Sutton
Adding inexpensive plane gliders to these cute cloud printables is an easy touch that takes the idea to new heights, don't you think? (Heh.) Quite a bit of work for a classroom, but could be great for smaller groups of peers or Valentine's parties.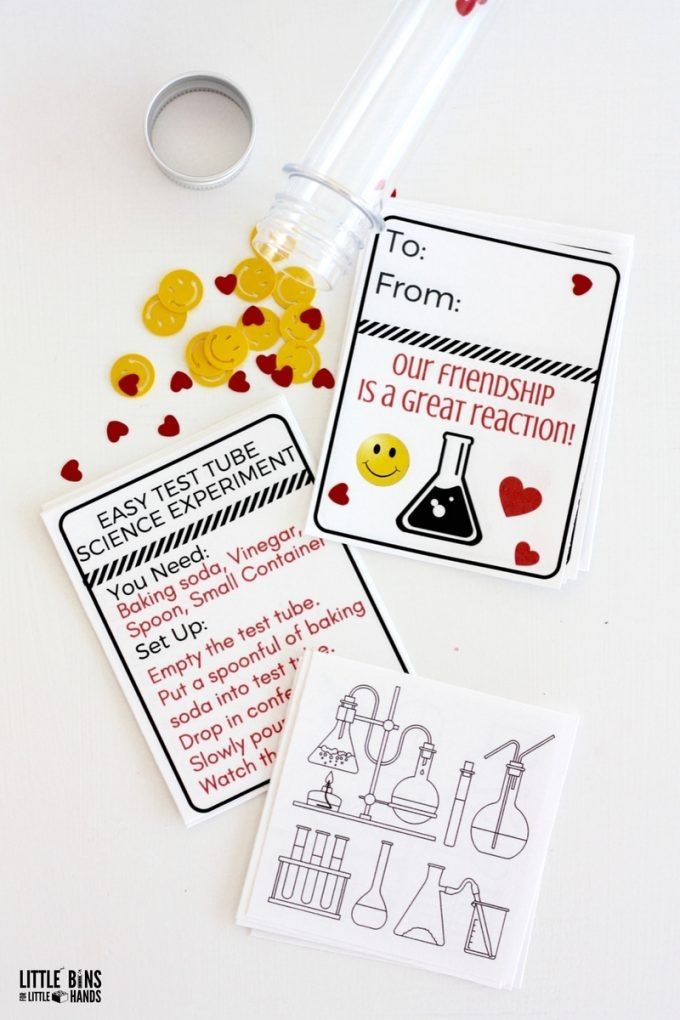 Free Printable Science Valentine Cards in a Test Tube | Little Bins for Little Hands
I think these free printable valentines are so smart and cool for any classroom. Slip the step-by-step experiment instructions into a plastic test tube. Then, kids — whatever their scientific aptitude — add together ingredients to create a fun, fizzy concoction.

Free Printable Fruit Valentine Cards | Pretty My Party
Proving that you don't have to go bananas (heh) when you're crafting valentines for the classroom, I think these cards are simple, cute, and filled with those goofy puns that we can't resist each February.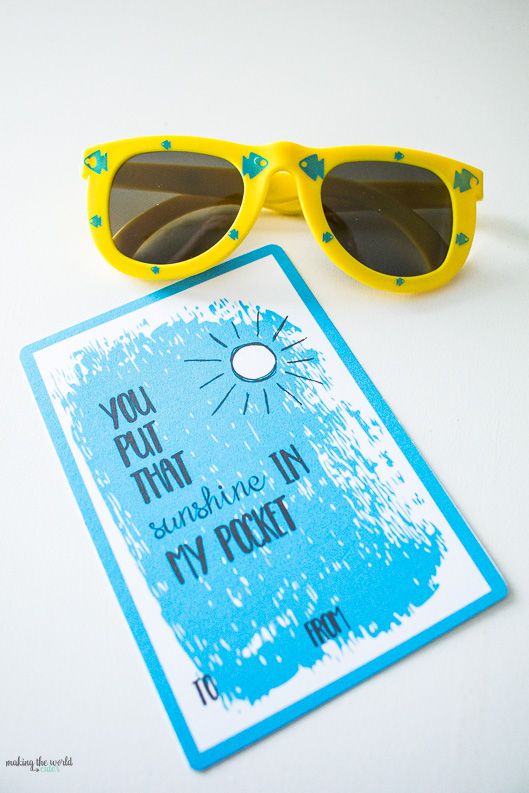 Free Printable Valentine with Sunglasses | Making the World Cuter
Around this time of year, you can't fight the feeling of wanting some warmth. (or can I fight the desire to quote Justin Timberlake, evidently.) The "sunshine in my pocket" valentines pair perfectly with cute kids' sunglasses — and check out the site for three other designs and fun sayings too. and if glasses seem like a hassle, why not use something like mini packs of Sunny Citrus organic gummies from Annie's, or a pack of gum in a similarly named flavor.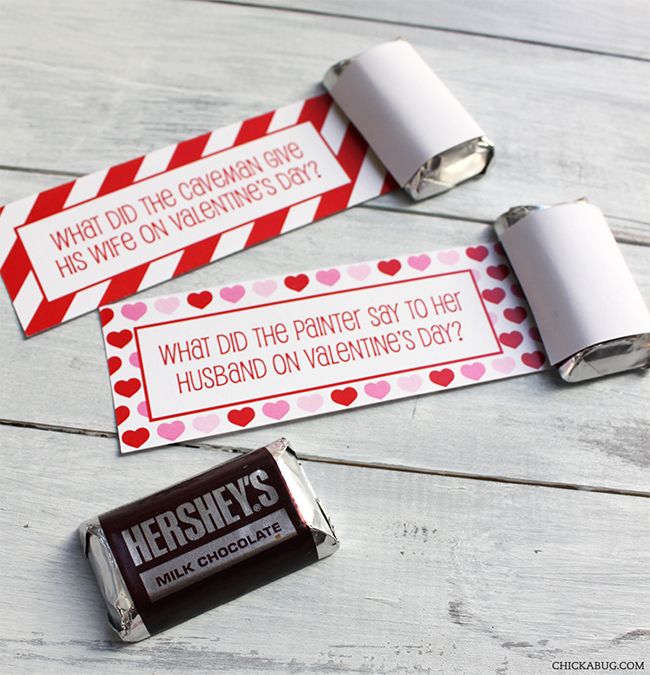 Free Printable Valentine's Day Lunch Box Jokes Chocolate Mini Wrappers | Skip to My Lou
These colorful mini chocolate bar wrappers hide the punchlines to six funny, kid-friendly jokes — which aren't revealed until the candy is removed. (In other words: About 5 seconds.)