Each year, we search high and low for the best printable Valentine's Day cards for the classroom, to make is so much easier for kids (or, ahem, their parents)  to get all those heartfelt wishes ready for friends, families and classmates. By now, our readers know that we're wildly picky about the designs we choose, and yet this year, we're thrilled to be able to share 30 free or inexpensive printable Valentine's Day cards, all wonderful, and all ready to download, print, cut and sign, right from the comfort of your home.
As Kristen and Liz shared on their recent episode of Spawned, we are definitely pro-Valentine's Day cards when it comes to kids. For one, it's a lovely opportunity to teach kindness. And beyond that, we look at it as more handwriting practice which kids sorely need these days.
Which is why we're sending much love to Staples, who's returned to Cool Mom Picks (yay Staples!) to sponsor this post. It couldn't be a better fit, considering they've just introduced the gorgeous rainbow of PaperMate InkJoy gel pens on Staples.com beginning today.
No kidding, we're in love with these, and we think your kids will be too. It's all about making what they call "Joyful Writing" even easier and if your kids have ever spent 20 minutes writing their names with each letter in a different color, you get it.
So grab your kids one of these printable Valentine's card templates for the classroom, and a set of PaperMate InkJoy gel pens so they can truly make the card their own.
Free custom texting printable Valentine's Day card | Design is Yay
Get your text-happy kids picking up a pen again with these clever texting-themed cards from Design is Yay. Hopefully they'll actually spell out words like "you are," but no guarantees. Hand-drawn emoji, optional.
The Force Awakens Star Wars printable Valentine's Day cards | A Grande Life
Some of our kids are like, DONE! once they saw these printable Valentine's cards from A Grande Life, inspired by The Force Awakens. And, yay, there's Rey! For even more options, check out her coordinating Star Wars Valentine's cards we featured last year on Cool Mom Tech. We'd probably print them all.
Printable unicorn Valentine's Day card | Crazy Fox Paper
Unicorns. Yep. We know they cost a few dollars from this Etsy shop, but for plenty of kids we know, this is the 2016 Valentine's card mic drop right here.
Related: 12 of the best geeky cool printable Valentines 
Free printable retro typewriter Valentine's Day cards | Simply Girly for C.R.A.F.T.
These cool-looking retro typewriter Valentine's Day cards can be SWAK with some candy wax lips or the lip-shaped lip gloss she recommends. But we'd just let our kids grab a red gel pen and draw their own lips. (Which also beats them using up our favorite crimson lipstick to make lip prints.)
DIY superhero mask with free printable Valentine's Day card | 100 Layer Cake-let
These "super" printable cards are perfect if you're looking for something a little giftier than just a card. Follow her instructions and make the masks by hand, or pick up some premade masks from the store, or an affordable Etsy shop like Sew Plain Jane, which we love.
Customizable printable candy necklace Valentine's Day cards | Your Pretty Party
Proof that the love of candy necklaces knows no gender, this Etsy artist has created printable candy necklace Valentine's cards that we featured last year, only this year she's added a boy option too!  You can even customize the file yourself with your own child's name, but we think a short note or at least an xoxo is in order. Interestingly, the boys' file allows you to customize hair and skin color yourself (good deal if you're using them for more than one boy), but the girls' version come customized by the artist to your specs.
I Think You're a Star free printable card and craft | It's Always Autumn
Kids will have stamping or even just drawing in a bright star on each of these printable cards from It's Always Autumn. Or hey, why limit it to red? We think a rainbow of stars would be way more fun. When the ink dries, they can affix a small candy to each one for a sweet treat to go with the sweet sentiment.
DIY LEGO heart with free printable | I Heart Naptime
Prolific LEGO builders — though ideally those without too many cards to hand out — will have fun snapping together hearts for these free printable Valentine's cards. Great for families who have a ton of bricks already hanging around the house, or for crafty kids who want a little something extra to hand out to select besties.
Printable color-your-own Valentine's Day cards | A Lively Hope
For kids obsessed with the detail of mandala coloring and the adult coloring book trend, we think they'll totally flip for these printable Valentines on Etsy that let them create little works of art to pass out to their classmates. Hint: Those PaperMate InkJoy gel pens would come in super handy here. Especially with all that fine detail work.
Free printable lightbulb Valentine's Day card | Little Bins for Little Hands
Glow sticks always make a fun alternative to candy if you want to hand out a small treat with your cards, and we love these free printable lightbulb cards that put them to clever use. For a similar option for you Star Wars fans, check out the glow stick Yoda Valentines cards we found a couple years back that offer the same effect.
Free printable Inside Out Valentines | Disney Family
Since Inside Out was such a huge hit this year, it's no surprise that the folks at Disney put out some fun printable Valentine's Cards themed around the Pixar movie. Emotions on a day that's all about emotion? Perfect. Even Disgust fits in here perfectly.
Free printable superpower Valentine's Day cards | Free to be Kids
This free printable Valentine's Day card has the superpower to make your Valentine's Day prep super easy. Just print, cut, and sign. Bam! Of course it gets even more fun if your kids take the time to color in the stars, or draw extra ones in lots of colors.
———
About our sponsor
With a new set of comfy, colorful PaperMate InkJoy gel pens in their hands, your kids may want to do more than just sign their names on their Valentine's cards. They come in 14 vibrant colors that kids will love, and the quick-dry ink system means no smears as your kids work so hard to scrawl their messages of affection.
Use them to add your own flair and color to printable cards, create decorative borders, jazz up envelopes, or just add extra hearts, hugs and kisses. Buy the 3-pack, 8-pack, or 14-pack, all available exclusively at Staples.com starting today,
———
Free printable Tic Tac toe Valentine's Day cards | Nest of Posies
If you're game for handing out Tic Tacs for the whole class, you can turn the cards into a game with this free printable that pairs perfectly with them. Whether they chose to play the game or not, we think the card (and of course, the Tic Tacs) will be a winner.
Free printable Tic Tac Toe Valentine's Day cards | A Mom's Take
For another take on Tic Tac Toe Valentine's Day cards,  we love this cute printable card design. She includes ideas for what to attach to the backs of the cards to make them more fun, but honestly they're pretty cute all on their own with just a signature, and a pen at the ready for a quick match.
Free printable Valentine's Day tattoos and printable cards | Small + Friendly
Attention hipster kids: These free printable tattoos include a nice mix of not-too-cutesy designs that are easy to tape to one of the free printable cards. Can't find tattoo paper? These will also work nicely with a premade tattoo, like all the cool designs from our friends at Tattly.
Free printable 80's inspired Valentine's cards | Damask Love
If your tween has a soft spot for ye olde decade of the 1980's (ouch), then they'll think this set of free printables from Damask Love is pretty rad. Or tubular. Or bitchin'. Although did anyone actually have one of those brick phones back then? It's so long ago, it's hard for us old folks to remember.
Free printable whoopie cushion Valentine's Day card for kids | Paging Supermom
Your child's teacher may never forgive you, but we know whose card will be a favorite this Valentine's Day. The cards are free but she found a dozen mini whoopie cushions for $6.99 at a party store. And for better or for worse, they'll last longer than candy or gum.
I Wooly Like You free printable Valentine's Day card and craft | Skip to My Lou
Crafty kids who want to do more than just sign a name can glue colorful mini pompoms to this cute, punny printable Valentine's Day card designed by Amy of Delineate Your Dwelling. Our preschoolers would like this one, but our tweens are pretty interested too.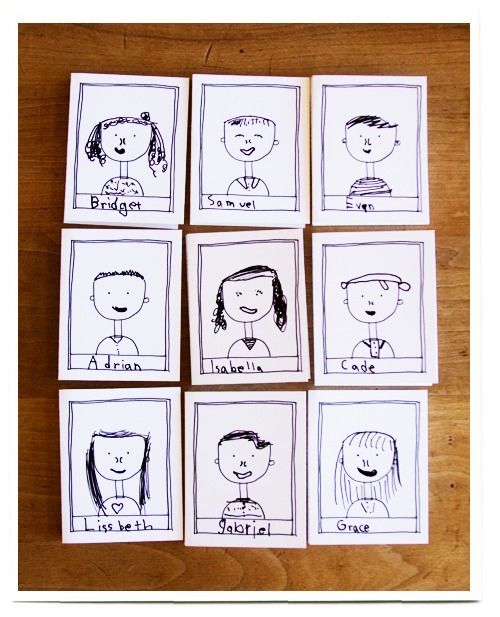 Free printable Valentine's Portrait Cards | Inchmark
In last year's roundup of 19 free printable Valentine's cards, we found these cards, perfect for your little artists. They were Kristen's daughter's favorite, so we just had to share them again. She had the best time drawing portraits of all her classmates for each one, and it would be even more fun if you add in a rainbow of PaperMate Inchmark Gel Pens for them to play with.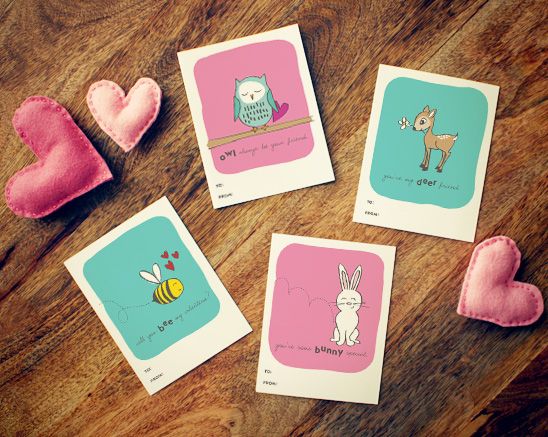 Free printable animal Valentine Cards in customizable colors | The Little Umbrella
We also had to include Liz's daughter's favorite Valentine's cards of years past — she's handed these out two years in a row! Part of the fun for her is the ability to play with all the colors on the computer before you print, from the text to the background to the colors of the actual animals. Just be prepared to spend a looooot of time on the computer before you get to any actual printing, cutting or signing.
Free printable bouncy ball Valentine's Day cards | C.R.A.F.T.
For another smart, non-candy treat, just grab a bunch of bouncy balls then print out these fun, free speech-bubble Valentine cards. We think they're great for kids who shy away from the cuter, more heart-centric Valentine's Day cards.
Free printable creepy Valentine's Day cards | Say Yes
With some little tchotchkes picked up at the dollar store and these simple printables, your kids can get their classmate's cards ready on their own. We're particularly fond of the rubber bugs and the googly eyes, which will stand out amongst all the pink and red. Then you have plenty of room on the back for your kids to sign names or write their own messages.
I'm Glad We're Friends free printable Valentine's Day cards | Free to be Kids
Opposites attract in real life and on these super cute free printable cards that would be great for younger kids. We love the subtle message that friends come in all shapes, sizes, and evidently, species. Also, the way she's designed the sign-off is really adorable.
Free printable glue stick Valentine's Day cards | Glued to My Crafts
Though we may never get Lionel Richie's Stuck on You out of our head again, we do love this printable glue-stick Valentine's Day card. Can a child ever have too many craft supplies? Nope. Attach with a little strip of colorful washi tape, sign your name and you're done.
Free printable Valentine's Day stickers for DIY cards | Oh Happy Day
If your iconoclast kids just can't be limited to a template, we love the idea of printing out a bunch of these free Valentine's Day stickers created by Jordan at Oh Happy Day and letting them go wild making their own cards. The combo of the stickers and lots of colorful ink makes it a perfect Valentine's card craft for toddlers through teens.
Free printable Superhero Valentine's Cards | Ashlee Proffitt
We love the classic, tasteful design of these printable superhero Valentines for your superhero fan (isn't that all kids these days?) which you can just print, sign and deliver as-is. Or, poke a hole for a ribbon or baker's twine to attach to a little treat bag.
Nail polish with free printable Valentine's Day card | Persia Lou
Our older kids would love to print out these cute little heart tags to attach to mini containers of nail polish for their BFFs. Actually, we wouldn't mind getting a couple of these, too. Be sure that they sign the back so they get full credit for this really thoughtful idea.
Free printable Valentine's card bookmarks | Positively Splendid
Another longtime favorite we keep coming back to, these cool printable bookmarks from Positively Splendid are a cool way to show your affection for your classmates, and for reading too. Love the message, love the color palette that works for boys and girls, and really love that your kids could end up using them long after February is over.
Fresh cutie clementine treat and free printable Valentine's Day card | It's Always Autumn
Perfect for classrooms that encourage parents to skip chocolate, we really like this smart alternative.  Just tuck a "cutie" clementine into a bag and affix the tag for a sweet that even dentists can approve. It's also a fun idea for Valentine's Day party goodie bag treat to send home, and we know more than a few parents who will be grateful.
Thank you so so much to our sponsor, Staples.com, where you can find the gorgeous new PaperMate InkJoy gel pens beginning today. They're sure to bring even more joy and color to Valentine's Day. You can also find the 3-pack and 8-pack in stores starting 2/14, but we're all about the biggest pack possible. Can you blame us?