As you might already know if you read our site regularly, we're suckers for Facebook ads, which is why you see our reviews of everything from THINX period underwear to Bombas socks, even those Like A Glove leggings that help you buy jeans that fit you.
These ads pop up in our Facebook feed and we just can't stop ourselves. But hey, you get the reap the benefits of me being a guinea pig because we share the honest scoop on these popular products.
That's why we decided to start a new feature here called, "Damn you, Facebook ads."
First up, the True & Co. Second Skin bra. I mean, when they bill it as "The most comfortable bra you'll ever wear," you know I'm at least going to click. And then, with all the positive reviews (including one from our own Editor Liz for their other bras, at least) and a not-too-steep price point, I figured it was worth a try. Because, even with some of my most favorite bras, the straps fall down constantly and by the end of the day, I'm ready to whip it off and strangle the bra maker with it.
Related: Matchy matchy bra straps keep the slipping at bay
What I thought of the True & Co. Second Skin Bra
Now, you should know right off the bat that this is not the sexiest bra on the planet. In fact, it might be the complete opposite (just ask my boyfriend who saw it in the package and asked if it was a new straightjacket). But when you put it on over your head, you can see why they call it the most comfortable ever. Because, it is.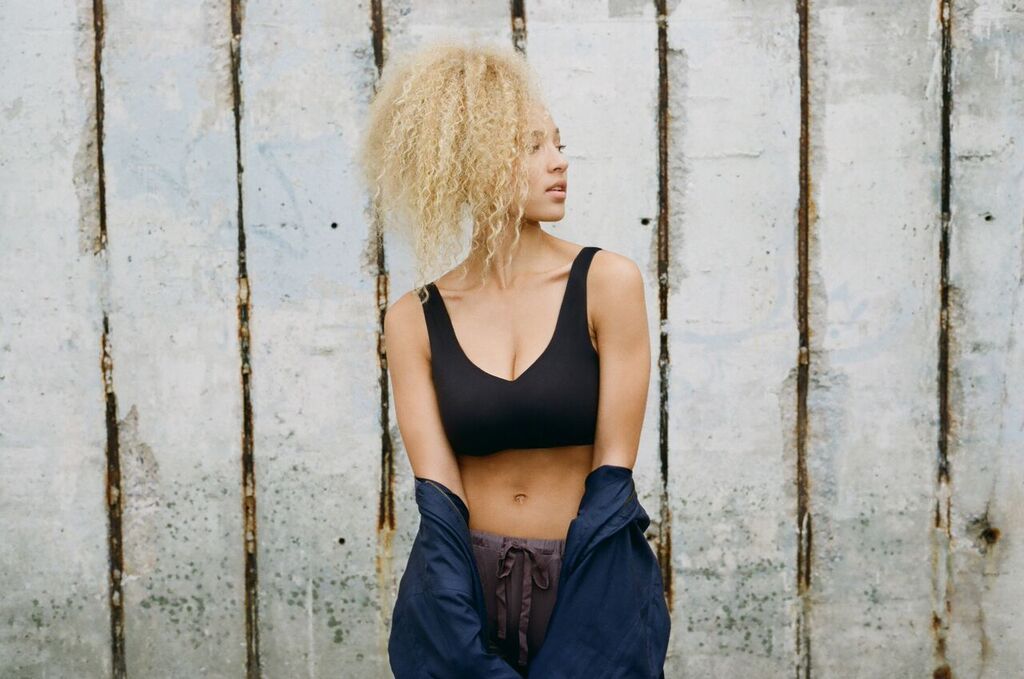 I have no idea how her boobs look so perky in this bra. Or how her stomach looks so flat. Oh wait. 
It's made from a thin, nylon material, and the straps are thick and comfortable (think tank top). I ordered the scoop neck version in a large (no specific cup sizes here) based on their sizing chart (I'm a 36–38 B/C depending on the time of the month). And while I like the lack of underwire and back hooks, which means I'm not red under the boobs, if you're larger than a C, I think you would not like the support. At all.
Even though the bra does come with removable pads, which for the record I hate because I always lose them, this is not a bra that's there to provide you with a little squeeze and lift. It's not really that surprising considering it's supposed to be comfortable, but again, large-breasted ladies should look around the site for other options.
Also, if you're going out on the town, or you're wearing a bit of a revealing shirt, this is not the bra for you. Don't get me wrong, it looks great under t-shirts (though the scoop neck did show a bit on some of my lower cut and button down shirts), but it doesn't give you any sort of boost whatsoever.
It is possible I might have had more support if I had ordered a size down or perhaps the v-neck would have worked better, which I actually might try next.
Related: Bra shopping just got more amazing than ever
Bottom line
I could live in this damn thing and well, honestly, I have. Yep, I've even slept in it. So, that's definitely saying something (about the bra and also about how lazy I am). And while I don't think it will serve my big-boobed friends very well, if you're under a C cup and want something so comfortable you can wear around the house, or even to work, I think you will be very pleased with this bra.
Stay tuned for more reviews of products we're suckered into buying because of Facebook ads. And if you've got something you've been curious about, hit us up and we might try it: info@coolmompicks.com.