After 25 years as a woman with a period, you can't blame me for growing tired of the monthly tampon, pad, and pantyliner rotation. Sorry, no menstrual cup love from me — though I know lots of ladies love them. So, after seeing the Facebook ads for THINX period underwear and then a review from a fellow, trusted blogger, I figured it couldn't hurt to buy a pair two and try them.
Not just for myself but quite honestly, more for my tween, who is about to be entering her period years.
(Sorry Sweetie for embarrassing you completely.)
If you're wondering "Hold on, wait, period underwear?" then I need to answer yes, period underwear. As in you wear a pair of THINX and nothing else — no tampons, pads, or cups — because they're supposed to keep you comfortable and dry all on their own.
Of course, you can wear stuff with them and just rely on THINX for extra protection, which isn't a bad idea if you hate the feeling of pantyliners when you wear tampons.
To be clear, I have to say that before kids, I probably would have been all No thank you very much,  but quite honestly, the idea of not having to remember a pad or tampon, or deal with all the rigamarole, especially when you're out with kids, sounds magical to me. For some of you, maybe not so much.
With all that in mind, I perused the website to find the styles that fit my menstrual flow, and purchased five pairs to get me through my typical 5-day period.
Here's how it went.
This post contains affiliate links and some purchases may generate a small commission that helps support our team's work at no additional cost to you. This doesn't impact our reviews or recommendations in any way, as our readers know.
You may also like: our "Damn You, Facebook Ads!" series in which we buy and try the products showing up in our social media feeds to let you know if they're worthwhile.
How I ordered my THINX period underwear
Now, before I tell you how THINX worked for me, I need to share the way my cycle works because, as you know, every woman is different. And trust me when I say that when ordering these, knowing your flow matters.
Otherwise, here goes nothing:
Full Day 1 (I say full because the day before it starts I have a little spotting): I basically experience what I've nicknamed "The True Death." (Fellow vampire lovers, holla.) I have a ParaGard (aka copper) IUD, and as you may have heard, or perhaps as you experience yourself, the first day I easily can go through three ultra tampons and I may still leak onto a pad for backup.
Day 2: I'd say I tend to go through 2–3 super tampons, often using a pantyliner for safety.
Day 3–5: Pretty much medium to light flow here. Maybe one or two regular tampons.
I know some women can be a little clotty, and I am not, so that's also something to consider about THINX Period Underwear if you are.
I have read other reviews from women that have said that is not an issue for them when wearing these, but I can't speak to my own experiences here.
Related: Is Stitch Fix worth it? Two brutally honest reviews from two of our editors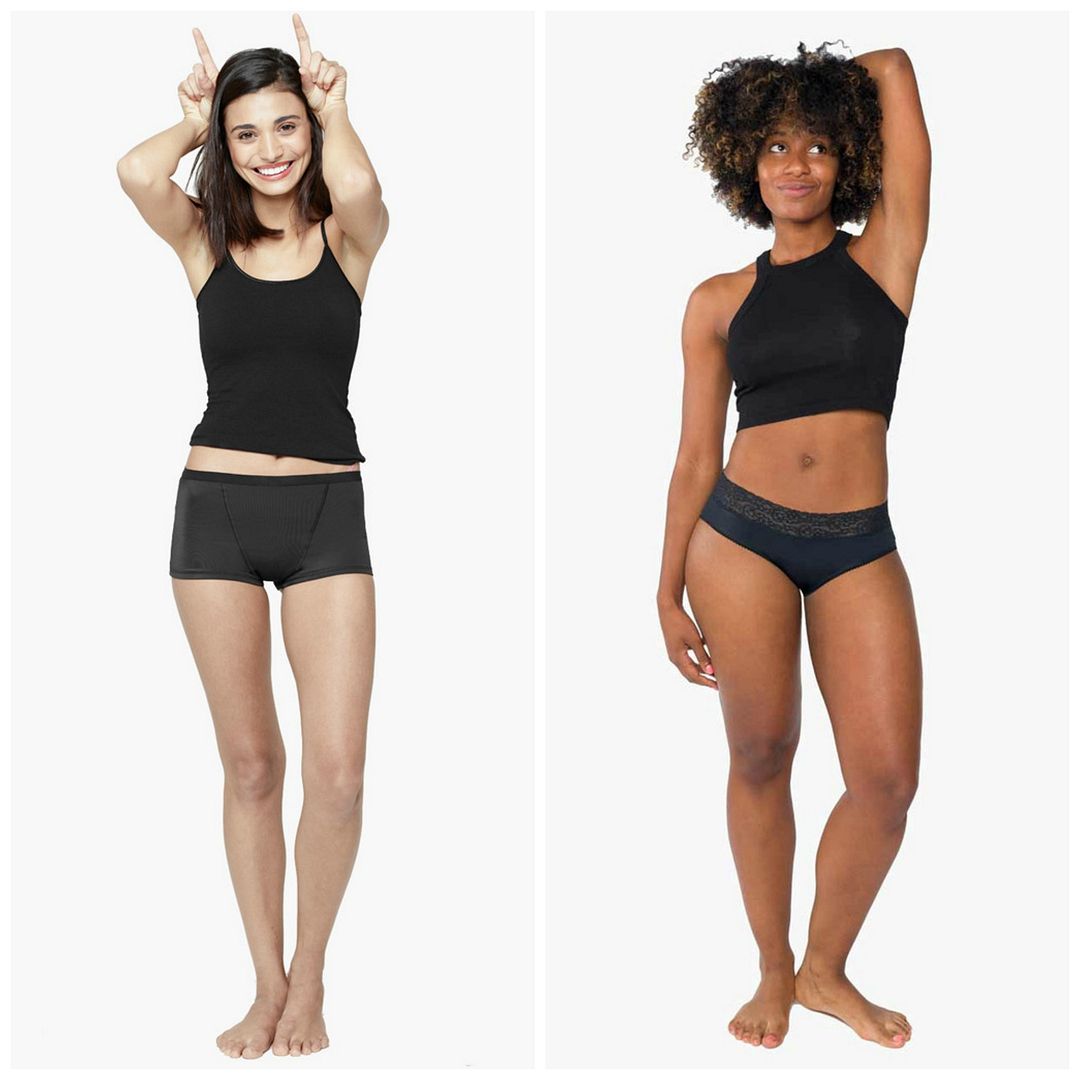 So, given this is pretty typical for me, I headed over to the THINX website and ordered three pairs of the heavy flow underwear and two pairs of the moderate flow underwear, and then waited for my period to arrive.
(Update 2021: They now offer 5 different absorbency levels, ranging from lightest to super.)
As it turns out, this was the month I'd had some medical issues that required me going on and off medicine, so wouldn't you know, my cycle was very late and when my period did arrive, it was much heavier than usual on the first two days. I tell you this because it's something to consider when it comes to my review.
My results with THINX
First, I have to say I was extremely impressed with the style and comfort of these underwear. I thought they'd feel like I was wearing some sort of armor (or worse, diaper) and that was not the case at all. THINX Period Underwear is stylish and extremely comfortable —  and by the way, true to size. In fact, I don't mind wearing them on my non-period days if I'm running behind on laundry day.
Not actually me, but cute style for a hip-hugger, right?
Granted, the THINX thong is only available for light flow, so sorry, thong lovers. You will have to make a little sacrifice on your heavier flow days if you want to rely on these.
In terms of success, well, I did pretty well on the first full day…until about 3 PM when I leaked through a bit. To be fair, this was one of the heaviest first full days I've had in a very long time, and had it been a normal one, I think I would have made it through. Also, I sort of forgot that these underwear are really only supposed to hold 2 tampons worth of flow, so me getting to 3 PM is actually pretty damn awesome.
(For those of you concerned, with flashbacks to awful junior high school period experiences, I want to assure you that it was just a tiny leak and I was home.  So no embarrassments, and no big deal changing my underwear.)
However, before the leak happened, I felt totally comfortable and dry.
So if you're getting to the point where you've reached the limit of the underwear's capabilities, the moisture level definitely increases. Basically, I felt the company's assessment in terms of how much the THINX can handle is pretty accurate,  so you'll want to consider that when you purchase your own.
After that first day, I was completely fine for the rest of my period, transitioning to the medium flow on my third day.
I tossed them in the wash separately without any problems — though honestly, they could easily be washed with other dark clothes. Not gross at all.
Related: I switched to reusable bamboo paper towels, and here's how it's going
Overall impression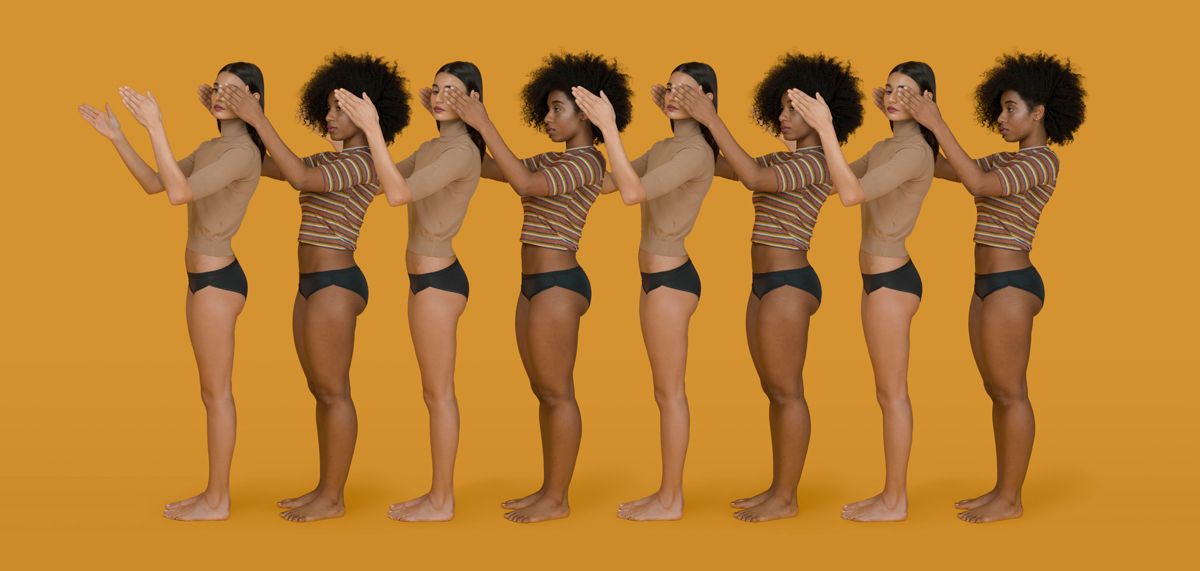 Go figure…but I'm pretty much a complete convert, mamas!
I feel so liberated. And while I still have a little back-up for my first day (and an extra pair just in case), I love not having to bother with all the paper products.
Not only do I love my THINX and how they function, I'm so thrilled the brand actually gives back to women in need in multiple ways.
I'm excited to have these as an option for my daughter, even if she just owns a couple of pairs as a back-up for when her period starts. But please note: the sizes are made for women, so I'm hopiong they'll consider adding smaller sizes for teens and tweens who could really benefit from a product like this.
Please, THINX, do this! Smaller sizes!
(2021 Update, they now offer an XS!)
You should know that getting started will require you to drop some coin so you can have your whole cycle covered, but considering you'll save more than the money you'd otherwise spend on tampons, pads, and pantyliners over the long run I'd say it's definitely worth giving these a try.
You can purchase THINX Period Underwear in six different styles, and choose from black, "nude" shades and several new colors at the THINX website.