We've been keeping our eyes on hot shoe trends lately (it's hard work, but someone has to do it) and we've noticed a new look coming out of the Mediterranean that we're completely obsessed with: tassel, lace-up, blinged-out boho sandals.
These shoes are so fun, and the best part? They're a hot summer fashion trend anyone can pull off.
If you're looking for a way to add some big personality to your summer style, check out these five boho sandals we've picked as our favorites. For each shop, click through and look around at all their styles. They're all handmade, so each pair is a little different, but every option is so vibrant and exciting.
At top: Penny Lane gladiator sandals | Elina Linardaki
CMP is an rstyle affiliate
Note: These shoes all ship from Europe (because, cool Mediterranean trend), so you'll need to add an extra $10–20 to your budget. Also, most use expedited shipping, getting the shoes to you in under 5 days.
Related: Donde fashion app is like a visual shopping search engine, and it's awesome
A pair of Greek boho sandals reminds me of a fabulous street festival…on your feet. I love so many of the tall lace-up sandals at Elina Linardaki, like her classic Penny Lane style (shown at very top), but these low slung Kefi sandals are a favorite too, for a bit more subtle way to pull off this eye-catching trend.
The majority of boho sandals we've seen have featured bold, bright colors, but the lighter sorbet shades on these Hawai tie-up pom-pom sandals at Ilgato Handmade are a refreshing twist. So pretty!
Related: Our favorite summer sun hats for people who don't think they can pull off sun hats.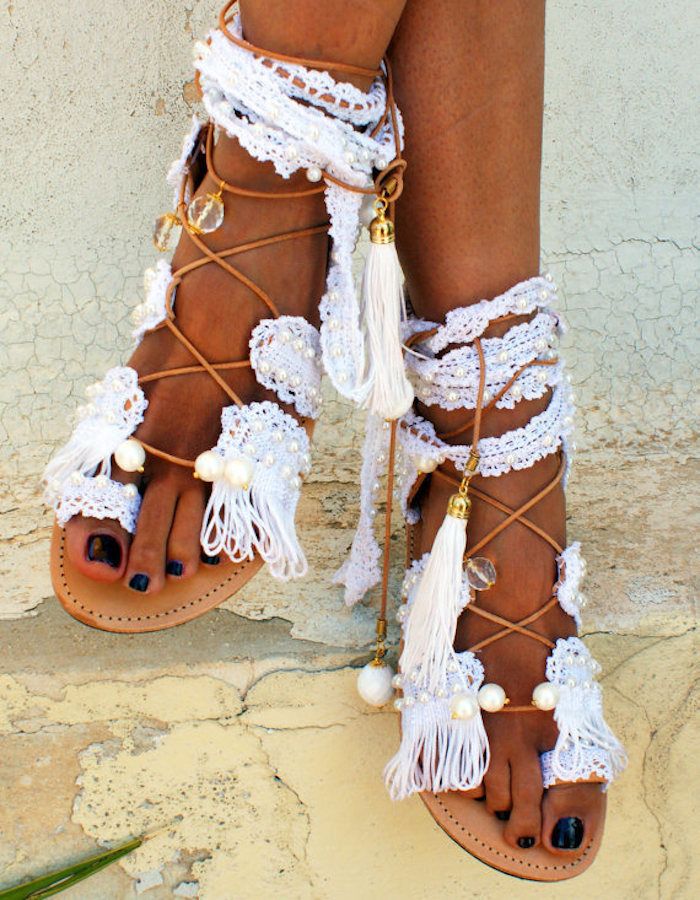 I'm heading to the beach in a few weeks, and these lacy, all-white Princess Wedding sandals at Mago Sisters would be perfect to wear when we go out for dinner at a pretty ocean-front restaurant. I mean, you're practically required to drink a margarita while wearing these, right?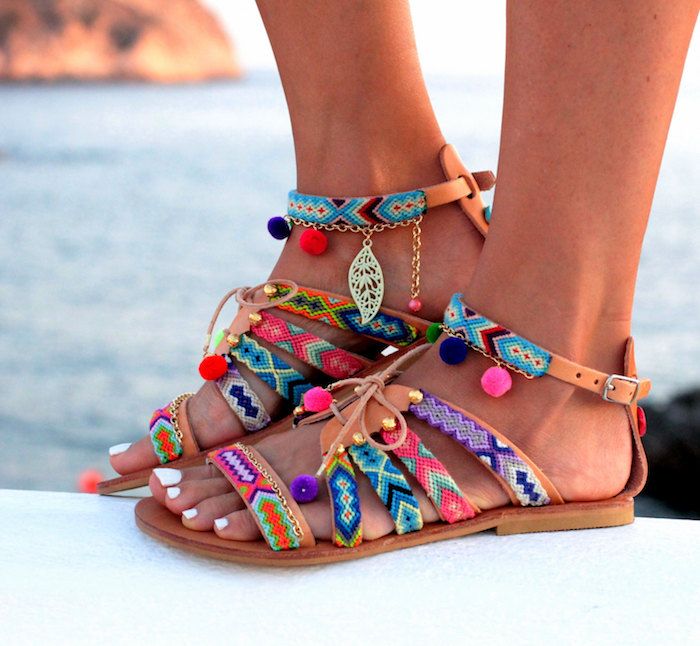 Lots of the boho sandals we saw have tons of lace and crochet, which are gorgeous but won't necessarily hold up well for everyday wear. These bright Friendship Bracelet Gladiator sandals at Dimitras Workshop, however, seem to be a bit more durable to me. And those bracelets? Fabulous!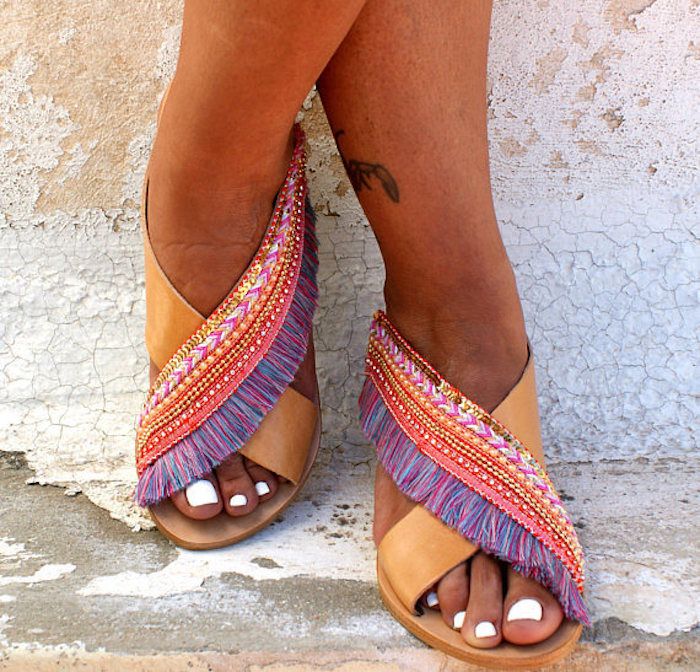 If you like the idea of this trend but need baby steps to get there, these Savannah sandals at Mago Sisters are your gateway shoes. The chic swath of color paired with the wide band of leather makes this shoe sophisticated without losing the fun personality of the boho style.