As much as we would love to tell you how wonderful the morning routines are in our homes, complete with kids eating a healthy breakfast, packing their own lunches, and finishing up their morning chores before heading out the door (and of course, not even once playing with the bowl of slime on the table when they should be checking their backpacks) — yeah, right.
I'm the first to admit that school mornings can be crazy, and a little help can go a long way. So we're so pleased to be teaming up again with our sponsor Leviton, makers of the award-winning, WiFi connected Decora Smart lighting control solutions that give you one less thing to worry about in the mornings.
Their devices let you easily and affordably control your lights, table lamps, appliances and more, all from your smartphone or tablet — even when you're not home. They even sync with your Amazon Echo and Google Assistant devices.
So, on their behalf, we're sharing 5 smart, simple ways to make school mornings a whole lot easier. (And we hope, a lot less stressful too.) Happy back to school time, parents! -Kristen
1. Do as much as you can the night before.
Whenever we take the time to get things ready the night before, my family's mornings always become wayyyyyy less crazy. And that's exactly what you should remind yourself each night when you're thinking about putting off lunch box packing or homework checking, so you can catch up on your favorite show.
Don't put it off. Well, unless you're a super duper early morning person.
Tip: Create a checklist with helpful reminders and get your kids involved with it too. Think of it like the world's most simple questionnaire, with questions like: "Homework done? Lunch packed? Clothes laid out? Coffee maker programmed?" Hang it on your fridge to ensure you and your kids have everything ready before bed.
2. Use a little friendly motivation — for yourself and the kids
I'm a big fan of the Marble Jar Technique for managing screen time, but it's also handy for getting you and your kids moving a little faster in the morning. (Yes, make one for yourself as well!)
Here's the gist: Kids earn tokens or marbles for whatever you decide, like finishing chores, getting dressed on their own, or remembering to brush teeth without being asked. Offer a marble for remembering to pack up a backpack (and zip it!) so it's ready the night before. Or offer a marble for putting on shoes and socks without being reminded.
Then, decide what kids can trade in their marbles for, like 10 marbles for 30 minutes of Minecraft. You'll be amazed at how easily your kids fall into good habits that make mornings easier. Plus, it's a great screen time management system!
***************
About our sponsor
Want a little proof of our own crazy mornings? You have to watch this short, hilarious video. You'll also learn how much easier Leviton Decora Smart  with Wi-Fi Technology Devices, including smart plugs, dimmers, and switches, can make your mornings —  and afternoons and evenings.
Yes, like Kristen does, you can just say "Alexa, turn off the lights!" and be done with it. 
Leviton Decora Smart Devices also let you set a schedule for your home lights and appliances or adjust your dimmers from anywhere at all using their My Leviton App. It just takes a single tap! And not only do their devices work with Amazon Alexa, but they'll also connect to Google Assistant, Nest, and IFTTT to create an easily connected smart home you can control from anywhere — whether you're on your way to dropping the kids at school, or away for a much needed, extended holiday vacation.
***************
3. Have breakfast options that are healthy and quick. 
My kids always claimed not to be big morning eaters, but it turned out they don't want to spend a lot of time preparing breakfast before school when they could sleep a little later instead. (Yay, tweens and teens!)
If that sounds familiar, be sure you have a few breakfast options that don't require a lot of time and energy to prepare, but still ensure kids are getting a decent breakfast that they need.
We're big fans of low-sugar fruit and yogurt smoothies, which you can easily whip up the night before. Make a big batch in the blender, then pour into individual jars or cups in the fridge so kids can just grab one and go.
You can also try these ideas for make-ahead breakfast recipes. The overnight oats are a big hit in my home — kids love eating them and adding their own toppings.
Of course, cereal and milk is always a go-to option for lots of families. Just make sure everything the kids need to scoop and pour is readily accessible to them. Tip: We created a dedicated cabinet (you could also use a drawer) filled with different cereals and bowls, so everything is in one place, very little energy required.
4. Get on the (reminder) board. 
We all loved the big rectangular chalkboard that hung on the wall of our last home so much, that when we moved, we used chalkboard paint to create one just like it on our new kitchen wall.
But, you don't have to paint your wall; a simple reminder board will do. Hang it somewhere kids can check the schedule and important reminders. Turns out it cuts way back on time, energy, and conflict to have the kids reminded by a dry erase note or some chalk — and not you, personally — when they forgot to brush their teeth or bring the field trip slip or pack their sneakers for gym.
5. Make the "unpack" a daily after-school routine.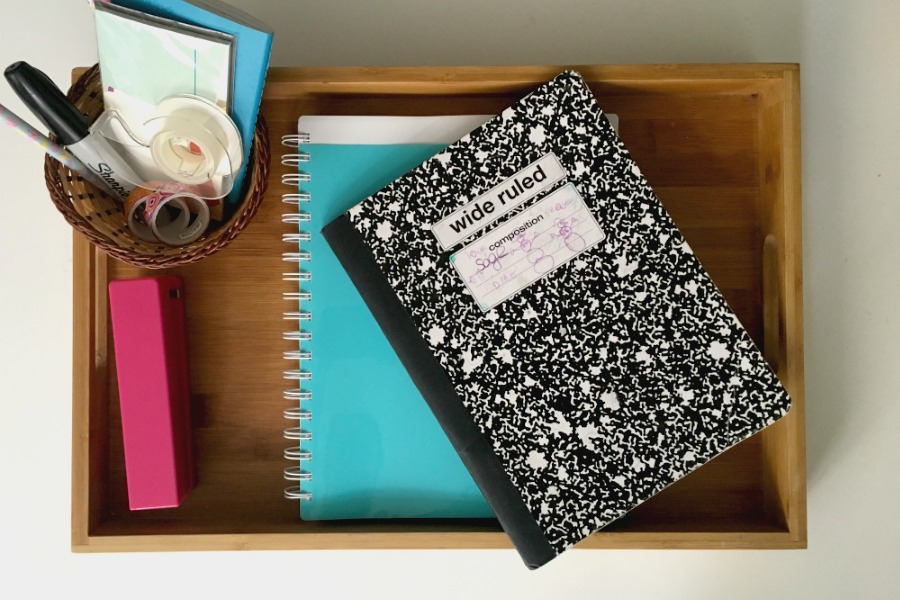 If your kids' backpacks are like my kids' backpacks, you know they somehow get filled with way more than what the kids actually need to bring to school. That's why I've gotten my kids into the habit of going through their backpacks each day as soon as they get home.
Do not pass go, do not collect a snack.
Lunch boxes get unpacked, with garbage tossed and dirty items placed in the sink or dishwasher. Papers and tests that need to be signed get placed in a designated bin near the door. Homework gets put in a portable homework hub like the one you see here.
Then, part of the kids' nightly routine includes repacking those backpacks, and — important point — leaving it by the door so they don't forget it on the way out.
One more example where just a little preparation can make the following school morning go so much smoother and easier. And we'll take all the help in that arena that we can get!
Thanks to our sponsor Leviton and their affordable Decora Smart Products for helping families make their homes smarter, which makes our mornings less stressful. Yay! Be sure to check out all of the Decora Smart Products, which include smart plugs, dimmers, and a whole lot more.