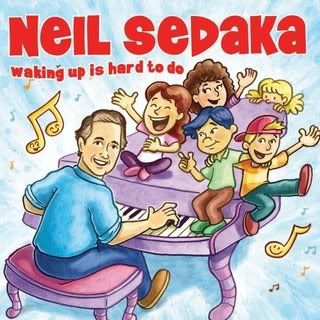 After reading the headline to this review, you may be wondering, When did Cool Mom Picks become Cool Grandmom Picks? I hear you. When I first heard that Neil Sedaka had put out a new CD of reworked hits for kids, I thought, There is no way this is going to be my kind of album.
Well, guess what? Waking Up is Hard to Do is really worth a listen. No seriously! Stop laughing. It's actually a really good album. I'm also a little surprised at how
perfect Mr. Sedaka (yes, he warrants a "Mr.") still sounds some decades
later.
Every track will have you stammering, Wait, I know this song! and marveling at how
well they work as kids' songs. Even if your kids don't know the reference behind Lunch Will Keep Us Together or that the song about watching a father try to assemble a bunch of new toys is actually Where the Boys Are.
This may
not be the most "hip" kids' CD of the year, but it is a whole lot of
fun for the preschool set and those of us old enough to remember the
originals, even if we'd never admit we know all the words to the original songs. Your kids may even wonder why mom (and grandma) are singing along
to kids' music like a bunch of groupies. –Christina
You can find Waking Up is Hard to Do at Amazon.
Congratulations to lucky winner Kim B, who'll soon be singing along with Mr. Sedaka!