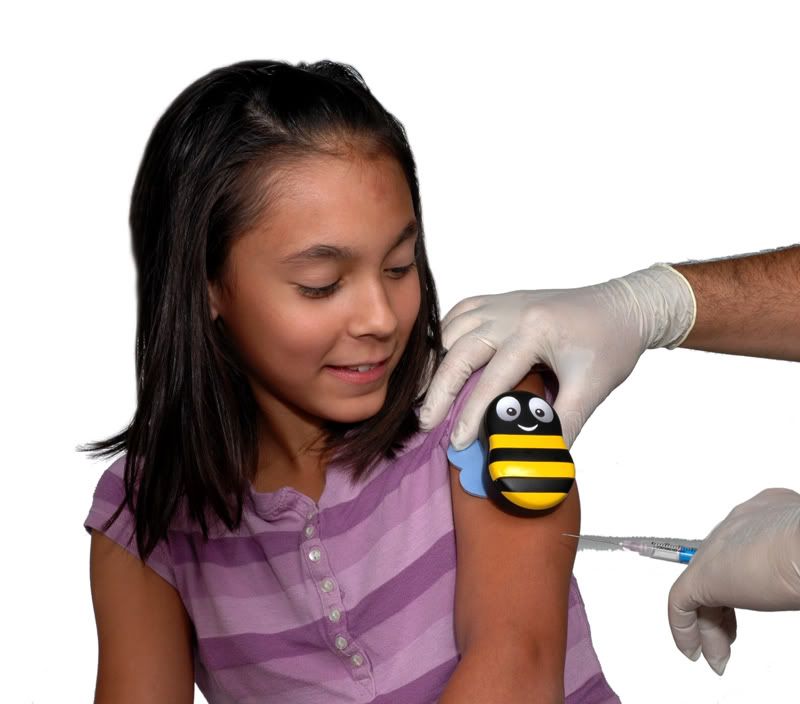 I think I can safely state that most parents would like to spare their children as much trauma as possible, which is why I was intrigued by the concept of the Buzzy. This FDA-approved plastic bee uses mechanical vibrations to "confuse" nerve endings, distracting kids from the pain of a shot, finger prick or even an IV insertion.
Developed by pediatric emergency physician (and mom of three) Amy Baxter, Buzzy's effectiveness for kids age 4+ seems to be supported by a bunch of scientific evidence along with scads of personal anecdotes. In fact, this may be so revolutionary, she's even presenting her findings at an upcoming AAP conference. This could be the new big thing in doctor's offices any day now.
Surely plenty of kids are just fine with shots. But you know, some aren't. Having tried it out, I'd definitely recommend it to that latter group, along with those who have to endure more frequent shots, like diabetics or kids undergoing cancer treatment. Heck, I'd recommend Buzzy to adults with needle phobias. I would know – I am one. -Julie
Get more information and purchase a Buzzy needle pain relief solution of your own at the Buzzy website
Congratulations to Alissa G, lucky winner of her own Buzzy!