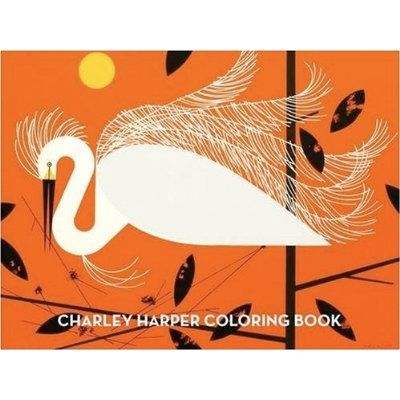 Even though I realize that the amazing Charley
Harper Coloring Book is intended for younger audiences, it's so sophisticated that I can't help
but want to save a couple of pages for me.
American illustrator
Charley Harper's "minimal realism" style, which I gushed about after
seeing his ABC book, makes for a wonderful coloring book. The
pictures are detailed but not fussy, which means my older kids and
littlest scribbler can all enjoy deciding what colors to make his happy
dog, little bird or delicate ladybug. And, as someone whose
refrigerator is absolutely covered in my kids' works of art, I appreciate that
the pictures are printed on only one side of the page and, therefore, ready to hang wherever there is still space.
I imagine that some artists may balk at the notion of others treating
their works as coloring pages, but I think Charley Harper would have
welcomed seeing his art interpreted by children who still look at the
natural world with wonder in their eyes. even if his sweet mama and baby koalas do end up green and magenta. –Christina
Find the Charley Harper Coloring Book at our affiliate Amazon