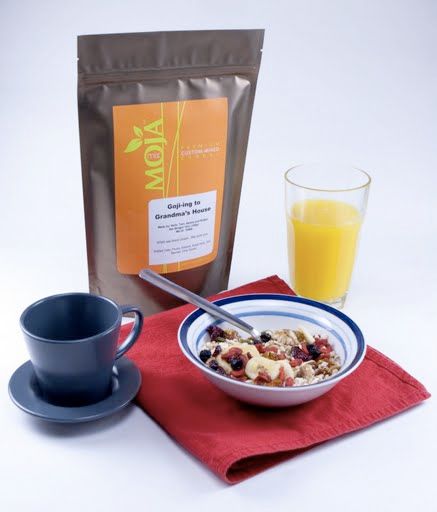 When I first heard of the MojaMix Custom-Mixed Cereal, I thought you'd have to be a pretty picky eater to need that. And then I remembered that I custom-order three different kinds of coffee beans to hand mix at home for my perfect roast. Who am I to judge?
In fact, I know plenty of people who would love MojaMix, like someone with a food allergy, or the person who loves granola but only if it has X, Y, Z in it (but not Q). It isn't about grabbing a premade cereal, it is a three-step process: Pick your base (such as grains, granola or even quinoa flakes), your dried fruits (everything from blueberries to Fuyu Persimmons) and then your nuts and seeds from among 18 options. You can even personalize the package with your own cereal name or a favorite quote.
The process of making a personal cereal blend couldn't be easier, but I wouldn't recommend you let your toddler help you pick our your blend. The ingredients are mostly organic and locally sourced and you definitely pay for that. Once your child has added in all "their favorite" extras, your cereal
could cost about as much as a couple of pounds of hand-mixed coffee
beans. –Christina
Try custom-mixed cereal from MojaMix and save 10% with the code COOLMOMPICKS at checkout.