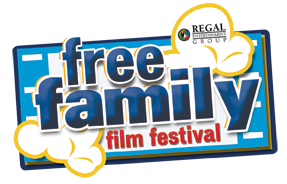 I don't care that it's only the first day of official summer, when it's almost 100 degrees every single day. And in the Deep South, that means planning a lot of indoor activities–preferably free ones–like the Free Family Film Festival from Regal Theaters back again for 2010.

Regal is offering free (free!) G and PG rated movies throughout the
summer at their movie theaters nationwide. Every Tuesday and Wednesday
at 10AM through mid-August, you can catch some fantastic kids' movies
for free on a first-come first-served basis. And they're good ones too,
like Cloudy with a Chance of Meatballs, which I've been dying to
see, March of the Penguins and Monsters vs. Aliens.
All
in in the comfort of a cushiony seat, blasting AC, and your hand in a
big bucket of popcorn with the kids you love. Sounds magical.
-Kristen
Check the Regal Theaters site for more
information on their Free
Family Film Festival and to find a theater near you.