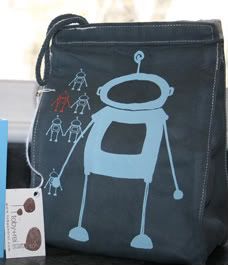 I don't think I could ever send my kids off to school with a flimsy
paper lunch bag after getting one of Toby + Rei's sturdy and very cool reusable
Robot Lunch Sacks. These heavyweight, 100% organic cotton sacks are so
much bigger than the typical lunch bag, meaning I can get a sandwich, fruit,
treat and reusable water bottle in there without later hearing about a
squished PB&J. The stick-figure robots on the front of the bag
could be passed from my daughters to my son and, unlike their latest
pop obsession, would never become "so last year".
Boston-based Alanna Mallon and Kate Browning of Toby + Rei do not limit
their amazing talents to reusable lunch bags, though. There are also super-soft,
thick organic baby blankets made from bamboo fleece and organic cotton with adorable birds embroidered on, plus modern
organic cotton t-shirts, all dyed locally using the most environmentally friendly techniques.
Nice to find another company that really is walking the eco-walk and not just jumping on the "let's get some PR out of this green trend" bandwagon -Christina

Check out Toby + Rei's website for ordering info or click here to see a list of stores.
Congratulations to Kirsten W, lucky winner of the package of goodies from Toby + Rei!