When my husband got his first vacation in about three years last month, we decided to leave the cold (yes, even Atlanta has been cold!) and head South. And then we remembered we had three kids under 4. Whoops.
We figured we'd be relegated to chasing them around all week long and turning in super early. But that was far from the case when we were invited to check out Azul Beach Hotel, an intimate inclusive gourmet resort located on the Riviera Maya in Cancun, Mexico.
At only about 20 minutes from the airport, it's a quick ride to what was truly heaven on earth. We were greeted with champagne for us and smoothies for the kids, then arrived to a room fully stocked with a crib, changing table and baby bath, and bottle warmer– just to name a few amenities. In fact, my husband and I carried on all our luggage for the entire family; the only thing we had to purchase were some extra diaper wipes and a few diapers.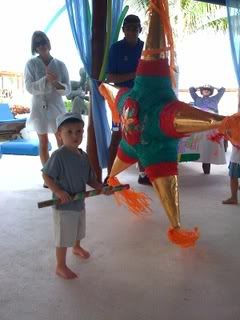 The three a la carte restaurants (Mexican, Asian, and International cuisine) catered to adult gourmet lovers and picky kiddos alike, and between meals, my kids chowed down on fresh fruit and smoothies at the Energy Bar. For an extra fee, we utilized the in-room babysitter for a couple of evenings and enjoyed dinner and more alone while the kids feasted on meals from the free 24-hour room service. Now that right there is genius.
During the day, our oldest spent most of her time at the kids' club with other kids 4 -12, and she couldn't have been happier. My toddler son enjoyed playing with the gaggles of other kids his age on the warm soft sandy beaches with beach toys and other equipment provided by the resort. And my husband and I took turns snoozing on the cozy beach beds with the baby after being fed tasty snacks and even tastier adult beverages (whoo!) by the beach butlers.
Make no mistake, the Azul Beach Hotel is not just family friendly, it's family focused. And any place that allows me to feel rested and refreshed after five days away with my kids is high on my list. In fact, we're already trying to plan our trip back. -Kristen
Get more info about the Azul Beach Hotel or book your trip through Karisma Hotels.