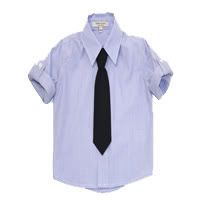 I hate to admit this but most of the time, my son's dressier outfits are left as complete afterthoughts compared with my daughters' pretty dresses. It's not like he gets all excited to dress up in his tie each day and run around the house playing "office." But sometimes, a formal outfit is just what you need.
I realize that most moms aren't racing to drop a bunch of cash these days on outfits that can't be worn too often, which is why I like the versatility of the just gorgeous boys' oxford shirt and detachable tie from babysusu. This stunningly crafted boys' shirt can be worn with the sleeves long or rolled up, and the navy cotton tie that hangs over a smartly constructed hidden button tab makes it perfect if you've got a special occasion coming up that requires neckwear.
Considering how much I spend on my daughters' clothes, I suppose my sweet little son deserves something just as nice too. Gotta love the mom guilt, huh? -Kristen
Use code cmp09 for 20% off your order.
Add babysusu to the top of your list for fine and casual boys clothing.