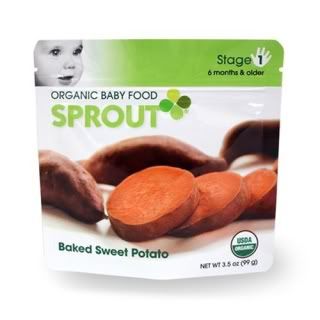 My mother was the queen of homemade baby food. And while I admire her commitment and even bought a micro food processor to follow in her footsteps, more often than not I have to reach for something cooked, pureed, and packaged far from my home.
I really do want to choose baby food that comes as close to homemade as I can afford — at least for my baby; the toddler has already been contaminated, poor child. And I was recently introduced to Sprout Organic Baby Foods, created by hot celeb chef/dad/Food Network mainstay Tyler Florence so I was eager to see if it lived up to the buzz.
I wasn't sure how much better Sprout's Baked Sweet Potatoes would be (a sweet potato is a sweet potato, am I right?) but the food really does taste fresher and of a higher quality than the other guys. And with additional yummy offerings for the older babies like Pasta with Lentil Bolognese, my picky 6 month-old will probably end up eating better than the rest of us. As best I can translate, my son agrees.
Plus it's nice to see how hard they've worked on offering BPA-free packaging. When I pour out the food and heat it warm water, I think I just may be able to pass it off as homemade when my mom is around. -Carrie
Find Sprout organic baby food online through the Sprout baby food online store and get great savings when you join their SproutBaby Club. Or find it at a Publix or other store near you.