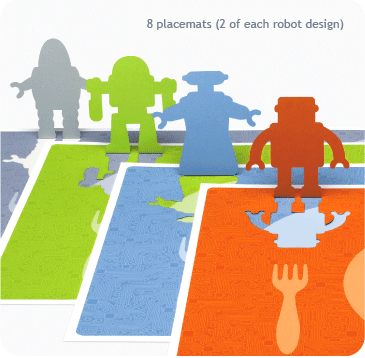 Regardless of what type of activities we bring with us to the table when we eat out, we still only ever get about 10 minutes of peaceful eating time. And that's on a good night.
If you feel my pain, you'll want to invest in a few pairs of the Hello Hanna get-set placemats. These adorable paper stock mats feature a silhouette of an actual place setting and a place for kids to write their name, along with a different pop-up character (like my fave, the robot – pictured) plus a set of stickers that your kiddos can use to decorate. Plus, there's a flip side for drawing – that is if they actually need the other side. My kids were so infatuated with the stickers that we didn't even get to that part.
While they're labeled for kids 5+, my 3 year old son, who's generally the rowdy restaurant culprit in the family, had a dandy old time with his placemat. In fact, I had to actually remind him to eat. Sweet! -Kristen
Check out all the cool paper activity placemats at Hello Hanna.

Congratulations to Leah K., lucky winner of the "hello me" placemats!