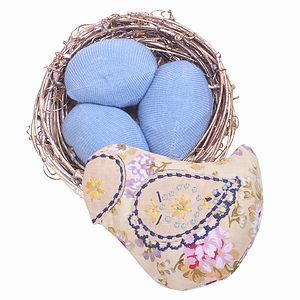 Writing for CMP I'm exposed to a ton of the most unique, clever and eco-friendly products around, but I have to admit, this may be the one that combines those three elements the best for me so far. The Baby Egg Nest by The Baby Bunch gets major props for its huge "oooooh," and "awwww" factor, making it a perfect baby gift.
The packaging itself is almost too cute to unwrap, but you'll be glad you did. Inside there's a tiny metallic bird's nest, complete with soft moss-like lining. But the real gift are the three 100% organic cotton socks rolled to look like little pink or blue eggs, along with a beautiful lavender-scented bird sachet.
The gift set is less than $20, and the sachet and nest can be used long after your baby outgrows the socks. I have to say, whoever hatched up this baby gift is a genius. -Betsy
You can find the Baby Egg Nests, along with a whole bunch of other adorably packaged baby gifts at Babybunch.com. And for more fabulous baby gift ideas, don't miss our Ultimate Baby Shower Gift Guide.

Congratulations to Lesli C, lucky winner of the Baby Egg Nest in Blue!