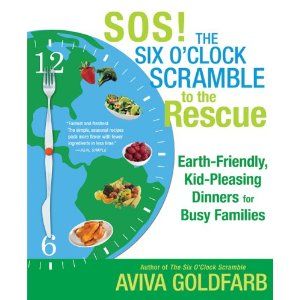 Don't tell anybody, but I just threw away an entire head of organic cauliflower. Why? Because I bought it on sale and then forgot to cook it. And then it grew spots. I am apparently the perfect candidate for Aviva Goldfarb's new book SOS! The Six-O'Clock Scramble to the Rescue: Earth-Frinedly, Kid-Pleasing Dinners for Busy Families.
CMP readers may remember our raves for Aviva's first cookbook, The Six O'Clock Scramble, as well as our love of her handy website and weekly newsletter. The new book continues to save the sanity of frazzled moms, and goes one step further to help us reduce our impact on the environment too.
You'll find over 300 recipes that can be made with under 10 ingredients in under 30 minutes, and most include a veggie version, as well as a flavor boosters and side dish recommendations. I love that the recipes are organized by season, telling kitchen n00bs
like me which fruits and vegetables are available locally and making
sure that we're not eating heavy stews in spring. Helpful sidebars throughout the book offer suggestions for smart shopping, understanding organics, trying composting, joining CSAs, stocking the kitchen, and more. And you'll find that making the author's suggested weekly grocery list can help cut down on fuel
costs, as well as encourage us to use up everything in the refrigerator
before we add it to the trash heap.
From Asian Cucumber Salad to Zesty Turkey and Black Bean Chili, there's definitely something for everyone in here. My first tip? Next time, make Cauliflower Poppers instead of Mold Du Jour. -Delilah

SOS! The Six O'Clock Scramble to the Rescue by Aviva Goldfarb will be available April 13, and pre-ordering from our affiliate Amazon now saves you 32%. As an added bonus, your book purchase entitles you to a free one-month trial to the Scramble System through 12/31/10.