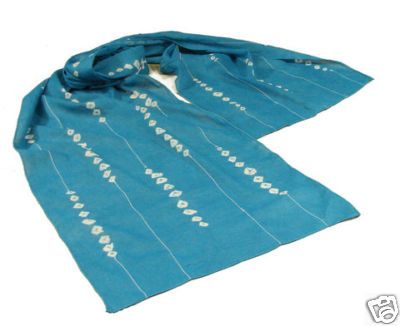 When World of Good by eBay invited us to pick our favorite fair trade Mother's Day gifts, we replied with a resounding "yes!" What better way to celebrate moms than with products that support people and communities in need.
So we scoured the thousands amazing items and picked six favorites that we'd love to get ourselves on Mother's Day — like the gorgeous rose garden ceramic vase that's handcrafted by mothers in Vietnam and might just be the perfect way to deliver those Mother's Day flowers. Or take my favorite item, the batik cotton scarf (pictured) that — for only $30 I might add — supports marginalized ethnic communities and provides employment for women in India.
What we especially love about World of Good is that you can search items not just by type or price or region, but by the kind positive impact they make, whether on people, animals, or the environment. Plus every item is a part of their "Trustology" program, which means it's eco-verified or made according to fair trade principles. That's a pretty big deal. Because instead of doing the research yourself, or worse, worrying about whether the money from your purchase is actually going to the cause it claims to, you can just sit back and enjoy the easy part – shopping. -Kristen + Liz
Check out our favorite fair trade Mother's Day gifts at World of Good by ebay, and for 50 more Mother's Day gift ideas, don't forget our own Mother's Day Gift Guide.