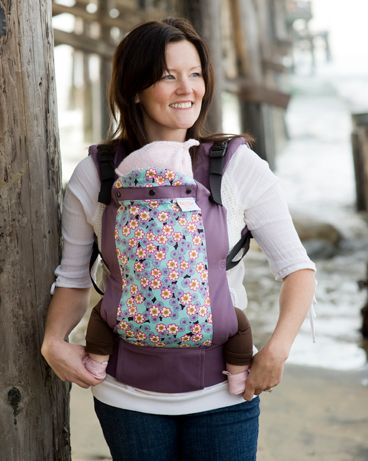 Remember, today is the last day to enter to win ALL of the travel items seen here and on Pregnancy + Newborn Magazine this week!
Strollers are great, except when you try to maneuver one through throngs of tourists or push one along a sandy beach. For those times, smart mamas know using a great baby carrier instead can be a lifesaver. And you won't have to apologize for the 25th time for running into a sightseer's ankles.
[see the amazing giveaway after the jump]
The Beco Baby Carrier is just the kind of carrier I would use if my kids were still small enough to wear. Created by an adventurous mama who knows a thing or two about carrying packs of stuff around, the Beco carrier was designed to be both super-safe for babies and toddlers while not sacrificing our comfort while carrying them.

With its special insert for newborns as small as seven pounds, the Beco's removable head rest holds their heads steady while upright. I have always loved carrying my babies with their heads against my heart, close enough so I could kiss their bald little noggin as we walked around.

As your baby grows bigger–yes, sadly, it does happen– the Beco can turn into a back carrier for kids up to 45 pounds, and can be easily adjusted for Daddy's body too. But don't try it for a 45 pounder. That's a second-grader in our household.

With anything that will be touching a baby's skin, Beco's choice of organic fabrics for their Butterfly 2 line is super important to me, as is their strong hardware which is the same stuff used by the US Army. Nice to know something so pretty to look at can be so tough too. -Christina


EXTRA EXTRA COOL: WIN IT!
One super-lucky winner will score ALL the summer travel picks we
feature here on Cool Mom Picks AND at Pregnancy & Newborn Magazine
this week. That's 10 awesome prizes! Enter to win once a day by heading
over to their Baby Buzz Blog and
following the simple instructions under their Pregnancy Blogs-Baby Buzz
link. Then be sure to come back tomorrow for more cool travel picks and
another chance to enter. Hint: Don't forget the name of the item we
featured here!