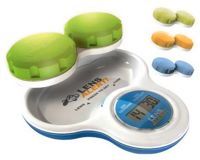 Those of you with little ones probably cannot imagine the day when your tween despairingly announces that her glasses make her look like "a total dork," but I'm here to tell you that it happens. And suddenly your kid is big enough to wear contact lenses, and yes, she promises to take good care of them and wash them properly and be mature and careful and… what? How long has she been wearing that pair? Um… a while?

LensAlert just banished the last of the Lens Wars from my household, because while I don't think it's that hard to write down on the calendar the date you opened a fresh pair of lenses, some people
find that too difficult. Even though wearing lenses too long or forgetting to
change out your case can cause bacteria, infection, and eye damage. Yikes.
With
LensAlert, the reminder timer gets set for a lens
countdown (30 or 14 days) and a fresh case countdown (from 30 to 90
days, in monthly increments), and my daughter tosses the old lenses and swaps
her case when the timer tells her to.
She digs the easy reminder and the
rainbow of case colors, I love her eyes staying healthy, sans nagging. -Mir
You can find LensAlert timers and cases at your local Target, or buy online from our affiliate, Amazon.