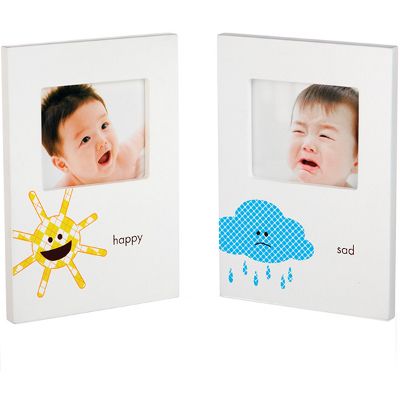 I can't be the only mom who would sooner frame a picture of my crying, tantruming kid than the pretty, perfect one that looks like I bribed her with a lollipop.
In fact, I know I'm not the only mom who feels that way since discovering this totally hilarious picture frame.
[don't miss a great offer after the jump]

Whether you've got grandparents with a sense of humor or a pregnant friend who will appreciate a gift that stands out from the sea of burp cloths and baby blankets, this Happy/ Sad frame set makes me – well, happy.
Come to think of it, the wailing pics are easier to come by in those early months, but they don't stop when you get to the terrible 2s. Or tyrannical 3s. I'd imagine it keeps going until about 16. Good thing we love those kids just the same. -Kristen
You can purchase the Happy Sad frame set at My Sweet Muffin, and use code CMP for 15% off your order through 10/20.
If you're searching for more cool, unique baby gifts, don't forget to check our Ultimate Baby Shower Gift Guide.