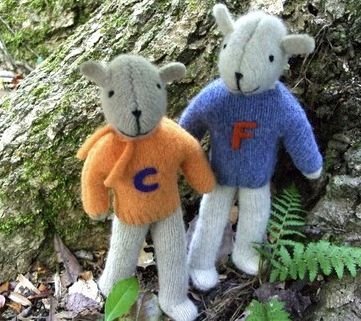 Once upon a time these little critters were cozy woolen sweaters, but thanks to the imagination and ingenuity of Laura Ray, they have been reincarnated as Pogos. Made with upcycled wool and stuffed with sustainable bamboo fiber they are as eco-friendly as they are adorable.
But the best part is reading each one's clever backstory.

Go to Pogoship, Laura's Etsy website, and you'll learn that Adeline is heading to a party, and Woody is trying to overcome his fear of jumping over the stream in the forest where he lives.
And what kid wouldn't love to have a Pogo rooting for them? The team mascot Pogos
can be customized with your child's initial on the front of their
sweater. (Be sure to read about the Pogos' less-than-successful attempt at
learning to play football).
At 8 inches tall these are substantial enough for all ages. And
there's definitely something extra special about having a handmade,
one-of-a-kind, stuffed friend that will stick around long after the pile
of store bought ones have been donated. The holidays will be here
before you know it, so now's the perfect time to get your order in.
And
who knows, that sweater you're planning on giving your daughter may just
end up making some other kid's day down the road.–Betsy
Find the adorable upcycled stuffed animals at Pogoshop.