I have waited three months for the Ubisoft Just Dance 2 for Wii to come out. Three months! Because that's how long it's been since the Cool Mom Picks team monopolized the display model at the Blogher conference, challenged our friends at Mamapop to a dance-off, and embarrassed ourselves for all the internet to see.
Think: YouTube evidence.*
[don't miss a great giveaway after the jump!]

Now you too can experience the joy that is Just Dance 2. And trust me, you will want to.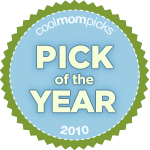 This music and rhythm video game depicts dancers on screen–amazing ones–boogying down
to tunes from James Brown to Donna Summer, the Beastie Boys to the
Pussycat Dolls. Your job, with Wii controller in hand, is to mirror
those moves and score points. You can dance on your own, as a couple, or take on up to 7 players, you glutton for dance punishment, you.
It is one heck of a workout, as I can attest through pants and gasps.
There's even a calorie meter to prove it. But it's a workout you'll giggle through the entire time. Especially considering
the moves mirror the music style; the choreography for Toxic is way different than Wham! which is way different than the Fatboy Slim remix of Sympathy for the Devil–my own kids' favorite.
There are 44 wonderful tracks to get you moving, and you can download more at a small fee, with Katy Perry's Fireworks now a freebie.
One challenge is that that while the tracking recognition is better than
with the original Just Dance game, it's not as tight as it is with the Kinect for Xbox 360
(which has a similar dance game available). In other words, you can
game the system fairly easily by not moving your legs much–or sitting
down entirely while swinging your arms, as my snarky sigOth did. But if
you're in it more for the fun and exercise than the competition, it
won't matter much at all.
Grab a copy, get your kids to join you, and burn off that Thanksgiving stuffing in one of the most fun, G-rated ways possible. Then send us the video evidence. –Liz

Purchase the Just Dance 2 game for Wii from Ubisoft or at a discount from our affiliate Amazon. There's also Just Dance Kids. And the Just Dance facebook page is great fun too.
*And uh, want to see that Cool Mom Picks v Mamapop Dance off? There's the link. Yes, Kristen was 7 months pregnant.
Congratulations to Summer H, lucky winner of a copy of Just Dance 2!