Don't tell the Easter Bunny, but there's a new rabbit in town. Actually, a few new rabbits. Mirabelle is a dancer and Balthazar is a magician and I think they probably have French accents. Don't they look like they would be great guests at an all-carrot dinner party?
They join Fleur and Pierre as the four new stuffed bunny rabbit dolls from CMP favorite, blabla kids. And their pal is Wooly, the cutest sheep you'll ever meet and quite possibly the only one in gray shorts.
It's the odd little details that make blablakids dolls so endearing and the outstanding quality allows them to hold up to our kids and their, sometimes, not so endearing games.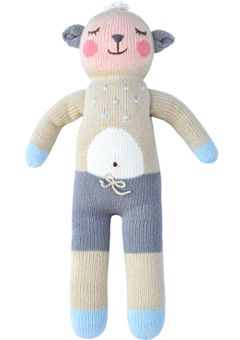 And of course, we have always loved their fair trade story, and how the entire company is set up to support the artisans in Peru who knit them all beautifully by hand.
Personally, I'm going to skip the drugstore's stuffed bunnies and fill our Easter baskets with these fun critters instead.
Find the new line of stuffed bunnies like Mirabelle the Bunny and Balthazar the Magician just in time for Easter at blabla kids.