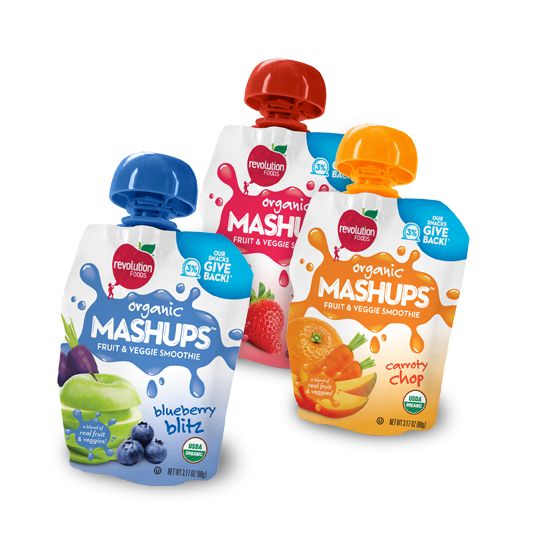 Our good friends at Revolution Foods have cooked up a new organic taste treat for your kids that combines the health of veggies with the sweetness of fruit. Trust me when I say it's the best mash-up around– especially since it doesn't include samples of Kid Rock rapping.
[don't miss a $100 giveaway after the jump!]

The new flavors of Organic Mashups Fruit & Veggie Smoothies are so
addictively delicious that my kids ate them in two days and still beg
for them whenever we see them at the store. They come in easy, no-mess
squeeze packets that would be great for summer camp lunch boxes. And
they meet all the criteria for choosy moms: certified organic, GMO-free,
no artificial ingredients or added sugars, no BPA. Nothing but 100%
pure fruits and veggies.
But the most important thing to know is
that kids go nuts for them. Beetbox Berry, Carroty Chop, and Blueberry
Blitz were all equally gulped down, loved, and fought over at our house.
Neither child noticed the veggies. Not a drop was wasted, nor was there
any mess. Why can't all fruit and veggies be this easy? ~Delilah
Find Revolution Foods Mashups live at Toys R Us and Babies R Us, or online at Ecomom or our affiliate, Amazon. They should also be in regional grocery stores by summer.
Congratulations to Kindra R. — she won a Mashables prize pack from Revolution Foods worth over $100!