Maybe it's because I am so lacking in the artistic/crafty gene, but I've always preferred arts-and-craft kits that call for a heavy dose of imagination.
In other words, I could never get my final product to look anything like the picture on the box.
For all those kids like me, I've pulled together a few new craft projects for when you're feeling super crafty, or happy to make something that's nothing like what you expected. –Christina

My sister can turn a cardboard box into an architectural marvel, though I think she's going to be impressed when she sees what we do with Makedo (above). This ingenious set of connectors takes your "found" materials—like milk cartons, shoe boxes, bubble wrap, paper towel tubes—and makes it easy and safe for kids to connect them in an infinite number of ways. Need a little more direction? Their "Find and Make" sets will put your kids on the path to make a robot, car or dollhouse, but how they get there is up to them. Just make sure they ask before they raid your pantry for cereal boxes.
The Wisconsin-based, socially conscious Artterro makes such beautiful, imaginative art kits. Instead of cheapy plastic, these kits are full of lovely materials like soft wool felt balls, bits of beautiful ribbon and glittery beads. Their latest kit, Wool Felt Bugs (shown at top) makes a fun craft project for older kids and tweens, though with a little grownup help, younger kids too will have fun making a many-eyed critter. (find Artterro kits at Abe's Market)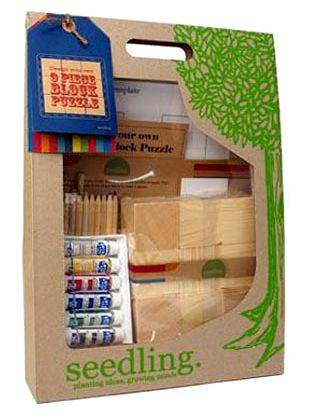 Some craft projects are hard to share between multiple kids, but Kid O's Seedling 9-piece Block Puzzle Kit can show off a work of art from everyone in the family. Little kids can paint an abstract masterpiece on one side of the blocks and, after that is dry, just flip the blocks to a blank side and let an older child create a more detailed picture. How neat that once the project is done, we'll have a 6-sided puzzle to play with or display. (at Fat Brain Toys)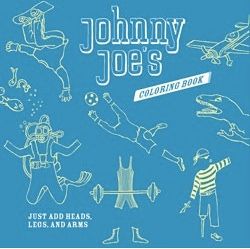 Other than picking out the crayons, coloring books don't often lend themselves to that much self-expression. But the two newest coloring books by English artist Roz Streeten leave much to the imagination. The outlined pictures in Rosie Flo's Travel coloring book and Johnny Joe's coloring book include everything but the heads, legs and arms of the people inside. This has lead to some very funny pictures by my kids like the kid running from the dinosaur: He's laughing. . .and furry. (at our affiliate Amazon)
Check out even more arts and crafts projects by looking in our archives under Getting Crafty.