As much as I love incredibly crafty Valentine's cards for kids, I know my limits in time and ability, especially when I need about twenty cards for each of three kids. And yet, I can't quite bring myself to snag those boxes prepackaged licensed-character cards that feel so sponsored.
Fortunately, somewhere in between those convenient drugstore cards and the ten-step DIY cards, there are loads of great indie Valentine's card options for the classroom. I've rounded up a whole bunch of them right here. –Christina
So happy to see Minted's unique designs, luxurious paper stock and gorgeous printing translated into these new mini-sized Classroom Valentine's Cards (at top). Personalized and with the option for a photo on many styles, they're not cheap, but they will stand out in the sea of crumpled Transformers or Care Bear cards. ($16 for 15 cards)
For a free option, I love Hello Lucky's set of four "punny" cards, like a banana saying, "You Appeal to Me" or this swinging "wild" monkey. So old school! Best of all, you can print them right at home from the PDF, in whatever quantity you need.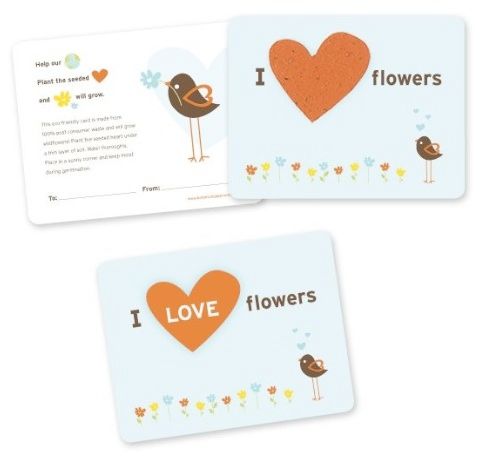 Your little eco-warrior will love handing out these I Love Flowers cards with a removable, plantable heart that contains little wildflower seeds. Robot lovers may go for the "My Heart Beeps Only For You" cards, which can also can be planted, unlike actual robots. ($6.50 for 10 cards at Green Planet Parties)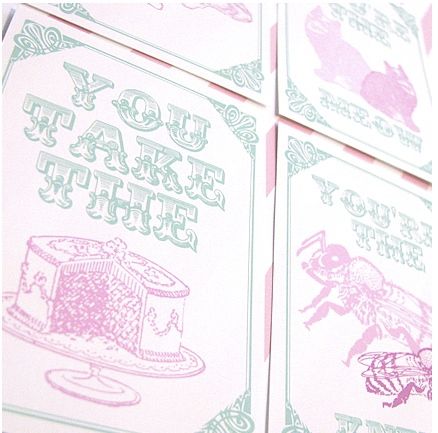 Mini Vintage Valentine's Cards feature such pretty illustrations and old-fashioned sayings like "You're the Bees Knees." Even if the kids don't know what that means. ($18 for 24 Valentines at Chloe in Style)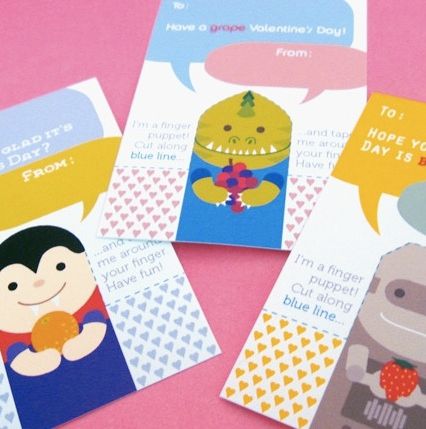 A Vampire, Robot and Monster walk into the classroom…these printable Valentine's Day cards are perfect for those kids who aren't into hearts and flowers. Best of all, each little figure easily becomes a paper finger puppet! ($4 for PDF from Scenerie)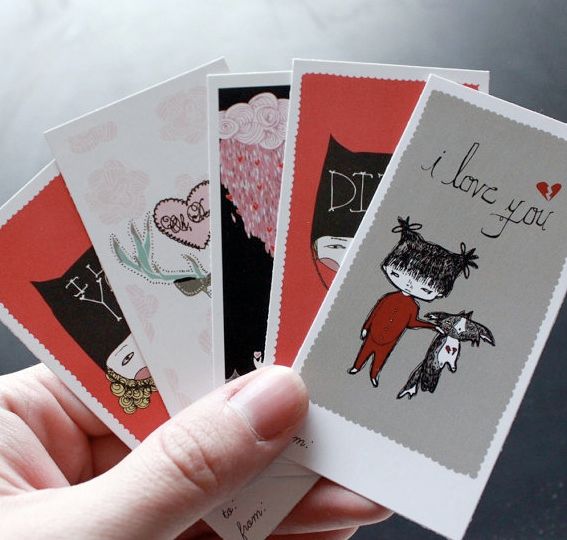 Love the quirky illustrations on Gingiber's Mini Love Notes for my tween to pass out to her nearest and dearest friends. Cute but definitely not too cute. ($12 for 20 mini cards, via Poppytalk)
Perfect for your child's small playgroup or best buddies the sweet Mini Valentines Silhouette Set makes me say "awwwww." ($6 for four cards at Le Papier Studio)
The Scratch and Sniff Valentines from Peaceable Kingdom look scrumptious and really do smell like chocolate, only they won't cause sugar crashes after recess. Cards are printed with vegetable-based inks just in case someone is tempted to take a nibble. ($11.95 for 28 cards)