Food gifts for Mother's Day can be absolutely amazing, especially when they're handmade with love. Add a heartfelt note, and a scribbly piece of art, and you've got a gift that'll make at least this mama even more excited than a pair of Jimmy Choos. Check out these six easy homemade food gifts that will surely make any mama swoon.
Skip the bouquet and use rosewater and even dried roses to infuse into Dark Chocolate Rose Truffles (above). These elegant treats by Najwa at Delicious Shots may sounds fancy, but they couldn't be easier to make. Once you get your hands on the 6 ingredients, this handmade truffle recipe is as simple as simmering, mixing and cooling.


If your mother is more Louboutin than Jimmy Choo, then how about a treat from the French countryside with these boozy Prunes steeped in Armangac. The prunes, sugar and French brandy–that's pretty much all it takes!–end up making a delectable syrup that is perfect drizzled over vanilla ice cream. Or you can be oh-so-sophisticated and suggest pairing the prunes with creme fraiche or goat cheese instead. Ooh lala, maman.

Moms who prefer getting their buzz from coffee will love getting a personalized coffee blend. Making one is as simple as mixing ground beans with spices. The genius folks at Martha Stewart have got great tips, perfect combinations and even a free, downloadable coffee sticker template to get you started.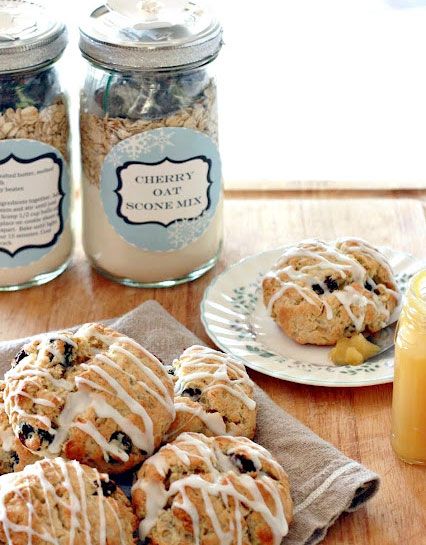 If your mama is more about the cake than the coffee, give her a pretty mason jar filled with a homemade baking mix. It's as easy as layering pre-measured ingredients in a jar. Then, all mama has to do when she's craving a freshly baked treat is mix in the wet ingredients.  I'm holding out for this Cherry Oat Scone Mix from Yummy Mummy.
A pretty printable, easily found on Etsy or in our own archives, ties it all together. I like the modern food gift tags from Garden Kitchen Home and Spread the Love labels from Scarlett at Beautiful Inside My Head.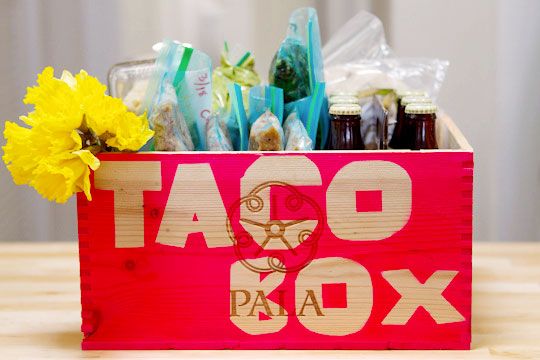 Part of what makes a homemade gift so special is how personal it is. If your mom is more about down-home and spicy than upscale and chocolatey, I love this genius Taco Box idea found at The Kitchn. Sara Kate thinks that it makes a great gift for a new mom just home with her baby. I think it's just as good for moms who've been working the gig for years.

Jan at Family Bites had a similar idea to the Taco Kit with her DIY Ice Cream Sundae Kit. Make a list of mom's favorite toppings and start putting together ingredients. It's a great little box to bring along if you're packing up a Mother's Day picnic, too.
Good food, made with love, wrapped up all lovely. I'll go Choo-less forever. (Or, um, just buy my fancy shoes myself.)