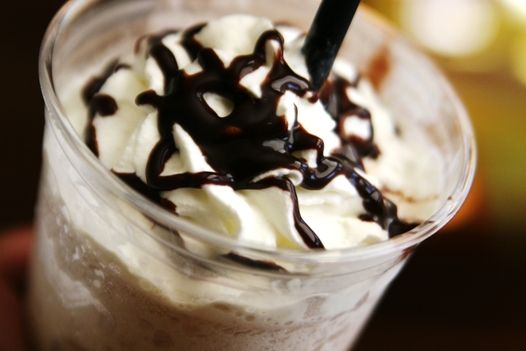 Other than my morning cup of joe (like one of these
iced coffee recipes
, yum), I tend to drink water. But when the heat is on, I find myself craving lemonade, frosty coffee drinks, and other summer coolers. I can down icy drinks from Starbucks and Jamba Juice all of the time, which can add up. So instead of hitting the coffee house, I recently found copycat recipes for a few of my favorites that use more whole ingredients and a lot less money.
-Stacie
My number one summer drink treat: a Frappuccino from Starbucks. This copycat
Mocha Frappuccino recipe
from Alice of Savory Sweet Life (
above
)
hits the spot! Plus, these are fun to make and when you do it at home
you can control the amount sugar and flavor (ahem, calories).
Love Starbucks, but don't feel like coffee? Maybe you're a fan of the shaken ice teas like I am. My fave is the
Green Tea Lemonade
–so
I had to create a recipe myself! Though I love the original, it can be a
little sweet for me. Making it at home allows me to keep it tart but
you can perfect your own to taste. All you need is sugar, a green tea
bag, and lemon juice.
Blended
coffee drinks and lemonades can be deceptively high in sugar and
calories. While it doesn't stop me from enjoying them from time to time
(a girl's gotta do what a girl's gotta do), I try to hit the smoothie
joint more frequently than the coffee house, and say away from the
500-calorie options. These copycat
Jamba Juice recipes
look
amazing and make use of all the delicious summer fruit available right
now. And if you want even more smoothie goodness, check out our
8 must-try smoothie recipes
.
Orange
Julius is still around (who knew!), but I associate the frothy orange
drink with trips to the mall in the 1980's. (What? I'm from Jersey!)
Every once and a while I bring back the totally rad times with this
copycat
Orange Julius recipe
.There's also a
sugar-free Orange Julius recipe
by Robyn at Add a Pinch (
pictured
) which really is just as tasty, and keeps the kids–and, um, me–from a crazy sugar high.
Any
New Yorker–or any one who has ever visited–probably has a fondness
for the Frozen Hot Chocolates from Serendipity III. While you can now
buy the packets to DIY at home, you can also go with a totally homemade
version. This Frrrozen Hot Chocolate
recipe from Girl Cooks World is a super chocolatey, icy treat that's
surprisingly easy to make at home. This is a major sugar and chocolate
high in the making, but eh, live a little. Or just serve it with six
straws.