Nothing says summer to me like campfires and s'mores. Although being a city person, I can't say I spend as much time with campfires as I do with s'mores. Luckily, you don't need a bonfire either to enjoy the chocolate and melted marshmallow dessert. In fact, you don't even have to be in the great outdoors. (Although I do know roasting those marshmallows on a stick over a fire does have a certain awesomeness about it.) Check out these 9 easy and creative recipes to help you get your summer s'mores fix. Making them is a must; singing kumbaya is optional.
Leave it to Alice of Savory Sweet Life to come with a super easy and practical way to get authentic s'mores without a campfire. Only a broiler required is required for this traditional s'mores recipe (pictured above.)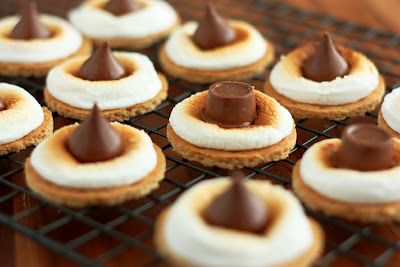 One of the many glorious things about s'mores is how messy they get–but it turns out that cute is good, too.These lovely looking S'mores Bites by Jaclyn of Cooking Classy are made with kisses (or Rolos, if you likecaramel) and are just the right size for little hands. So pretty and just melty enough to make a teeny mess if that's part of the fun for you.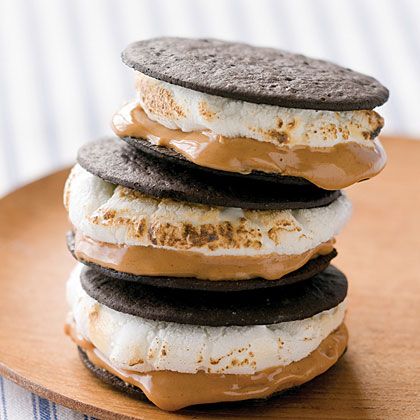 We know that chocolate and peanut butter go well together, but chocolate, peanut butter and marshmallow? Have no doubt: it's even better. These Chocolate Peanut Butter S'mores are proof. Since the recipe from Sunset magazine only calls for 3 store bought items I dare you to verify. (Photo by Leo Gong; Styling by Dan Becker)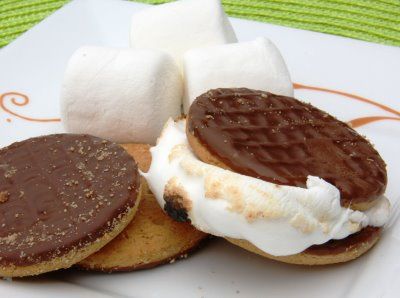 Need a super easy s'mores method? Inspired by the Barefoot Contessa, Cheryl at Cooking, Dunkin Style came up with an easy s'mores recipe using store-bought cookies. Genius!
Hold onto your grahams, I've found the Dagwood of s'mores! Here's how the Cookie Dough S'mores by the Novice Chef work: you spread cookie dough on a graham cracker, top it with a piece of chocolate and a warm, roasted marshmallow, and squeeze the whole thing closed with another graham cracker. Watch the marshmallow ooze, then take a bite.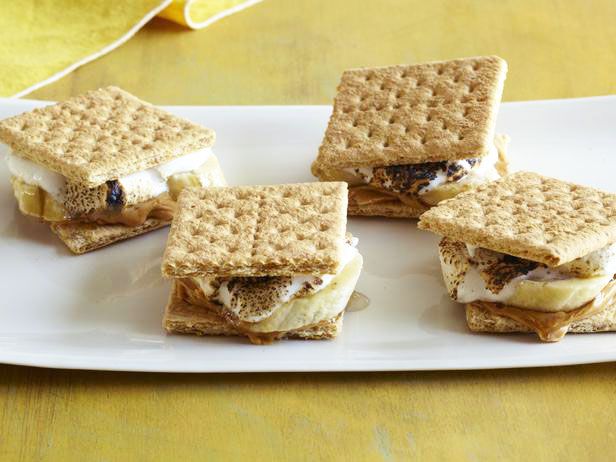 Want to get a little closer to nature with your s'mores? Then fire up the grill and grab some fruit. Aida Mollenkamp's recipe for Grilled Banana S'mores is a home-friendly version of the classic camping snack that comes together in 11 minutes flat.
For a more decadent version of the classic kids' treat, try these Strawberry & Marshmallow S'mores from The Gardener and The Grill by Karen Adler & Judith Fertig. Their version is very chichi, made with baguette–clever idea for a cocktail party sweet.Though if you'll be enjoying these with the kids, I say stick with graham crackers. (Photo by: Steve Legato)
Need an on-the-go s'more? Try the adorable S'mores Pops by Adam and Joanne from Inspired Taste. Poke, dip, roll, dry. Repeat just a few times for a quick family dessert or many times over for a party. No, the marshmallows aren't melty, but you can't put real s'mores in a party favor bag either.
I may be getting far afield with these, but just two words and you'll understand why I had to include these bites: S'mores Truffles. Thanks to Georgia of The Comfortof Cooking, you can make them at home with just 5 ingredients, in 3 easy steps. And this time, there's really no melty mess–I promise you won't miss it.