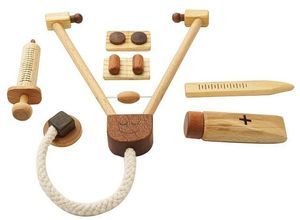 There's something that seems to be universally fascinating to kiddos, generation after generation, about playing doctor – and by that, I mean the kind with stethoscopes and tongue depressors and a plethora of toilet paper "bandages." My childhood doctor kit was molded plastic and lasted one weekend. What I would have given for one of these.

The gorgeous Wooden Play Doctor Set by Australia's Miss Yesterday is made of
different renewable timbers and includes a stethoscope, syringe,
thermometer, tube of antiseptic lotion, and two "blister packs" of
pills. It's finished
in a rich, eco-friendly clear oil, and it's suitable for age three years and up. For just $33, that's pretty awesome considering it's made to last for more than one generation of Doogie Howsers.
Be sure to check out the other luscious,
hand-picked goodies in the shop, from accessories to stationery. – Barbara
Find the Wooden Doctor Set for children online at Miss Yesterday.
And hurry! Though they are located in Australia, they are currently
offering, as a Grand Opening special, just $10 flat rate delivery to almost anywhere in the world.