Let me tell you why I'm Bakfiet crazy: when I had kids, I really wanted to keep up my exercise routine and just have them fall in line. I got a double jogger, which was great. But I really wanted to bike with the kids in tow, I just didn't feel super comfortable putting them in a bike trailer behind me. I wanted them to be within reach, just in case–and now I realize that the solution was here all along.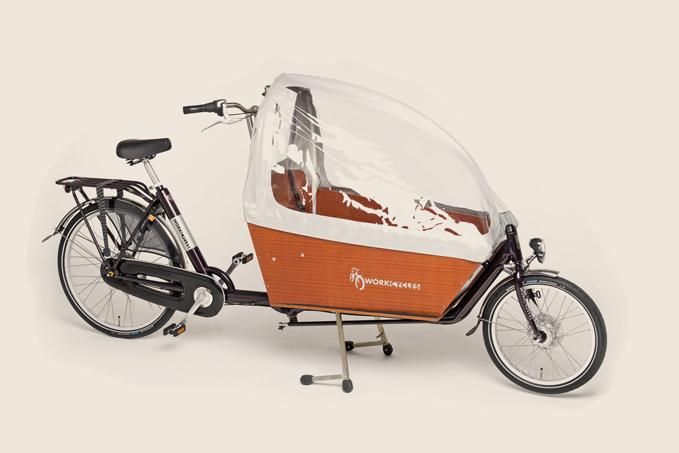 I fell in love with the Babboe Bakfiets at
first sight. It's a Dutch import but I became acquainted with it when a
neighborhood family showed up at the local coffee joint with one of
these bad boys. It's literally head-turning. The rest of you may have first seen one with that awesome photo of the super biking Portland mom of 6 that we recently featured.
What's cool is that your kid
has plenty of room up front to chill and see the world. There are
safety belts and space for snacks or even a pet. Because it's on two
wheels, it functions much like a normal bike, and is able to maneuver
and make turns much like a standard bicycle. The problem with that is,
if you're not an experienced rider, it can be a bit wobbly and hard to
manage.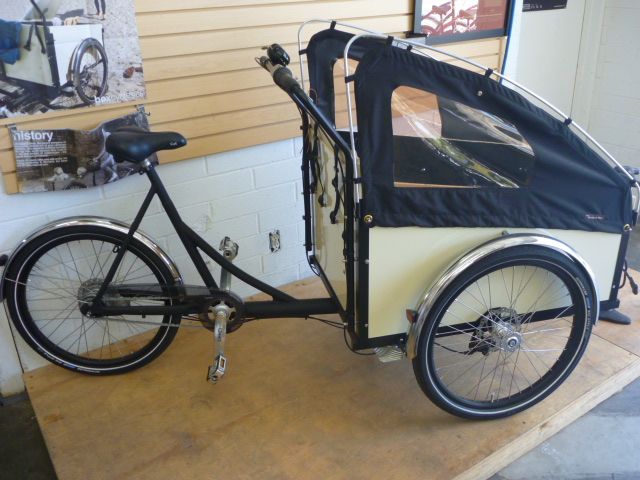 Which is what led me to my second discovery, the
Christiania cargo bike
.
The history behind this bike is really amazing; Annie and her husband,
Lars, live in a car-free section of Copenhagen, called Christiania.
Because these bikes are meant to be ridden year round, they can hold up
to any kid of weather. They are durable and great for a recreational
rider like myself (read: clumsy). Because there are three wheels, the
bike is essentially a giant tricycle which makes it pretty darn durable.
Keep
in mind that these bikes are imported, both using high quality materials
and finishes which means they don't come cheap. We're talking over a thousand bucks, easy. But, think about
the money that you will be saving on gas, and gym memberships.
Seriously. -Eva