Soda, or "pop" if you're from the Midwest, is not something you tend to think of as homemade. Even as one of the great American culinary traditions it tends to be mass produced and super sized, laden with high fructose corn syrup, and tagged an enemy in the fight against obesity. But it wasn't always so.
Soda was originally made with nothing more than naturally flavored syrup and carbonated water, which made it much healthier than today's version. Andrea Lynn, author of The Artisan Soda Workshop, a new handheld guide to homemade sodas, hopes to bring back the simple tradition that got soda started. And I'm all for it.
Inspired by Andrea's fun new book–packed with 70 recipes from all-natural versions of classic sodas like Cherry Cola to fancy-sounding concoctions like Pineapple Basil Soda (above)–here are some homemade soda basics and a recipe that will have you craving more. And not the kind that comes in the big plastic bottle.
Carbonation is the key to making soda. There are several ways that you can make soda water at home. My favorite is with my SodaStream, a system that turns tap water into the bubbly kind with the push of a button. I love using it even more than I love buying seltzer water (it keeps seltzer on tap with much less waste), but the store-bought kind works just fine for making soda.
You can also use an old fashioned seltzer bottle like this one from Etsy's Nana's Cottage House (add your own seltzer chargers) but beware that the bottle can explode if not used properly (hence the mesh metal cover).
Once you have fizzy water, you need syrup. Flavored syrup is simple business made with nothing more than sugar, water and a flavoring agent like fruit, juice or herbs. Gilt Taste posted an easy to follow primer on making homemade soda syrup last year (image, very top | Edited to add: this primer is no longer available). It's still my go-to reference. Otherwise you can buy plenty of good simple syrups like Royal Rose Syrups at William-Sonoma in flavors like Lavender-Lemon, Raspberry, or Cardamom-Clove.
Finally you mix the two: Carbonated water + flavored simple syrup = homemade soda. It's that easy.
Here's a seasonal recipe from The Artisan Soda Workshop (available from our affiliate Amazon) that's perfect for right now–plum season–and even adaptable for the dead of winter when all you can find are dried plums. i.e. prunes.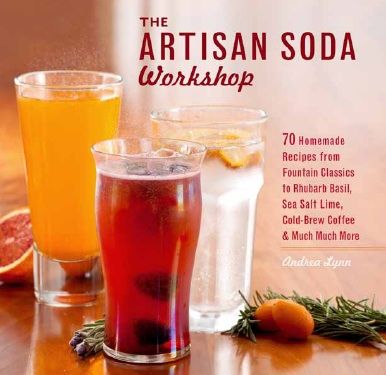 Very Plum Syrup
4 plums, pitted and diced into medium pieces, or 8 to 10 prunes
1 cup prune juice
1/4 cup raw can sugar (note: you can substitute granulated sugar)
In a medium pot, combine the plums or prunes, prune juice, and sugar. Bring to a boil over high heat, and stir to dissolve the sugar. Reduce the heat to medium or medium-low, and simmer until the plum pieces or prunes are soft, about 10 minutes. Remove from heat, and smash the plums or prunes with a masher. Let cool, then use a fine-mesh sieve to remove the plums or prunes from the liquid, making sure to press the fruit against the strainer to extract as much liquid as possible. Refrigerate the syrup in a covered container for up to 5 days.
To make Very Plum Soda: Stir 2 tablespoons Very Plum Syrup, or to taste, into 10 ounces (1 1/4 cup) seltzer.
More fun homemade soda recipes from around the web:
– Creme Brûlée Soda via Huffington Post | (above, photo via Homemade Soda by Andrew Schloss/Storey Publishing)
– Orange Honey Ginger Ale  via Washington Post
– Cola Syrup via New York Times