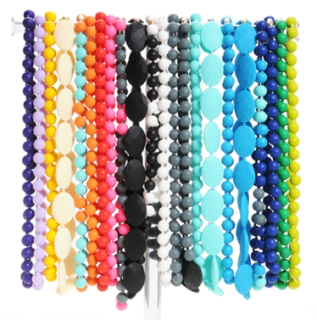 When my son was a baby, he was fascinated by my jewelry–a fascination that led to his stuffing fistfuls of my necklaces into his curious mouth. Worried that my necklaces might be sporting some not-so-friendly chemicals, I stopped wearing them altogether.
At the time, I didn't have any other option–because I didn't have any Chewbeads.

Chewbeads, which we love so much you'll find them in our Baby Shower Gift Guide,
are every bling-crazy mom's salvation. These non-toxic, silicone jewelry pieces
are stylish for mama and intriguingly colorful (and mouth-safe) for
babies who like to chomp. And now I'm loving their very
pretty new design, the Perry Chewbeads necklace, that's amazingly versatile.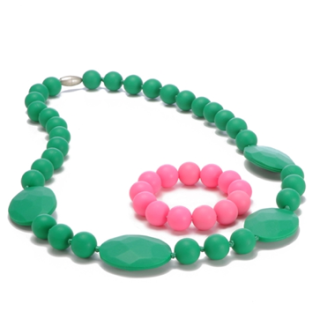 The great thing is that they are super soft on
babies' gums (and emerging teeth), so everyone wins. Can't decide on
just one color? You don't have to. Create a collection of Chewbeads to mix and match, or
just to switch things up from day to day. –Kirsten
Shop all of the styles and pieces at Chewbeads. They are also available online at Magic Beans.