Please, for the love of turkey, do not do a web search for "Thanksgiving recipes," "Thanksgiving help," or "Save me," in your effort to seek out Thanksgiving meal guidance. Sifting through the long list of search results will only confuse you more.
Just for you, I've hunted and gathered the best resources the web, your tablet and phone have to offer. I'm serving them up to you, here, in one perfectly bookmarkable post, because I am good like that.Save this, and save Thanksgiving dinner. Trust me!
Thanksgiving Dinner Meal Planning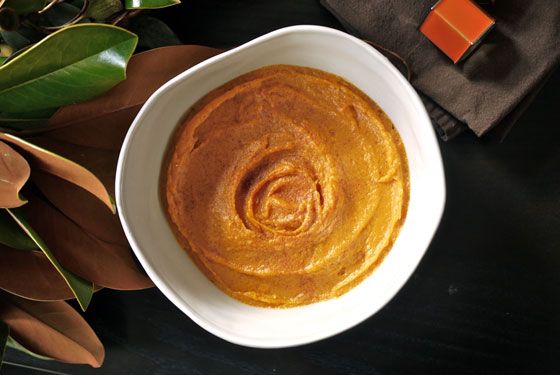 [Photo: One Hungry Mama]
The first step is planning your holiday meal. I'm digging the Epicurious Thanksgiving Menu Planner (at very top) which prompts you to answer six questions before serving up recipe ideas. You can easily edit your answers if you don't get results that feel right, or hop on over to the site's Thanksgiving menus page for tons of ideas, from a vegetarian feast to a New Orleans-style Thanksgiving meal.

[Photo: Bon Appetit]
Bon Appetit is another great place for Thanksgiving menu ideas (above). Their directory offers 26 options each, from appetizers to dessert, ranging from quick and easy menus, to exotic flavors, and even vegetarian options.
If you plan on bringing your iPad or iPhone into the kitchen on Turkey day, check out the Chow Thanksgiving Dinner Coach, which organizes the recipes you pick into a shopping list and prep schedule. Did I mention that it's free?
Thanksgiving Dinner Buying Guide
I love how this Thanksgiving bird buying guide on the Huffington Post breaks down your turkey options. Check it out and then, when you decide that you don't want a turkey that's been injected with salt, starch and sodium phosphate, hop on over to the Whole Foods turkey buying guide. While the focus is on Whole Foods products obviously, there's a ton of useful info that'll help you navigate your own local supermarket, natural foods store or farm.
Thanksgiving Dinner Cooking Support
Now comes the hard part: cooking your turkey!

[Photo: Epicurious]
Thankfully, prolific food writer Melissa Clark talks turkey at Epicurious where she breaks down the many different ways to cook a bird–from rubbing it down with butter to brining it, roasting it with stuffing or without.
The Cook's Illustrated Thanksgiving 911 survival guide has you covered on stuffing, gravy, potatoes and other sides. Their questions cover pretty much anything that can go wrong and their answer tell you what to do to fix them. Phew! Plus, the videos are a huge help.
[Photo: Saveur]
And then there's dessert–ohhhh, dessert. If you're making pie, visit Pie Central on the Crisco site for advice and how-to videos. Crisco also has pie experts working around the clock on their Crisco Pie Hotline: 800-766-7309 (you think I'm kidding). Normal hours are from 9am-7pm EST, but tomorrow in anticipation of Thanksgiving the Pie Elves kick into overdrive: extended holiday hours from 8am-8pm. And if you're making a cake or cookies instead, the Land O'Lakes site has a serious wealth of useful baking info.
Thanksgiving Dinner Serving and Carving Tips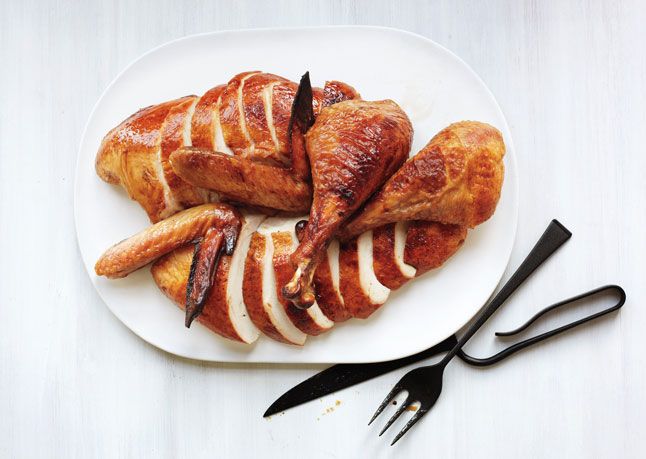 [Photo: Bon Appetit]
On Thanksgiving, folks are so excited to eat by dinnertime that you could probably throw your bird on the table and watch them have at it. If you're committed to a slightly more elegant presentation, give this turkey carving tutorial video on Saveur a look-see. Bon Appetit has a nicely illustrated step-by-step guide to carving a turkey, as well.
See? Putting together a Thanksgiving meal is no sweat–just keep it simple, stay cool, and know where to get help. I'd say this is a pretty good place to start.