I may still be full from the Thanksgiving feast, but I'm already thinking about decking those halls, trimming the tree, and getting my hands on an Advent calendar before December 1st rolls around.
But no worries: You still have about a week to get ready for the start of December. The only tricky part? Picking which Advent calendar you like best from the printable gems we've found. Some of them are even free! –Christina
This Santa Christmas Countdown from Inviting Printables is so cute. My kids would get a huge kick adding a cotton ball to his beard each day. I love that there are no boxes to fill with trinkets. Instead keep some cotton balls and glue nearby, and watch Santa's beard get fluffier. (free PDF)
So tres jolie: the printable Advent cones from Zu Galerie come in three different muted shades that are a nice departure from all the red and green of the season. Print eight of each pattern/color for the full 24 days of Advent, or just print a few to lead up to the week before Christmas. I love how these would look hanging from the Christmas tree. (free PDF, in French, although instructions are easy to understand)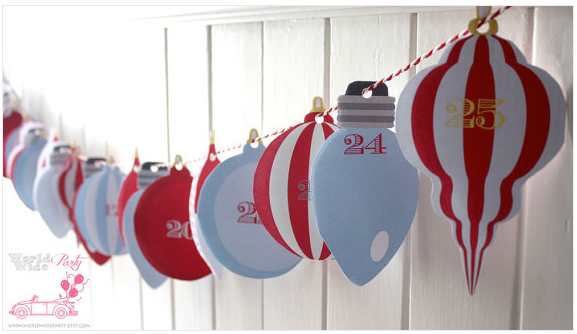 (No longer available) WorldWideParty's printable vintage Advent ornaments would look so festive strung out across the mantel, or scatter them around the Christmas tree and let the kids find them day by day. You'll need to cut these out–and write something special to do on the back of each day–but this is definitely a DIY project most of us can handle on our own. ($6 for PDF file; for instructions in English, see this listing)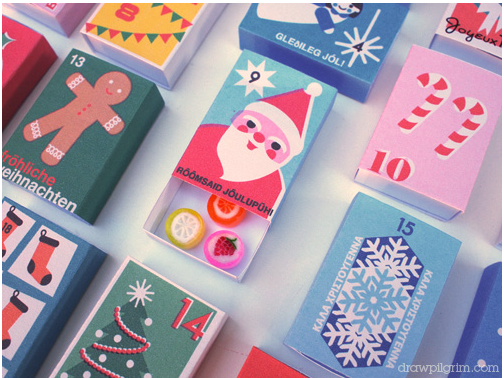 (No longer available) If you can print, cut and fold, then Draw! Pilgrim's Matchbox Advent Calendar will give you 24 little vintage-style boxes in which to put a tiny trinket. Or, use the little supplied paper templates to write an activity you can all do that day, even if it's as simple as "eat a candy cane off the tree." ($4 for PDF download)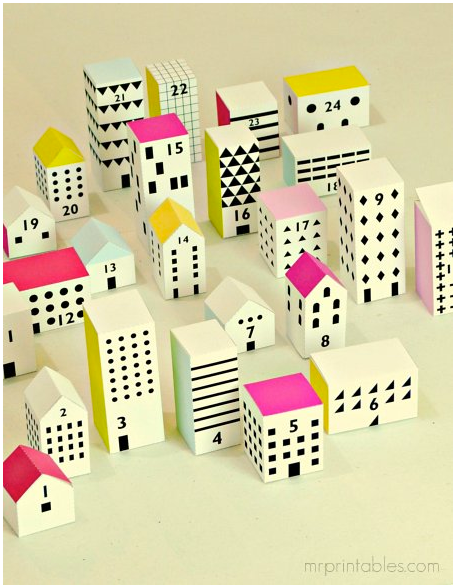 My kids would have so much fun playing with the little houses from Mr. Printables Christmas Street Advent calendar. Just fold each house up and tuck a treat underneath each day. I appreciate that they've offered the free files in both color and in black-and-white in case your little decorators would like to personalize their homes. (free PDF file)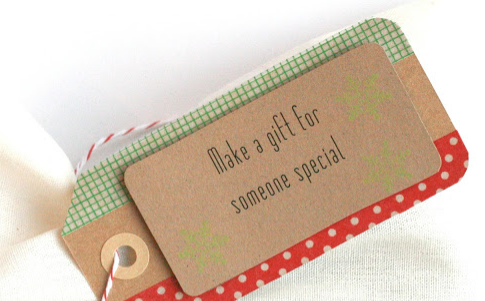 (No longer available) Love the idea of doing an Advent calendar, but not so excited about having to figure out how to fill up 24 little boxes or cones? The Petit Cadeau's printable cards come to the rescue, with such simple yet festive ideas like "read a new Christmas story" and "listen to fun Christmas music." Print them on whatever stock paper you want, and stick in an envelope if you are short on time. Or you can get really fancy with some of Alison's decorating ideas, as seen with her "gift tag" treatment above.
There are thankfully more than 30 ideas from which to pick and choose the 24 most doable for your family, just in case you never want to hear your kids to say Yay! It says 'breakfast in bed!" (free PDF when you sign up for newsletter)
Search our holiday archives for even more ideas, like this cool advent calendar roundup from last year.