As much as I love the holidays, hearing Christmas music in stores and on the car radio since Halloween has squashed my desire for another spin of Grandma Got Run Over By A Reindeer. Luckily, like a surprise from Santa's elves, three of kindie's biggest and best names have released collections of holiday tunes that have rekindled my Christmas spirit. –Christina
With a peppy, kid-pop sound, A Laurie Berkner Christmas is full of Christmas cheer, jingly bells, and songs of which you'll know at least the first verse. Play this during your kids' school party, while decorating the tree, or anytime you just want to hear all the kid-favorite songs like Jingle Bells, Jolly Old St. Nicholas, and Christmas is Coming. I love her best when she's covering the more upbeat songs. Her take of Little Drummer Boy doesn't leave me in my usual verklempt state, though her version of Silent Night is very touching. Santa's Coming To My House, her original, will have little ones wiggling, kicking, and ho-ho-hoing along with the chorus. And her song Candy Cane Jane even has its own cartoony ebook you can purchase separately.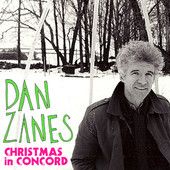 Dan Zanes' downloadable Christmas in Concord is a reissue from last year, but now includes a few more songs to round out the seven-song CD. Along with his musical friends, Dan revisits the songs from him upbringing in Concord, NH. Expect to hear classics like Deck the Halls and Angels We Have Heard on High, as well as the new-to-me African-American Christmas song Rise Up Shepherd, and Follow for which he has created a sweet homespun video. The overall feel of the CD is a relaxed, sing-along-with-us sound that is definitely not just for kids only. In fact, I know my mom would love a download for herself.
Last year's gorgeous Sunny Christmas downloadable single has grown into an entire six-song CD from Renee & Jeremy. This is my pick for those evenings when there is nothing to do but play with the kids, drink cocoa, and look at the pretty twinkling Christmas tree. As with anything they sing, Renee & Jeremy's voices are perfection together, especially when they are crooning songs that I hold so near and dear like Winter Wonderland and Jingle Bells, which become more quiet odes in their hands. If there is one fault, it's that they didn't put their lump-in-the-throat version of Little Drummer Boy on this collection, but you can still download it separately.
Check out our collection of Holiday CD's for even more music for the season.