After spending a few minutes on Pinterest at this time of the year, I start to feel seriously inadequate in the crafting arena. I don't mind stretching a little bit to make something awesome, but I'd rather not lose my mind in the process.  If you too get the itch to go handmade for the holidays, but aren't sure you have the time or energy to tackle something too over-the-top, we've got a bunch of ideas from which to choose. No design degree required. –Christina
Christmas Olliblocks make an adorable toy to either toss in the stockings or wrap as a set–and they are surprisingly easy to create. With just a few supplies and the ability to cut a straight line, the holiday-themed blocks would also make a cute decoration if the kids hand them over.
The Holly Jolly Olliblocks set features Mr. and Mrs. Claus, a certain red-nosed reindeer, some cute elves, and a nutcracker, while the Snow Days set includes six winter-garbed kids to mix-and-match. ($5 for one download, $8 for both)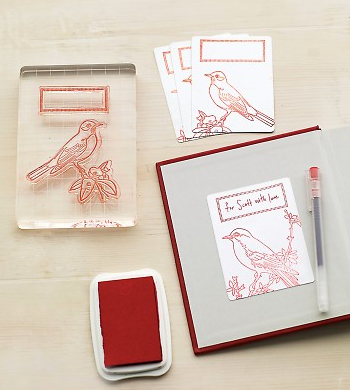 Have a hardcover book lover on your list? Follow Martha Stewart's easy tutorial for making personalized bookplates in a flash. Create a few and wrap them up with a gift card to the local book store, or buy a few books they'd love to own and stick the bookplate inside so they'll remember your gift every time they open up the pages. (instructions are free; purchase bookplate and labels separately)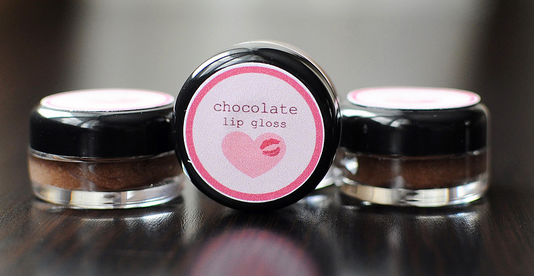 For my too-young-for-makeup tweens, finding some handmade DIY lip gloss in their stockings would feel like a real treat–especially this chocolate flavor. Using only three ingredients, I'd feel pretty good about how much they are lathering onto their lips, especially if you use a safer, non-petroleum jelly like this one at Live Clean Baby. Along with the recipe, there is even a free downloadable image on the site you can print onto sticker paper to make this handmade treat look extra special. (free instructions and download at Meet the Dubiens)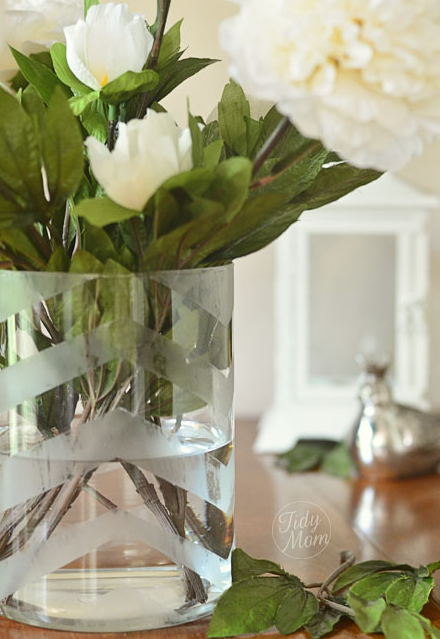 Admittedly, I do not have etching cream in my cupboards, but I'm just too in love with Tidy Mom's simple hand-etched glass vase tutorial to let that stop me. After grabbing some etching cream and painter's tape—and spending a few minutes to get those stripes just right, I think I could turn an inexpensive vase into something pretty cool and giftable. (free instructions)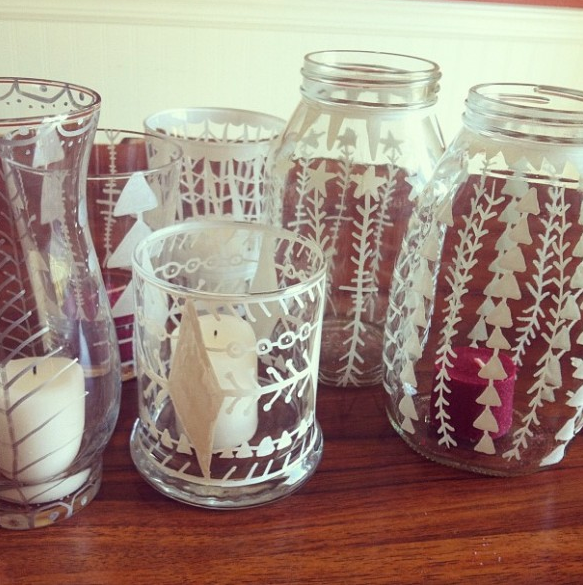 On the other hand, if you are among those who will never, ever purchase etching cream, Indie Fixx's alternative idea for diy faux etched glass candle holders creates a somewhat similar look with an oil-based Sharpie. I'd love to try this with curly-cue designs around votives, or grab a stencil and put their initial on the front of a vase. You could even try coloring on some chevron stripes for a design that mimics the stripes on the vases above. (free instructions)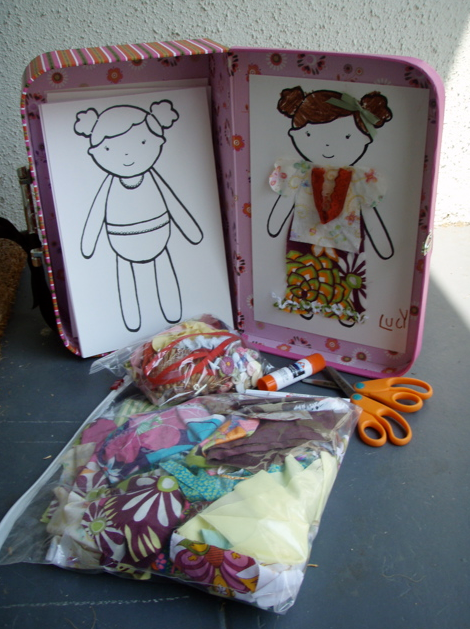 I remember playing with paper dolls for hours and know my kids would spend a good long time immersed in creating their own fashions for these paper dolls in DIY scrap fabric paper doll kit. This is such a smart way to use up any scrap fabric lying around, and especially great for kids who love playing fashion designer. (free doll templates to download at This Mama Makes Stuff)
It's a bird, it's a plane! It's free Superhero cape patterns from Vanilla Joy to help you create a super cape for your little crusader. It does require some familiarity with a sewing machine though and if that isn't up your alley, check out the cool make your own superhero cape kits  from Sew Plain Jane which come with everything you need to make and decorate the capes yourself without having to thread a bobbin. (free Vanilla Joy patterns; Sew Plain Jane kit is $10)
An ornament always makes a nice seasonal gift, and we recently rounded up nine great DIY handmade ornaments, like this one from Martha Stewart that repurposes cookie cutters with some pretty paper or old photographs. I love the idea of creating an entire set of ornaments with all the grandchildren's photos for Nana and Papa.
Brave girls and boys will think these DIY Bow and Arrows are the neatest things ever because they really work! It just requires a trip to the hardware store. I've also read that colorful pencil erasers make good nibs for the end of the arrows too. (free instructions at Skip to My Lou)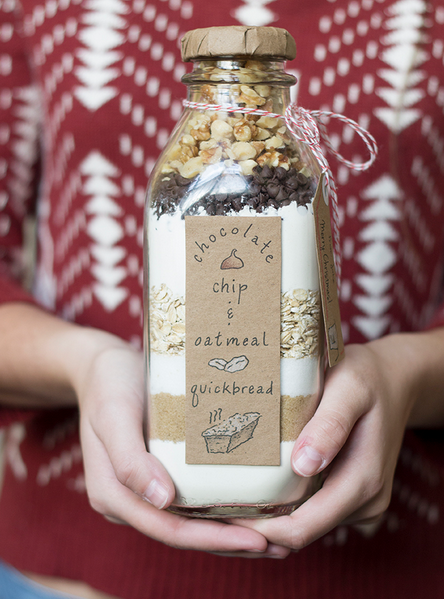 Even if you aren't much of a baker, you can give the gift of almost-baked in the form of this yummy chocolate chip oatmeal quick bread-in-a-bottle that we featured as one of 6 DIY food gifts on our Holiday Gift Guide. I love the free label templates, and detailed instructions provided at Me and My DIY which provide for troubleshooting beautifully. (free instructions and printable label)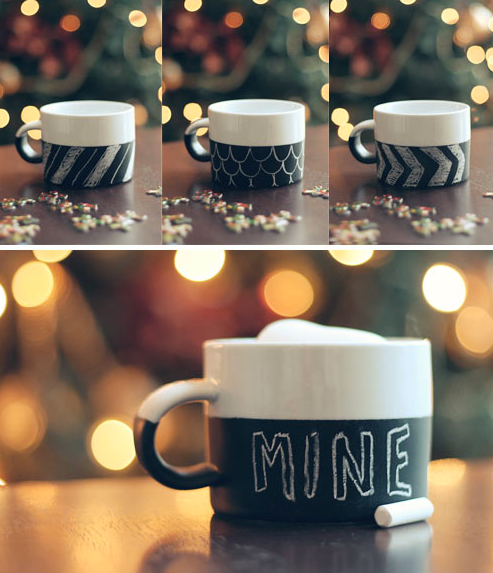 Tea, coffee, or cocoa? Grab a beverage of choice to include with this easy-to-create chalkboard mug from Wit & Whistle. Oh, and don't forget a few pieces of chalk!
You'll find even more great handmade gift ideas in last year's post too!