It's never too late for more awesome free printable gift tags. In fact, I'm pretty certain I will be in good company this weekend when I start–and finish–all my wrapping for Christmas. There's still time to stock up on tape, double check the gift wrap supply, and print out some of these lovely (and free!) gift tags to top off those thoughtful gifts. –Christina
I adore how these printable bauble gift tags from fellow fellow look like they were printed on kraft paper, but were really just printed on regular card stock. So festive and pretty in muted colors, plus I don't have to run out for fancy paper before they can be mine.
Free personalized holiday gift tags from Paper and Pigtails on DIY Network let you personalize each tag for your recipient. I love the big variety of tags that still look they are from the same collection. My family would be so impressed that I'd ordered custom tags–no need to tell them that they didn't cost a dime.
Chalkboard paint is such a big thing right now, but I'd never try to handpaint gift tags a few days before Christmas. Instead, grab these free chalkboard style gift tags from LA-based illustrator Emily McDowell, at Poppytalk. So fun!
If you like to wrap edible treats to gift, check out Tamiko Young's fabulous free printable tags for food gifts. Really dig the somewhat threatening monster (eat me before I eat you!), as well as the tag that is covered in Nom Nom Nom. Perfect for all those homemade food gifts we recommended, right?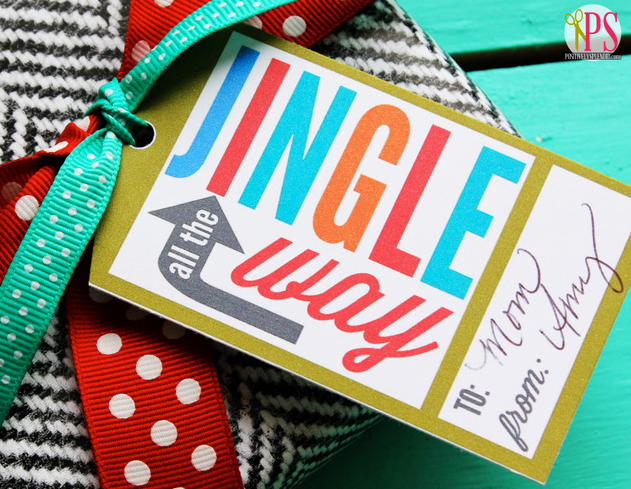 Clever and colorful printable gift tags from Positively Splendid feature little holiday sayings like Jingle All the Way and OH! What Fun, all with a similar design treatment to bring a cohesive look when you're wrapping dozens of gifts. Yay for a little modern typography in a sea of curlicue "ho ho ho's."
I love all three of these free printable gift tag collections by Ellinee to fit all the personalities of my gift recipients. The rustic Country Christmas designs would look best on my mom's gifts, while my modern-loving sister's gift would look so nice with the Urban Holiday tags (shown.)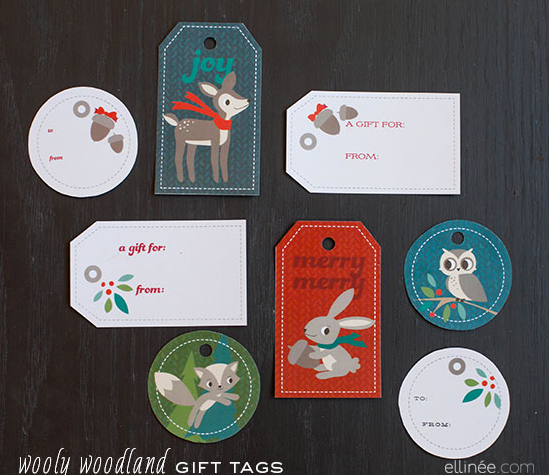 For the little kids' gifts, top them off with Ellinee's Wooly Woodland gift tags which are so cute right out of your own printer.
Festive and simple, print out an entire sheet of Peridau Designs' printable holiday gift tags and you'll have a bunch to tie or tape to all your gifts. I'm such a fan of the colored stripes which will pop on solid colored wrapping paper, or tied to bags of treats.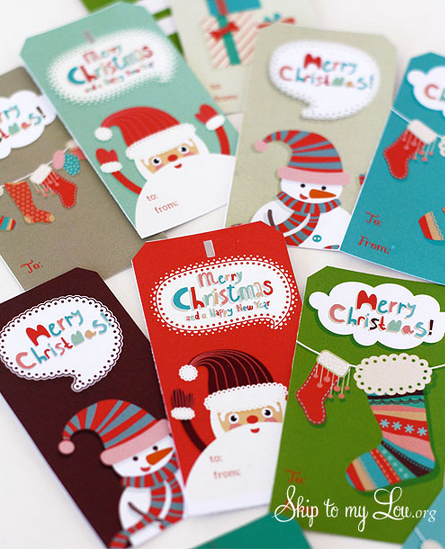 When it comes to the kids, I like the tags on my their gifts to be as bright and cheery as they will be on Christmas morning, and the set by of printable children's holiday gift tags by Skip to My Lou is cartoony cuteness. Love the happy Santa with his wee arms flung in the air!
Check out our printables category even more free printables.