It's Girl Scout cookie time. Which means I'm in trouble. I love Girl Scout cookies. Every year I'm taken by surprise by a cute little girl with a dangerously powerful sell. Whether I resist or not, I always end up baking a batch of my own homemade Girl Scout cookies. (An especially good way to stave off the craving while I wait for the order, but still support our local troops.)
Making Girl Scout cookies at home is easier than you think, and it's a fun way to spend time with the kids. The only problem with baking Girl Scout cookies at home is deciding which of these 5 recipes to make. Just like when you're placing an order, it's hard to choose just one!
Homemade Samoas recipe
Let's start with the most genius cookie of all time in my opinion, shall we? Though normally an all-natural mama, nothing–NOTHING–gets between me and my Samoas. These crunchy cookies coated in caramel and toasted coconut with a dark chocolate coating are perhaps the best cookie ever made. And, yes, Oreo fans, I will take this outside. One of the many virtues of making copycat recipes at home is that you can use all-natural, high-quality ingredients. Though Jaclyn of Cooking Classy usually does that, I love how she keeps it real (or, uh, not so real) with this copycat Samoa Girl Scout Cookie recipe (above) which calls for melting store-bought caramels. That's admittedly the easiest part of this particular recipe, but trust me, it's worth the effort to extend your stash of these heavenly bites.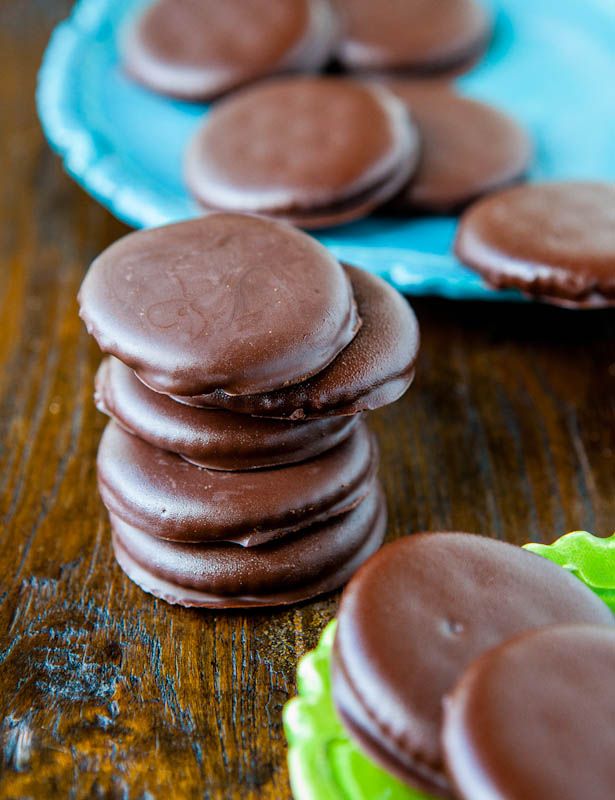 Homemade Thin Mints recipe
Another fan favorite–especially right from the freezer–Thin Mints are crisp wafers covered in a peppermint chocolate coating. They are just as straightforward to make as they are to describe. Bake a simple chocolate cookie wafer dough and dip in melted chocolate spiked with peppermint oil. Heidi Swanson posted a simple, all-natural Thin Mint recipe on her beloved blog 101 Cookbooks, but dare I offer an even easier recipe?
It's not all-natural, but it's as easy as a recipe gets and apparently yields a Thin Mint dead ringer. The secret to this sinfully simple recipe? Ritz crackers. No joke. Check out this other version to make your own homemade Thin Mints (pictured) on Averie Cooks.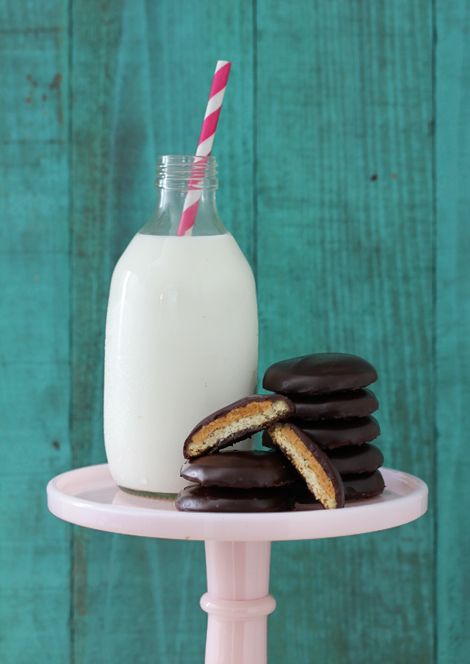 Homemade Tagalongs recipe
>Whenever I order Girl Scout cookies, I throw in a box of Tagalongs for good measure. And whenever I eat one bite of these vanilla cookies layered with peanut butter and covered in chocolate, I think, Darn, I should have ordered two boxes. That's when this homemade Tagalong Girl Scout Cookie recipe from Bakers Royale comes in handy. Make a cookie, sweeten some peanut butter, layer the two and dip in chocolate. These are not quite the simple two bowl cookies that I normally whip up, but they sure are worth it. In fact, sometimes I wonder if I forget to order enough Tagalongs on purpose. Hmm.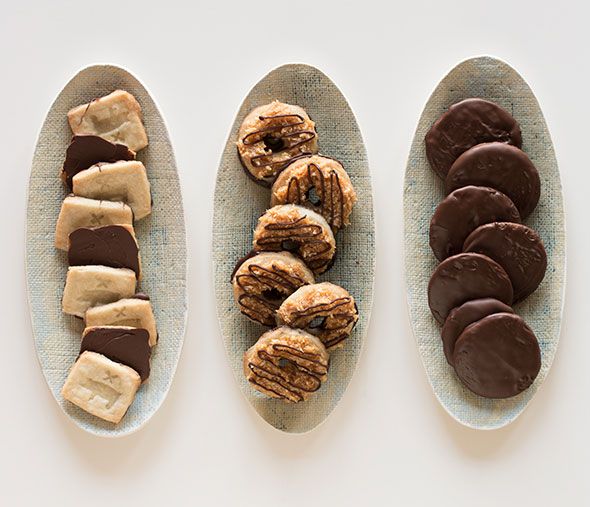 Homemade Thanks-a-Lots recipe
Raise your hand if you can describe a Thanks-a-Lot? I was stumped, too. I'd never noticed the fudge-dipped shortbread cookie on the Girl Scout cookie roster. While shortbread may not be an exciting choice when ordering (I only came to appreciate Trefoils as an adult), it's pretty darn good when made homemade. The lovelies at Spoon Fork Bacon serve up a pure and simple recipe that'll sell you on Thanks-a-Lot cookies (pictured to the left), at least on ones made at home. And while on Spoon Fork Bacon, check out their recipes for Samoas and Thin Mints, too. They look every bit as good from this photo.
Homemade Do-si-dos recipe
If you ask me, these oatmeal sandwich cookies filled with sweet, creamy peanut butter are the easiest Girl Scout cookies that can be made more delicious at home. That's exactly what Kristy of Sweet Treats and More did with her Oatmeal Peanut Butter Cookies. There's just something about the texture of a homemade oatmeal cookie that cannot compare to anything that comes in a box. And Kristy's peanut butter filling? Let's just say that it doubles as a heavenly peanut butter frosting. Sold!